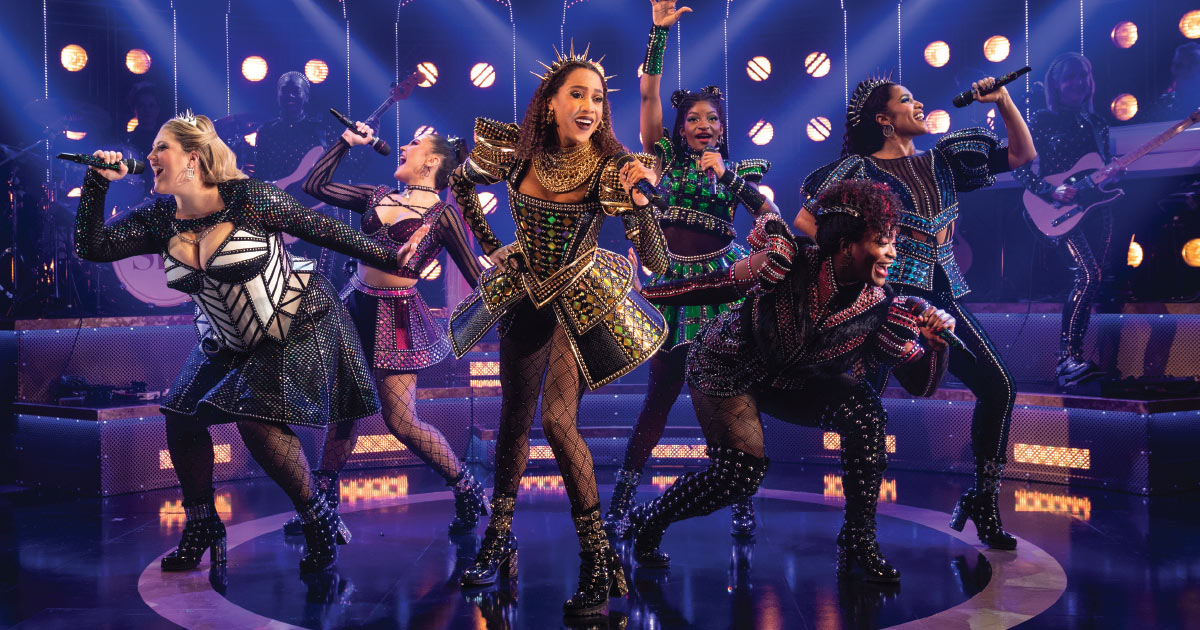 The Latest and Greatest of Broadway!
Broadway's lights are shining bright and are ready to welcome groups looking to enjoy world-class performances and heartfelt stories they'll cherish long after the curtain falls.
Come along as we delve into what's making a splash on Broadway right now, what to make note of as we head into fall, tips for Broadway first-timers and more.
NEW AND NOTEWORTHY
"Broadway has always offered an astonishing variety of shows, allowing anyone to come and experience the world's greatest live entertainment," said Bob Hofmann, Vice President, Broadway Inbound. "With the selection of shows available this coming season, Broadway is boldly continuing that legacy."
Hofmann shared that it's gratifying to see so many new shows drawing in big audiences, including Kimberly Akimbo, which won the Tony Award® for Best New Musical, while Some Like It Hot took home four Tonys, including Best Lead Actor in a Musical and Best Choreography.
"The amazing and fun & Juliet, featuring the music of hit-maker Max Martin, just recorded its biggest selling week ever. The revival of Sondheim's masterpiece Sweeney Todd is playing to sold out houses nightly, and A Beautiful Noise: The Neil Diamond Musical has fans on their feet dancing in the aisles, even on Thursday matinees!" Hofmann continued. "There's a wave of energy building behind these hits, and once we add all those new shows into the mix, the season promises to be unstoppable. Splash after splash, be ready for it."
Stephanie Lee, President & CEO, Group Sales Box Office at Broadway.com, says that audiences have also been flocking to see the hilarious new comedy Shucked, in addition to two new musicals that just opened this summer and have audiences buzzing: Back to the Future and David Byrne/Fatboy Slim musical collaboration Here Lies Love.
WHAT'S TO COME
Lee notes they're anticipating record-breaking audiences in New York City heading into the fall and winter months, as well as welcoming in a slate of new shows that will be hitting the legendary stages of Broadway.
"Looking ahead, we can't wait to have Melissa Etheridge: My Window on Broadway beginning in September, and a new musical from Barry Manilow titled Harmony beginning in October," Lee said.
Hofmann suggests audiences save space on their itineraries for plays in addition to musicals this fall and winter.
"Have you seen Harry Potter and the Cursed Child on Broadway? Well there's more where that came from, plus more new musicals and thrilling revivals," he said. "The variety is amazing, and it's all here to see over the coming months."
When it comes to Broadway's recovery from the COVID-19 pandemic, both Hofmann and Lee shared promising insight all Broadway-loving groups will be pleased to hear.
"The Broadway League reports that attendance figures across the industry are close to where Broadway was in 2019, with many people in the industry expecting attendance for the upcoming season to exceed pre-pandemic audience levels," Lee explained, noting that while new titles are attracting plenty of attention, groups are still returning to beloved favorites including Aladdin, Chicago, Moulin Rouge!, SIX, The Book of Mormon, The Lion King, Wicked and more.
"We've been saying 'Broadway's Back' for a while now, and guess what? It is!" Hofmann said. "We still miss some of our international ticket buyers, who are an important part of our audience mix, but the outlook is positive, the numbers are increasing steadily, and we expect our international attendance to be back to pre-pandemic numbers soon."
Perhaps most exciting and notable, Hofmann shared, is that Broadway is attracting its most diverse audience ever.
"Unique voices are telling distinctive stories on stage, and the plethora of choices that are available is driving new audiences, younger and more diverse, into our theatres every day," he said. "It's truly an exciting time on Broadway."
TOP TIPS
If you've got some group members who are enjoying the magic of Broadway for the first time, Lee and Hofmann offered up some of their best tips for making the most of the experience.
"Plan ahead and get your tickets as early as possible to get the best group rates and availability," Lee said, suggesting groups see more than one show during their time in NYC. "Get to the theatre early and allow yourself time to read the Playbill and get settled. The pre-show atmosphere is electric and not to be missed!"
Hofmann recommends groups make seeing a Broadway show a special occasion all their own, dressing up, going casual or making a night of it. He also emphasized the importance of arriving early, as plenty of folks plan a nice meal before their show at one of the many great dining options nearby.
"Take time to soak in the atmosphere of the neighborhood: The theatre marquees, all the different people, the sense of anticipation when it gets close to curtain time, the street vendors, restaurants, clubs, actors running down the street to make their 30-minute call, the stage door post-show, the Drama Book Shop, Shubert Alley, the list goes on," he said.
Beyond seeing a show on Broadway, groups won't want to miss visiting the new Museum of Broadway, located right in the heart of Times Square. The museum's many permanent and rotating exhibits—made up of hundreds of rare costumes, props, artifacts and some incredible photo opportunities—make for the perfect companion to your group's Broadway performance. There's even an extensive "behind-the-scenes" section focused on the making of a Broadway show and what it's like to be a professional working on Broadway!
Groups could also take part in Broadway Inbound's "Broadway InMotion" series of custom-tailored workshops meant to add to the experience of seeing a show.
"There is truly nothing like Broadway, anywhere in the world," Hofmann said. "Don't miss any of it!"
Learn more about upcoming Broadway shows and more:
groups.broadway.com | broadwayinbound.com
Written by Sarah Suydam, Managing Editor for Groups Today.
This article originally appeared in the Sep/Oct '24 issue of Groups Today.
Photo Courtesy of Joan Marcus.