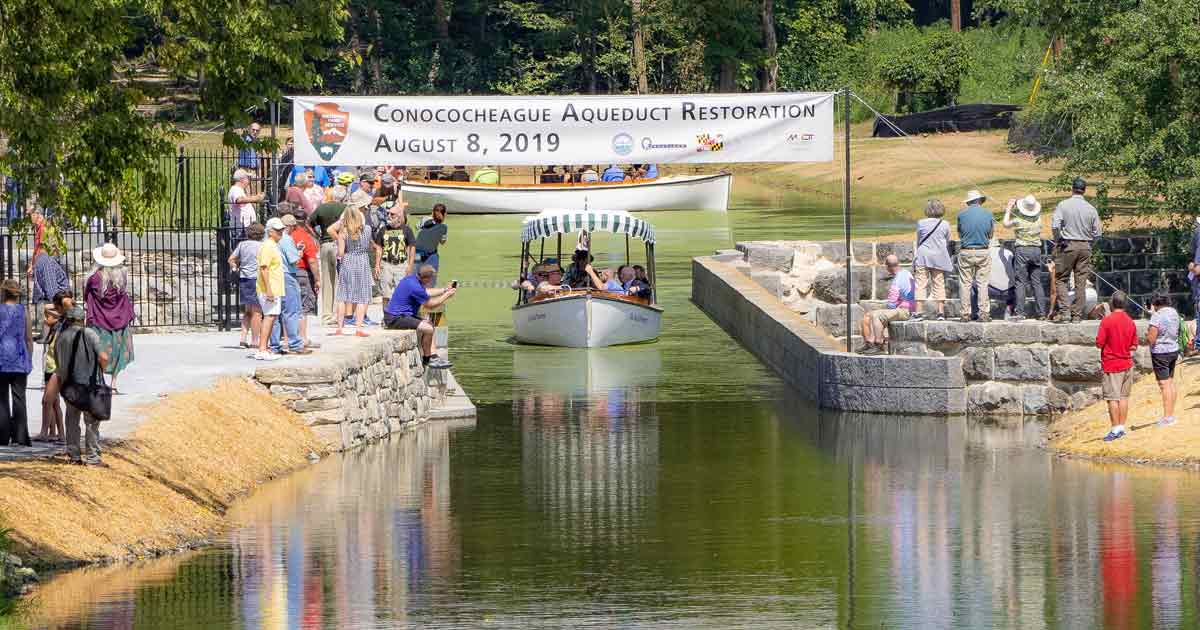 A Restored Canal Experience
For the first time in nearly 100 years, canal boats can now cross the Conococheague Aqueduct of the Chesapeake and Ohio Canal National Historical Park in Williamsport.
The National Park Service, the Town of Williamsport and friends and neighbors of the canal recently celebrated the completion of the Conococheague Aqueduct restoration project.
"The Conococheague Aqueduct restoration project, a two-year endeavor to rebuild the historic aqueduct using timber and original stones, creates the first watered, operational aqueduct along the C&O Canal since 1924," said Superintendent Kevin Brandt. "The Town of Williamsport, long known for its importance during the C&O Canal's operational days, is now the only place in North America where visitors can view multiple canal features in one location, including a lift lock and refurbished lockhouse, railroad lift bridge, canal turning basin and warehouse, and a watered aqueduct."
The aqueduct was destroyed in 1920 when a captain, who had imbibed too much, crashed into it from below.
"Today, we are making Williamsport a capital of sorts as we break ground on an incredible project to make this wonderful, historic Maryland town literally the epicenter of the historic 184.5-mile C&O Canal," said Gov. Larry Hogan. "This is the kind of transformative project that only comes along once in a generation, and it has taken years of collaboration, cooperation and hard work by so many people at the federal, state and local levels of government to help make this important project become a reality."
The Canal & Towpath is a 184.5-mile linear park that goes from Georgetown (Washington, D.C.) to Cumberland, Maryland.
"The National Park Service brand is one of the most trusted brands among domestic and international travelers, and national parks are among the most sought-after destinations," said Dan Spedden, President of Hagerstown/Washington County Convention and Visitors Bureau. "The aqueduct restoration and new headquarters and visitor center will make the C&O Canal synonymous with Williamsport, Maryland, and establish the town as a preferred destination."
Eventually, the entire section of the C&O Canal in Williamsport will be restored to its 1920s appearance.
Additional funding will be sought to create a user-friendly, fully accessible crossing of the canal and ways to bring the story of the industrial revolution along the canal to life for visitors of all ages.
Learn more at Visit Hagerstown.
Courtesy of Visit Hagerstown.
Photo courtesy of Scott Cantner.