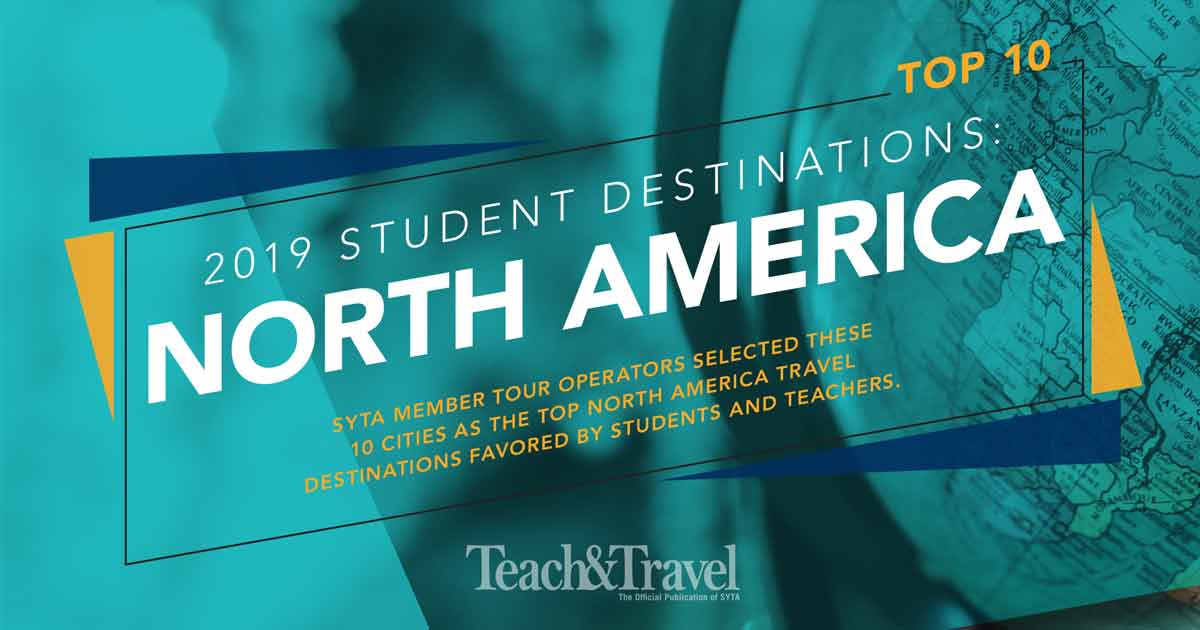 Top 10 Student Destinations 2019: North America
Member tour operators belonging to the Student & Youth Travel Association, SYTA, selected 10 cities as the Top North America Travel Destinations favored by students and teachers.
NO. 1 TORONTO, ONTARIO, CANADA
This diverse, dynamic metropolis situated along Lake Ontario's northwestern shore is one of Canada's premier destinations for arts and entertainment, business, sports and innovation—an ideal place for students to get a little taste of everything.
Museums offer hands-on experiences for students and explorative looks at art, every arcade game you can imagine, Ontario's historic railway trains, the mysteries of our planet, mummies, the history of shoes from around the world, and more. Professional sports abound, with a collection of the greatest names in hockey and their corresponding artifacts on view, all in one place.
Fly high with hair-raising coasters or catch drills by costumed performers at a fort that was once Toronto's main defense against invaders in the 1700s. On a clear day, the tallest freestanding structure in the Western Hemisphere allows students to see for more than 100 miles, all the way across Lake Ontario to New York state!
Despite being in the big city, students could enjoy their fair share of green spaces. From hundreds of acres of trails, beautiful beaches, and trekking though the treetops, to a short ferry ride offering students a chance to explore nearby islands, Toronto maintains a sense of natural beauty among its iconic skyscrapers. Students could see some of their favorite land- and sea-dwelling animals—and some they never knew existed!
To learn more about the rest of the Top 10 North American Student Travel Destinations, visit Teach & Travel.
NO. 2 Ottawa, Ontario, Canada
NO. 3 Niagara Falls, Ontario, Canada
NO. 4 Montréal, Québec, Canada
NO. 5 Québec City, Québec, Canada
NO. 6 Puerto Rico
NO. 7 Dominican Republic
NO. 8 Nassau, Bahamas
NO. 9 Winnipeg, Manitoba, Canada
NO. 10 Vancouver, British Columbia, Canada
Written by Sarah Suydam, Staff Writer for Teach & Travel.