What Mixed Signals Do You Send Your Customers?
I read Jan Carlzon's book, Moments of Truth, many years ago. It was one of the most powerful customer service and experience books at the time, and the content aligned perfectly with my idea of creating Moments of Magic for our customers. Carlzon's definition of the Moment of Truth was:
Anytime a customer comes into contact with a business, however remote, they have an opportunity to form an impression.
At the time the book was published more than 30 years ago, Carlzon's wisdom was timely. And it turns out his wisdom is actually timeless, and I predict that 30 years from now, the Moments of Truth concept will be just as important.
Carlzon was president of Scandinavian Airlines, and he used this concept to turn a sub-par airline into one of the most admired airlines in the industry. He had plenty of examples of how various interactions passengers had with the airline's employees created an experience that made them want to return and do business again. He also discussed how Moments of Truth went beyond employee interactions, such as the impressions from advertising, cleanliness of the planes and more.
One of those non-employee interaction examples had to do with the tray table at each seat on the plane. In short, if the tray table is damaged or doesn't work, the passenger may wonder what other airplane parts aren't working—such as the landing gear!
I'll admit that drawing a comparison between a broken tray table and the landing gear on the plane is a stretch.
Or is it?
If you're driving into the parking lot of a grocery store and you see a dirty truck and a sloppily dressed employee unloading food, might you be concerned about the freshness and cleanliness of the food on the store's shelves?
My favorite version of this type of comparison is the restroom at a restaurant. If I go to the restroom and it is filthy and unkempt, I have to wonder about the cleanliness of the kitchen. If whoever is running that restaurant is not paying attention to something seen and used by many of the guests, how clean is the kitchen, or what other details are they not paying attention to?
Every business has its version of the broken tray table, dirty truck or filthy restroom. What's yours? What are the unintended signals you're sending to your customers because of missed details, big or small? Then, pay attention to those details, as when they are mismanaged or overlooked, they can cause negative impressions. And some of them are easily managed. Don't let negative signals that are easily in your control taint the customer's experience.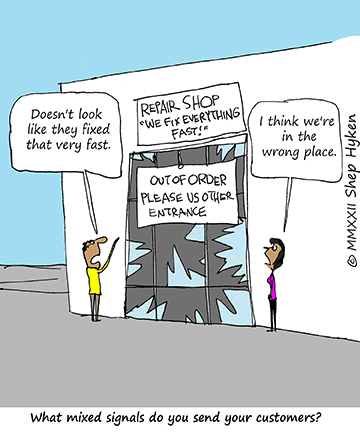 Shep Hyken is a customer service expert, keynote speaker, researcher, and New York Times bestselling business author. For information, contact 314-692-2200 or www.Hyken.com. For information on The Customer Focus™ customer service training programs, go to www.thecustomerfocus.com. Follow on Twitter: @Hyken
This article was republished with permission and originally appeared at Shep Hyken.
Photo courtesy of Shep Hyken.