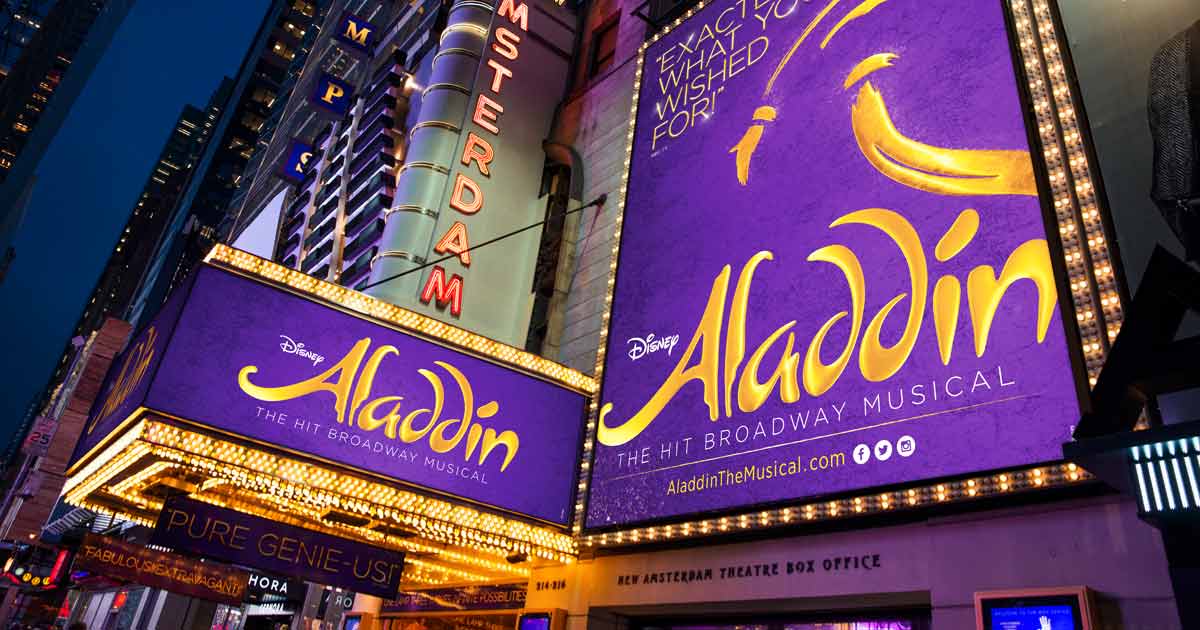 25 Years of Disney on Broadway
Did you know? With 21 professional productions in nine countries, a Disney musical is being performed somewhere on the planet virtually every hour of the day!
That equals 28 million people watching a Disney stage production every year. As Disney celebrates 25 years on Broadway, learn more about the impact they're making and how groups can get in on the action.
The power of performance is evident and spans across age, location and experiences: Nearly 40 percent of the patrons attending Disney Theatrical productions are seeing their first Broadway show. You may think this ends up being mostly children, yet almost 75 percent are over the age of 18.
Current productions are delights that enchant, mystify and inspire.
Frozen celebrated its first anniversary in March 2019 and has consistently been in the top 10 best-selling shows every week, establishing itself as the biggest musical hit of its season. Future productions include a North American tour opening in Los Angeles this fall, followed by international productions in Sydney in July 2020; London in fall 2020; and Hamburg, Germany, in 2021.
Aladdin continues selling out on Broadway, has launched five additional productions around the globe on four continents, and has welcomed over 10 million guests. As of 2019's fifth anniversary of Aladdin on Broadway, the Genie has granted Aladdin 6,294 wishes, there have been 83,920 fireworks set off in the New Amsterdam Theatre, and the magic carpet has flown 63 miles!
Having played more than 100 cities in 20 countries—on every continent except Antarctica—The Lion King's worldwide gross exceeds that of any film, Broadway show, or other entertainment title in box office history.
Getting in on the action has never been easier. Groups can dive into the exciting world of Disney on Broadway by experiencing exclusive and interactive Disney Broadway Workshops.
Led by expert Disney Teaching Artists, these 90-minute workshops give groups the opportunity to explore all aspects of theater, from performance to behind the scenes—all through the lens of Disney on Broadway. Even better? The performance-based workshops will be based on the show your group prefers. There are several to choose from.
Movement & Music: Learning songs and choreography from your selected show as you explore the three elements of musical theater—singing, acting and dancing! Great for all group experience levels.


Spotlight on Singing: This intermediate to advanced singing workshop explores the unique musical style of your group's selected show.


Spotlight on Dancing: Explore intricate Broadway choreography from your group's selected show in this intermediate to advanced dance-focused workshop.


Spotlight on Acting: Groups will polish their acting skills and try various acting techniques as they explore scenes from their selected show—experiencing what it's like to bring iconic Disney characters to life.


Creative Collaboration & Leadership Skills: Groups will step into the shoes of a director, choreographer, and music director to learn key skills of storytelling and theater making—and then, working in small groups, they'll stage a portion of the show.


Business of Show Business: Discover the many careers in the performing arts beyond the stage by exploring the varied administrative, creative and backstage jobs in the world of theater.


The Art of Puppetry: Discover the amazing world of puppetry in The Lion King and explore how puppets can enrich a story and make the impossible possible onstage. Groups will experiment with different puppetry techniques and discover how to bring puppets to life.
Which workshop or production will you experience first?
Content and photo courtesy of Disney Theatrical Sales.