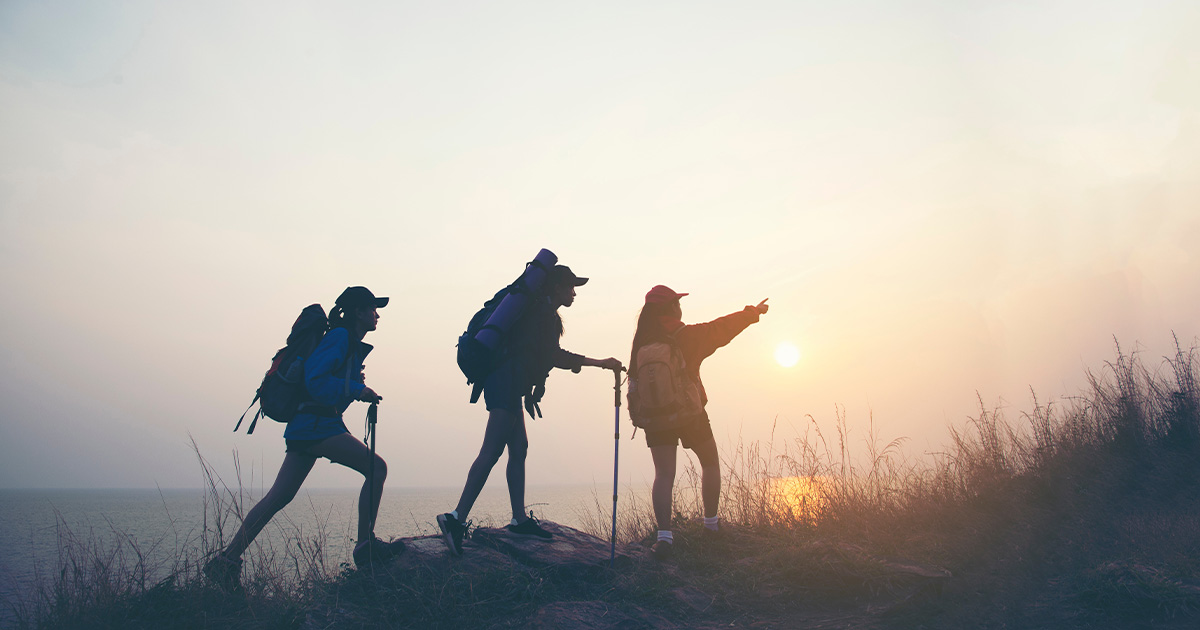 Going Hiking? Prepare with These Tips.
Help groups have a safe and pleasant outdoor hiking experience with these pro tips.
Hiking is a wonderful way to experience a destination first hand while also being active and getting some steps in. And while it's always nice to admire beautiful photos of forests or mountains, it's even more pleasant to get out there yourself to soak up the sights and breathe in some fresh air. As your groups set out into nature's splendor this summer, be sure they're prepared ahead of time by offering up these pro tips.
Most will recognize that a successful hike doesn't simply happen. It's the result of careful planning, consideration and preparation. According to the experts at the American Hiking Society (AHS), there are several steps to take before you even set out on your hike.
Start from the ground up by ensuring you have proper footwear, which will allow you to have the most comfortable hiking experience possible, including proper traction for varying environments and surfaces (flip flops need not apply). Layering is also imperative, with rain gear and dry-fast layers being must-have items, as the weather—depending on your destination—can turn on a dime. Hats and gloves are also accessories you'll be happy to have if the situation warrants. Remember: Better safe than sorry!
It's important to bring a paper map of your destination, in the case that service renders phones and GPS devices unusable. You should also anticipate needing sun protection, regardless of cloud cover or season. Sunscreen, sunglasses, a hat, and long or UV-protective clothing are great options.
One essential that could always use some extra emphasis? Water—and plenty of it! If you're wondering how much to bring with you, AHS recommends planning to consume half a liter of water per hour in moderate temperatures/terrain, in addition to packing a device that can safely filter the water around you, should you run out (LifeStraw is a popular option for many hikers). It's also wise to pack some calorie-dense foods to keep yourself fueled and energized along your adventure (think energy bars, jerky, nuts and seeds, fresh or dried fruits and veggies, etc.).
Of course, safety is a huge part of preparing for a hike or any time spent out in nature/backwoods terrain. AHS suggests having a way to start an emergency fire (while keeping fire safety best practices in mind); having a flashlight or way to see in the darkness; carrying a first aid kit (in addition to considering taking a class to know how to properly treat injuries); a knife or multi-tool; and a shelter or way to protect yourself from the elements such as an emergency blanket.
One final—yet essential—item AHS recommends bringing on all of your outdoor adventures? A trash bag and disposable gloves, as it's absolutely vital to clean up after yourself in nature. Unfortunately, there are plenty of folks who won't take this necessary step to keep nature and wildlife healthy. By bringing a trash bag with you, you're able to not only clean up after yourself, but also grab any trash you see along the way that has been left behind by others. You can learn more about how to properly dispose of waste, respect wildlife and more by visiting Leave No Trace.
Happy hiking!
Written by Sarah Suydam, Managing Editor for Groups Today.