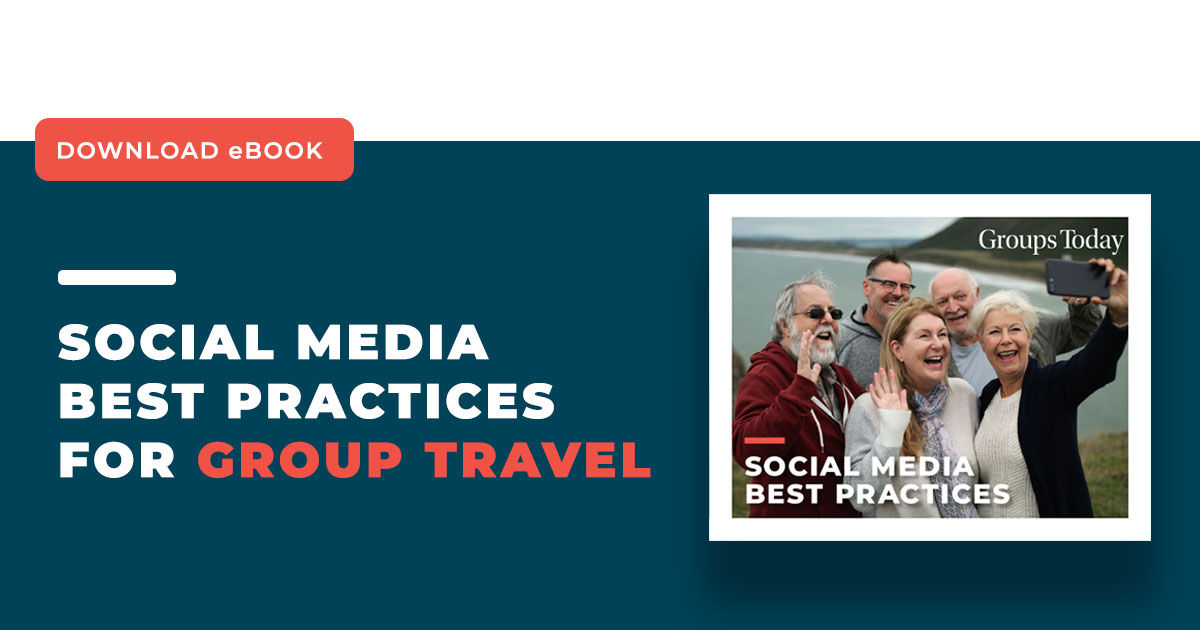 From Instagram to TikTok and every social media platform in between, it can be hard to keep up with all the trends! But that shouldn't stop you from making the most of social media for your travel business.

With this new (and free) Social Media Best Practices ebook, we offer our top tips for social media success—regardless of your level of experience. From upping your engagement on Instagram to creating private Facebook groups for your trips, we've gathered a bounty of practical information and materials to propel your social media efforts forward. We even touch on the latest platform to take the social media world by storm: TikTok.
 
Enter your name and email below to receive your free eBook download and start elevating your social media knowledge today.
Groups are getting back on the road and the future looks bright! As exploration resumes and curiosity blossoms, there are plenty of new destinations emerging as favorites among groups of all kinds. From the well-loved to the hidden gems, we're looking for the destinations your groups are eager to visit in 2023. The top choices will be revealed in the upcoming November/December issue of Groups Today.
QUESTION:
What destination has become increasingly attractive to your travelers for future travels?
(Nominate up to three destinations)
[No form id or name provided!]
Are you a travel professional looking to understand more about planning group travel and how it can grow your business and income?

Groups Today, the resource for everything group travel, is here to help!

There are many benefits to offering group travel planning services. From earning more commission to growing your network of clients, it can quickly become a key component of your business' success! Download FREE resources aimed to educate you on the industry at large and how to market effectively. PLUS, join a community of 20,000+ group travel planning professionals by subscribing to the FREE Groups Today bimonthly magazine and daily eNewsletter.

Let's explore the benefits of planning group tours and travel!

Greater opportunity.
Because there are often so many different elements of a group trip, consumers realize early in the process how the knowledge of a professional would ease stress and help execute a successful experience.

More income.
More travelers and components (i.e. airfare, service fees, lodging, excursions, etc.) mean more opportunities for higher commissions.

Referral business.
When travel professionals do an excellent job planning all the details and remembering "the little things," travelers will tell others, which can significantly grow a professional's opportunity for referrals.

Repeat travelers.
When planning a trip for several people at once versus one unit, it opens the door for you to significantly expand your network, foster more relationships and build opportunity for repeat business.

Types of group travel:
Baby Boomer/Senior travel
Students
Family reunions
Destination weddings
Faith-based
LGTBQ+
Hobby travel
Sports travel
Niche travel
Special needs
Join a community of 20,000+ group travel planning professionals by subscribing to the FREE 
Groups Today
 bimonthly magazine and daily eNewsletter. Both offer education, inspiration and professional development with timely group travel industry updates, business tips and more.
Subscribe
to 
Groups Today
 magazine and the 
Groups Today 
eDaily.