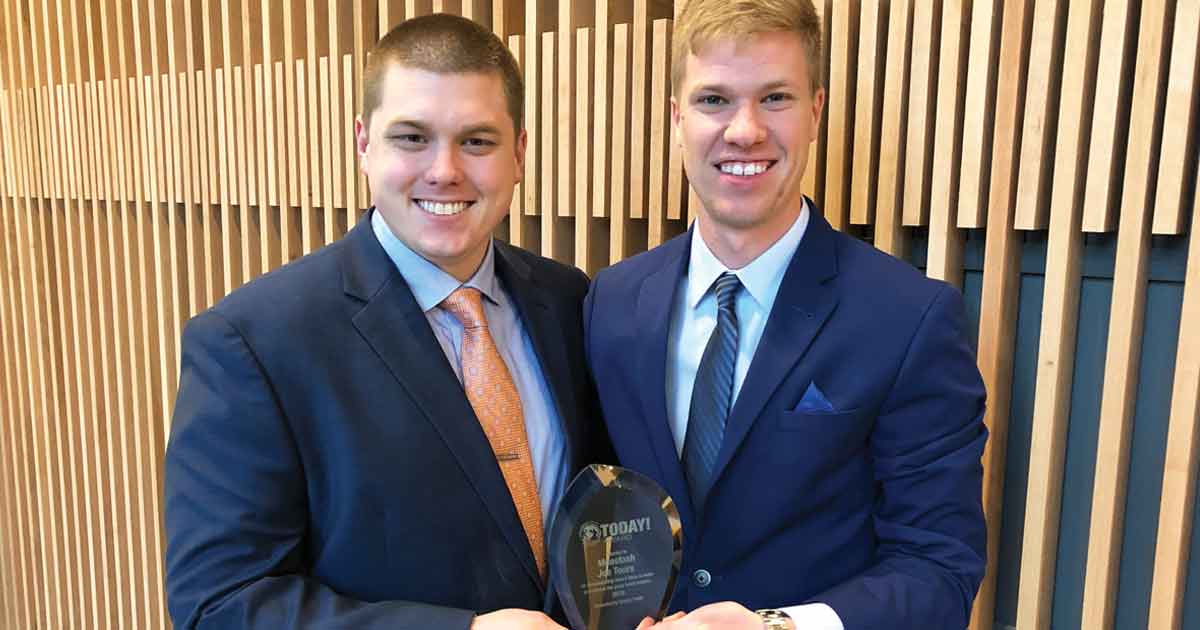 5 Minutes With ... Joey and John Spellerberg
Joey and John Spellerberg, President and Vice President of Moostash Joe Tours and second-generation leaders, were honored with the 2019 TODAY!
Award on the ABA Marketplace stage. The award is offered by Groups Today to an ABA member who demonstrates they have what it takes to make an impact in the group travel industry—today—in terms of relevancy, impact, growth, advocacy and innovation.
The late "Moostash" Joe Spellerberg started the leading tour company in the Midwest in 1975. Joey and John, who've been involved for 6 and 3½ years respectively in their father's company, were introduced to the industry through family trips.
"From the Majestic National Parks, to the Scenic New England States, if there is a place you are dreaming of going, we can take you there!"
ON CHANGES
Technology has really helped us. We invested heavily in our website and have 3,500 Facebook followers. We take the basics of what's a tour and make it easy for our customers to understand, using videos. We take advantage of engaging tours, spending more time in a destination or hub-and-spoke. We offer value and service. Customer tastes are changing and we're asking them what they want. We're referring back to our surveys.
ON CHALLENGES
Maintaining group size is a challenge. People wanting individual experiences on group tours: How do we package trips to feel this way? Developing new destinations: We need to be open to new, up-and-coming things and culture. We need to think outside the box! What do people want? Where is that going on in society? A lot has to do with social media and what's taking off. Trips sell themselves. We don't have to beat the pavement if something is already selling itself—Hamilton, for example.
There are always going to be challenges on the road. We've retrained ourselves to think of these not as challenges, but an opportunity to show customers who we really are. How do we make this right? We need to look at it this way as an industry. You really have to retrain your brain.
ON OPPORTUNITIES
We have the opportunity to bring a lot of energy to the industry—to liven it up! We need that, to keep moving forward. How do we look at destinations in a way that's popular, but keep them lively? People will always want to travel in groups. They want buses with Wi-Fi. How do we make the experience better, to attract young people, in a way that's good for tours?
FOR NEWCOMERS
The travel industry is exciting! Lots of people sit behind a desk—we see a lot of cool destinations. There's never a dull moment. There's always something new! Who doesn't like to travel?
Written by Amy L Charles, Editorial Director for Groups Today, and originally published in Groups Today magazine.
Photo: John and Joey Spellerberg accepting the TODAY! Award from Groups Today publisher Kasie Smith. Image courtesy of the American Bus Association.