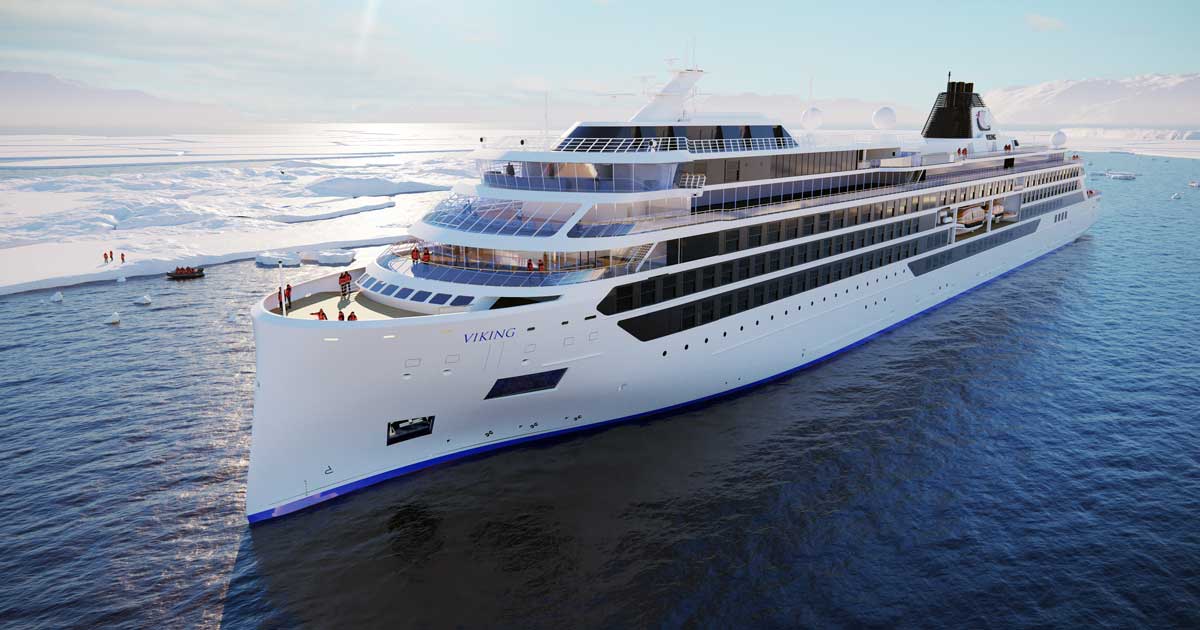 Viking Cruises to Offer Great Lakes Expedition Voyages
The Great Lakes are a natural marvel, providing 84% of North America's surface freshwater used for consumption, transportation, power, recreation and more.
Now, thanks to Viking, groups could experience the Great Lakes in a whole new way.
Viking has announced the expansion of its destination-focused travel experiences with the launch of new expedition voyages, set to begin sailing in January 2022 with its first vessel, Viking Octantis, embarking on voyages to Antarctica and North America's Great Lakes. A second expedition vessel, Viking Polaris, will debut in August 2022, sailing to Antarctica and the Arctic.
Viking's arrival to the Great Lakes will bring the newest and most modern vessels ever to explore this region of North America and mark a major commitment to local tourism and economic development for the states of Michigan, Minnesota, and Wisconsin, as well as the Canadian province of Ontario.
On these expeditions, groups could do things like experience the urban skylines of Detroit, Toronto, and Milwaukee; venture into remote regions to visit bald eagle and bear habitats; and experience car-free, idyllic Mackinac Island while learning about indigenous cultures and frontier life along the way.
"We invented the concept of modern river cruising when we launched in 1997; then we reinvented ocean cruises and became the 'World's Best Ocean Cruise Line' in our first year of operation, as well as every year since then," said Torstein Hagen, Chairman of Viking. "Now, in creating 'the thinking person's expedition,' we are perfecting polar expedition cruising, and we will usher in a new era of comfortable exploration in the heart of North America."
To develop the new expedition voyages, Viking partnered with some of the world's most prestigious scientific institutions, its lead partner being the University of Cambridge's Scott Polar Research Institute. This relationship is underpinned by a major Viking endowment for scientific research into the polar regions, The Viking Chair of Polar Marine Geoscience, a Cambridge University full professorship based at the Scott Polar Research Institute, and a sponsorship fund supporting the Institute's graduate students. As part of this endowment, the Institute's scientists will undertake fieldwork onboard Viking's expedition vessels and join voyages to share their expertise with guests.
Viking has also partnered with The Cornell Lab of Ornithology, a globally recognized bird research facility, whose ornithologists will regularly be on board the expedition ships, providing guest advice and interaction. Additionally, Viking has partnered with the National Oceanic and Atmospheric Administration, whose scientists will join expeditions in the Great Lakes to conduct research focused on changes in the region's weather, climate, and ecosystems. During these voyages, NOAA scientists may also offer lectures about the Great Lakes' unique environment to Viking guests.
Designed by the same experienced nautical architects and engineers that designed Viking ocean ships, these ships are optimally sized and built for expeditions. They will feature public spaces familiar to Viking's ocean cruise guests but reimagined for expeditions, as well as new public spaces created specifically for expeditions. Among the amenities groups could look forward to experiencing:
The Hangar is an enclosed, in-ship marina that allows for the launch of small excursion craft through the ship's multiple shell doors.
The Laboratory is an onboard facility designed to support a broad range of research activities that guests will have supervised access to, in order to learn from and participate with scientists undertaking primary research.
Expedition Equipment includes a fleet of military pro zodiacs designed for professional use in the harshest of environments; a fleet of two-seater Arctic-tested kayaks; and two 12-seater convertible RIBs. Each ship will also feature two six-guest submarines that feature revolving seats and 270-degree spherical windows for an incomparable undersea experience. A Viking Expedition Kit will contain items like boots, binoculars, and waterproof pants; each excursion will carry a full range of safety equipment, such as satellite phones, VHF radios, ropes, life jackets, and a comprehensive shore survival kit; and all guests will receive complimentary use of Viking Excursion Gear, which includes specialty items like trekking poles, snowshoes, and skis.
The Aula & Finse Terrace, a stunning panoramic auditorium at the stern, is adjacent to the Finse Terrace, an outdoor lounge area with comfortable couches and warming lava rock "firepits"—perfect for panoramic views of the surroundings.
Nordic Balcony is a first for polar expedition cruise vessels. All staterooms onboard Viking Octantis and Viking Polaris feature a Nordic Balcony, a sunroom that converts into an alfresco viewing platform.
The Nordic Spa & Fitness Center, Aquavit Terrace & Pools, Explorers' Lounge, onboard and onshore enrichment opportunities, exceptional dining choices, and sustainable features round out the experience.
As part of an exclusive preview, past Viking guests have been able to book select Viking Expeditions polar itineraries since October 9. Since January 15, 2020, all expedition voyages—including the new Great Lakes itineraries—are available to the public for booking.
Learn more at Viking.
Written by Sarah Suydam, Staff Writer for Groups Today.
Photo courtesy of Viking.