What's New (and Renewed) in New York City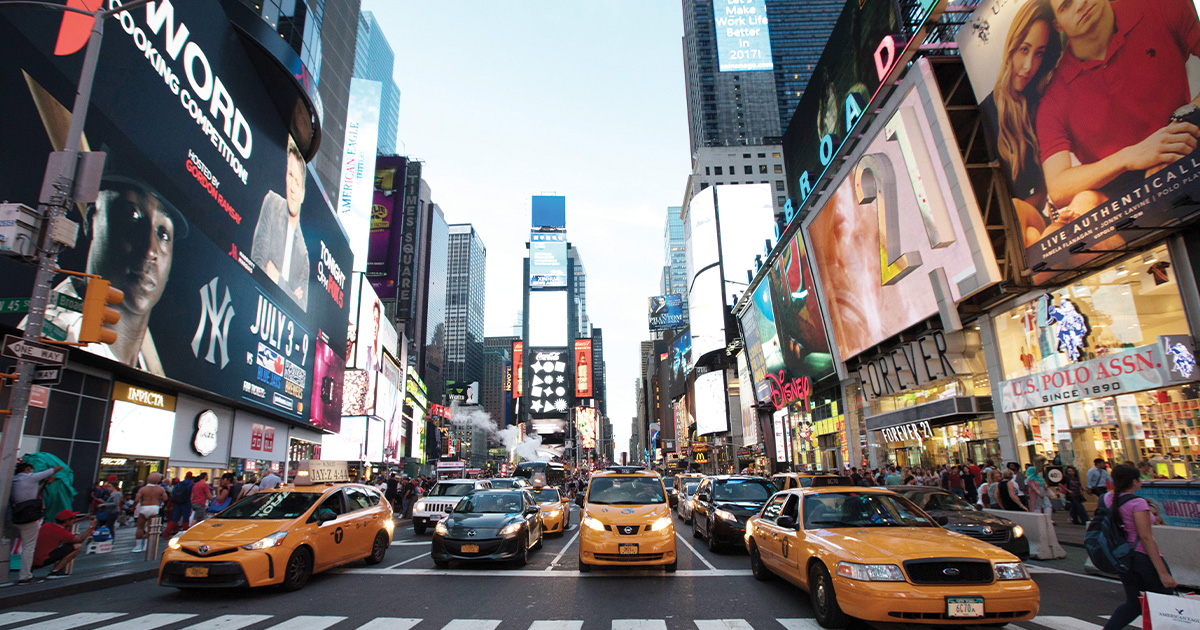 Call it a revival. Call it a comeback. Whatever you call it, The Big Apple is open for business—big time. As one of the top tourist destinations in the world, with millions of visitors arriving by plane, train, subway and taxi, NYC has become a touchstone for pandemic recovery. And, true to its spirit, the city has returned to near normal operations with a roar.
In addition to celebrated standbys, a number of new attractions have arrived on the scene to welcome and wow travelers. Even the major gateways to NYC have experienced a transformation, with LaGuardia, Newark, and JFK airports sporting brand-new terminals.
Here's a snapshot of new and renewed museums, restaurants, performance venues and attractions located throughout the five boroughs to help you plan your next group travel adventure.
ARTS & ENTERTAINMENT
NYC continues to flex its cultural clout with a robust offering of some of the biggest draws across the globe.
Boasting "The world's greatest singers on the world's greatest stage," The Metropolitan Opera at Lincoln Center hosts its spring season, running from February 26 – June 10, 2023. On the calendar are a number of classic productions that appeal to a broad audience, including Verdi's Aida and Puccini's La Bohème. Mozart's Don Giovanni and Blanchard's Champion are also crowd favorites. Groups of 10 or more save up to 20% off regular ticket prices.
Also at Lincoln Center is the David H. Koch Theater, where the New York City Ballet brings together some of the most distinguished dancers, choreographers, musicians and artists. After necessary delays, they're presenting their winter and spring 2023 repertory performances January 17 – February 26 and April 18 – May 28, respectively. There's a discount of up to 30% off for repertory performances for groups of 10 or more.
And, of course, there's Broadway's much anticipated return. Theaters in Times Square and across town will raise their curtains and set their stages for a wide range of shows. These include Broadway Inbound's recommended shows for groups: Kimberly Akimbo, A Beautiful Noise and Almost Famous, as well as other noteworthy titles such as Aladdin, Back to the Future the Musical, and Funny Girl—to name a handful. Special group rates for as few as eight people can apply, depending on the show. Trip planners are encouraged to look into GroupTools for Broadway Inbound to facilitate the planning and booking of their events.
Additional new, evolved and/or expanded cultural institutions that groups will enjoy include The Gilder Center at the American Museum of Natural History, The Museum of Broadway and The Louis Armstrong House Museum in Queens.
ACTIVITIES & ATTRACTIONS
There's an abundance of interesting things to do and see around every corner in "The City That Never Sleeps"—but you don't have to stay up all night to take in the highlights.
The iconic Rink at Rockefeller Center has reopened for its 86th season, offering ice-skating through March 2023. Twirl, glide or triple-axel if you have the skills at this world-famous attraction. If you're visiting in winter, you won't want to miss the opportunity to revel in this legendary landmark that brings in more than a quarter of a million skaters a year!
Another must-see is the towering Empire State Building—not that it can be overlooked! And, while viewing it from the ground is a sight, gazing at the city from the 102nd floor is a spectacle all its own. The recently restored Empire State Building Observatory Experience—now with a dedicated guest entrance, immersive museum, and completely reimagined Observatory—offers a breathtaking, 360-degree panorama. The Observatory regularly tops "best in travel" lists and appeals to a wide demographic, across all age groups. Pre-reserving timed tickets is encouraged to avoid wait lines, and add-ons such as The Premium Experience, All Access Tour, Happily Ever Empire, or The Sunrise Experience create a truly special and memorable visit.
There are new shopping options of note, as well. Explore the magic of the first official Harry Potter New York Flagship Store, go back in time at the digital and physical space Club Vintage, or put a ring on it at the new Tiffany & Co. flagship store in Midtown.
The Museum of the Moving Image has a number of ongoing exhibits that will delight everyone in the group, too, including The Jim Henson Exhibition and Behind the Screen, which walks visitors through the processes of producing, presenting, and promoting TV shows, movies and digital entertainment.
RESTAURANTS & CULINARY
From classic fare and global tastes to palate-tickling fusion, there's never a shortage of inspired eats in NYC.
On the short list are some new spots, including Laser Wolf, an Israeli skewer shop on The Hoxton's rooftop, Rockefeller Center's Le Rock, with its French-leaning menu, and Lambs Club at The Chatwal, which serves traditional American dishes.
In the warmer months, open-air food markets will return, and groups could get their fill at Bronx Night Market, Queens Night Market and Smorgasburg in Brooklyn, all of which feature a variety of cuisines from local restaurants.
Groups can also venture into the different cultural pockets within the five boroughs, and sample some authentic, worldly bites from neighborhoods such as Little Caribbean, Washington Heights, Little Sri Lanka, Arthur Avenue and Chinatown. Another unique option is the 7 Train Food Crawl, which runs from 34 St./Hudson Yards, Manhattan to Flushing, Queens with 22 stations in between. Step off at designated stops to try food from Turkish, Salvadoran, Thai, Ecuadoran and Korean Restaurants—and more.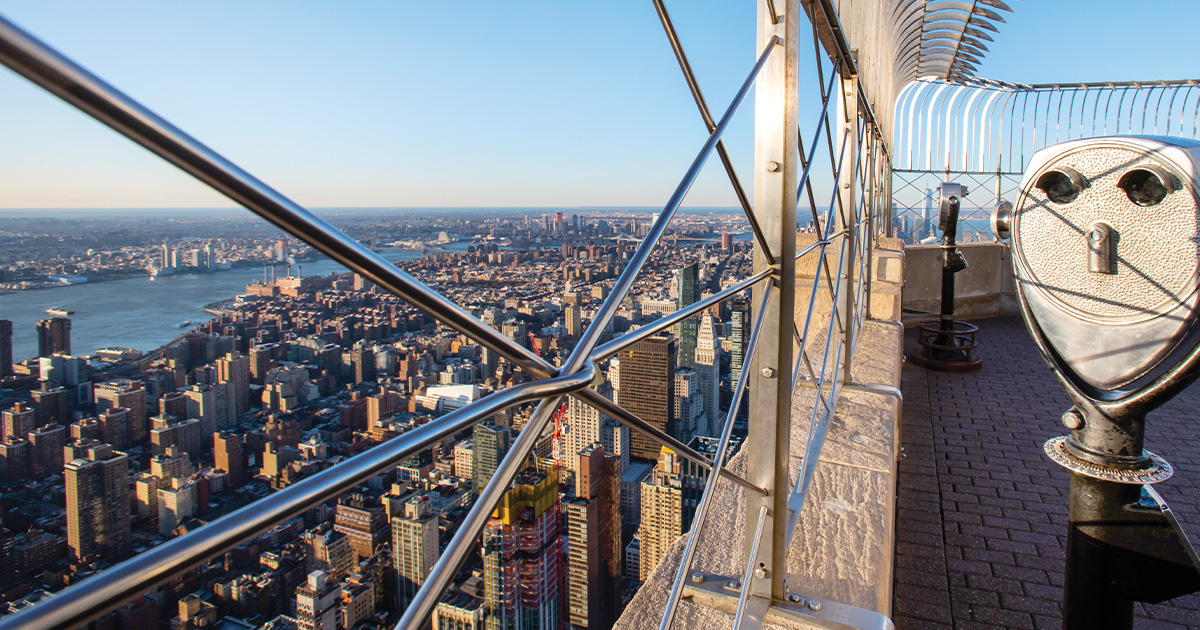 If you have a larger group and are looking for some friendly options, then Sardi's, Dinosaur Bar-B-Que, Junior's, and John's of Times Square are among those known for their group accommodations.
These are only a few ideas for new and existing places to go, sights to see, performances to enjoy and spaces to dine. If you're looking for more ideas, planning resources or help with your itinerary, visit NYC & Company at nycgo.com. You can also sign up to receive their latest updates, including important information regarding any COVID changes and restrictions. The NYC & Company newsletter is also a great way to stay in the know about special deals and their partners.
Written by Allison Kay Bannister, Contributing Writer for Groups Today.
This article originally appeared in the Jan/Feb '23 issue of Groups Today.
Photos Courtesy of Empire State Building Observatory and NYC & Company.