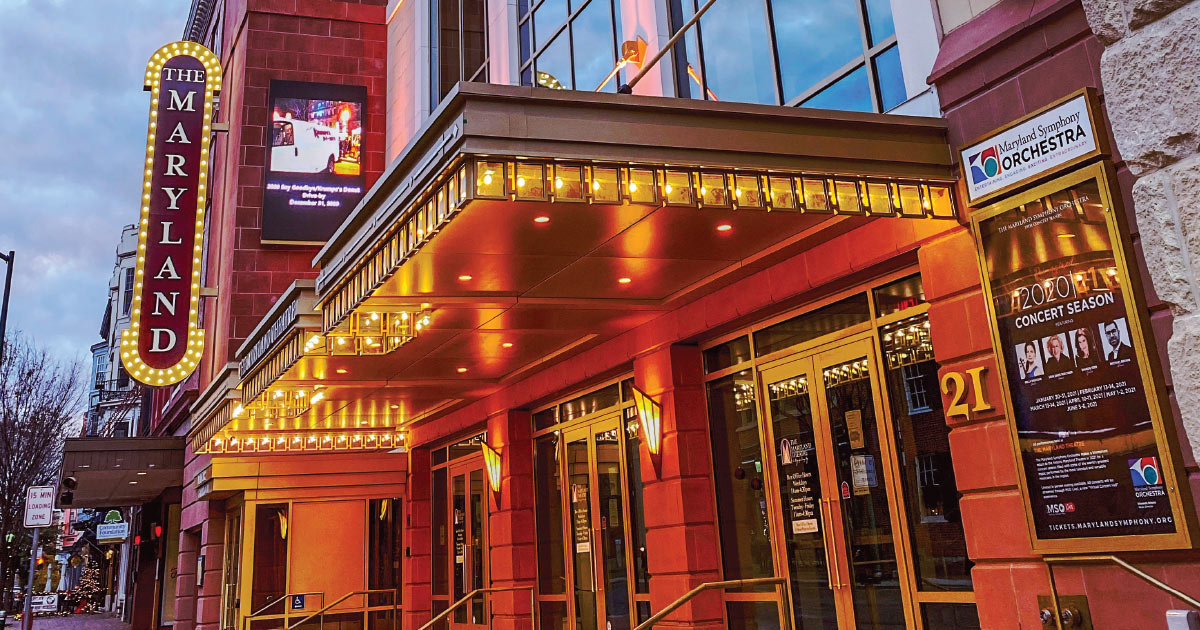 Try a Taste of Maryland
If you want to get a sampling of much of what the U.S. has to offer, but a road trip across the country isn't in your schedule, there's one place your group can go that checks so many boxes it's actually nicknamed America in Miniature.
Maryland, the seventh state in the union, is packed from border to shoreline with incredibly diverse terrain, including the rolling Allegheny Mountains, the marshy Chesapeake Bay, the sandy Atlantic Ocean waterfront, and a blend of rural and urban landscapes in between.
Maryland is steeped in history, with important sites and landmarks throughout the state, and it's rich in African American roots and culture as well. In addition, it's home to a variety of arts, entertainment, cuisine, and points of interest, offering plenty of options to build a robust and exciting itinerary. Let's take a gander at some of the highlights in the state.
Hagerstown, near the Pennsylvania border, is an ideal starting point, being a "Hub City" with ties to railroads, canals, historic roads and aviation. There are a number of museums, including the Ritchie History Museum, located on the original grounds of Fort Ritchie Base, and the new Hagerstown Aviation Museum. With an emphasis on World War II, the Ritchie History Museum features an expansive collection of memorabilia and artifacts, plus exhibits, photographs, publications and more, commemorating the lives and contributions of military trainees over 70 years of military history. At Hagerstown Aviation Museum, groups could view the largest collection of Fairchild aircraft and memorabilia in the world, with 23 historic aircraft and over 10,000 photos and artifacts spanning more than a century of aviation in Hagerstown. There's also Antietam National Battlefield, a popular stop for those interested in the American Civil War.
Hagerstown Cultural Trail is another visitor favorite. This one-mile trail is easily accessible and filled with attractions, artwork and sculptures along the way. While strolling the trail, tour the Maryland Theatre and the Jonathan Hager House, home to the founder of Hagerstown; dine at one of the many group-friendly restaurants; and explore Washington County Museum of Fine Arts.
Southwest of Hagerstown is Frederick County, with much to see and do in its namesake city and beyond. Make the Frederick Visitor Center your first stop to get acquainted with the area, then venture into downtown for boutique shopping, a tour and a show at the Weinberg Center, and a stop to browse the wares at McCutcheon's Apple Products. The Museum of Frederick County History and the National Museum of Civil War Medicine are both downtown, too, and are considered must-sees for groups.
Outside of downtown Frederick, there's the city of Catoctin Furnace, which features several Black history and cultural sites, including the Museum of the Iron Worker. Catoctin Mountain Orchard—open May through January—is nearby and offers fruit picking, a bakery, market and gift shop. As your motorcoach departs, be sure to make your way to the county's three covered bridges: Utica Mills, Loy's Station and Roddy Road—all within twelve miles of each other. And, don't leave Frederick County without a scenic excursion or dinner train with Walkersville Southern Railroad. They also offer murder mystery trains periodically. Regular trains operate on weekends from May through October, and charters and special trains run year-round.
Baltimore, is, of course, a requisite destination for groups, with so many draws we can't begin to mention them all here. Let's look at some highlights.
With 60% of the city's population made up of African Americans, Baltimore celebrates its heritage and community through a number of museums and sites. Topping the list is the Reginald F. Lewis Museum of Maryland African American History & Culture, which has art and artifacts dating back to 1784. Groups can take a guided or self-guided tour of the third floor and receive a discounted rate for 10 or more adults. In addition, the Frederick Douglass-Isaac Myers Maritime Park Museum, Maryland Center for History and Culture, Lillie Carroll Jackson Civil Rights Museum, National Great Blacks In Wax Museum, and James E. Lewis Museum of Art all give a broader view into Black contributions in the region.
Baltimore is also home to a booming art scene, ranging from traditional to unconventional. Check out the Baltimore Museum of Art, which has the largest collection of Matisse works in the world and the Walters Art Museum, with its collection that dates back to 5,000 BCE. There's also the American Visionary Art Museum—the Nation's official museum for self-taught artistry—as well as the recently renovated and reopened Peale Museum, one of the oldest museums in the country.
Stage performance is also big in Baltimore, and groups can take in larger productions at the iconic Center Stage, classic plays at the Chesapeake Shakespeare Theater, or Queer theater at the Iron Crow—to name a few. Just about a half hour outside of the city in Columbia is Toby's Dinner Theatre, a not-to-be-missed destination for groups. Award-winning Broadway plays and original musicals are paired with a plentiful buffet-style dinner featuring a salad bar, carving station, a variety of desserts and a full service bar. Accompanied by a live orchestra, performances are "in-the-round," providing each guest a seat within 30 feet from the stage.
Group planners should also consider visits to the National Aquarium, Maryland Zoo, Maryland Science Center and Fort McHenry (birthplace of the National Anthem) as part of their itineraries. And, a ballgame at Oriole Park at Camden Yards is a great option for sports fans. Finally, don't leave Charm City without a stop at Lexington Market for fresh food, local goods and regional culinary delicacies. It's the country's longest continuously operating public market, serving Baltimore for over 230 years.
Next stop, the National Harbor! It overlooks the Potomac River, and is bursting with sights and activities galore. Stop at Spirit Park, an exhibit that honors the American flag, and stay to enjoy entertainment or a picnic at the amphitheater. Or, rent a boat, walk the promenade, ride the iconic Capital Wheel, shop the Tanger Outlets and the boutique-y Waterfront District, or dine at signature restaurants. For overnight accommodations, two group favorites are MGM National Harbor, a luxury casino resort that also has a state-of-the-art theater, and Gaylord National Resort and Convention Center, the East Coast's largest non-gaming hotel and convention center.
Any trip to Maryland would be incomplete without partaking in the state's renowned seafood, and a trip to the Chesapeake Bay area will satisfy that craving and more, with all things crab (and Old Bay), plus lighthouses and maritime history to explore.
Written by Allison Kay Bannister, Contributing Writer for Groups Today.
This article originally appeared in the Sep/Oct '23 issue of Groups Today.
Photo Courtesy of Hagerstown.