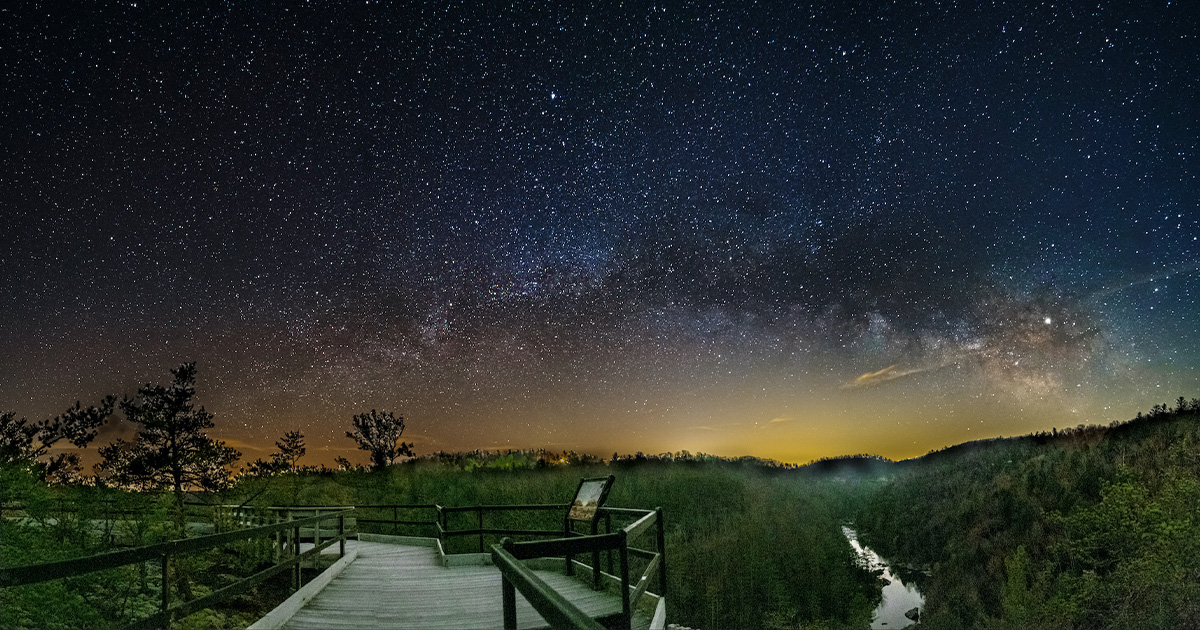 Top Stargazing Spots in Tennessee
Explore Tennessee's top destinations for stargazing and enjoying the state's natural beauty.
Tennessee is filled with endless opportunities to bask in natural beauty, from the majesty of the Great Smoky Mountains to the vast plains along the Mississippi River and beyond. And the good news? The stunning sights continue, even after sunset. Keep reading to learn some of Tennessee's top spots for stargazing your groups won't want to miss.
Tennessee is an ideal place to stargaze, thanks to its many wide-open spaces and sites with a lack of light pollution, making for some perfectly dark skies.
Let's begin with an obvious choice: Great Smoky Mountains National Park, the US.'s most visited national park, is an ideal choice for those groups looking to see as many stars as possible in the night sky. Considering the nearest large cities are situated 40 to 100 miles away from the park, light pollution won't be a concern. Experts say Newfound Gap Trailhead in Townsend is a favorite spot for stargazers, providing unobstructed views 6,000-feet above sea level. Groups could even venture to Clingmans Dome, the highest point in Tennessee, which offers phenomenal nighttime views from its 54-foot observation tower, open from March through December.
Another incredible option is the Obed Wild & Scenic River National Park, as evidenced by its designation as an International Dark Sky Association International Dark Sky Park. Located in Wartburg, Obed demonstrated exceptional dark-sky conditions and a strong commitment to preserving the park's night sky resource, in order to be counted among the 201 certified Dark Sky Parks around the world. In addition, the park has offered year-round astronomy and dark sky interpretive programs since 2013, supported by a collaboration with local amateur astronomers from the ORION Astronomy Club in Oak Ridge and the Knoxville Observers in Knoxville.
For a view unlike any other, groups can venture to Vanderbilt Dyer Observatory, recognized as a Tennessee astronomical treasure whose powerful telescope has been pointed toward the sky since 1953. Not only does the observatory host a variety of events, such as "Telescope Nights" and "Meet the Astronomer," it's surrounded by scenic Radnor Lake State Park and listed on the National Register of Historic Places. Groups should note that throughout the year, the observatory hosts outdoor performances by local musicians, followed by the opening of the observatory dome where visitors are invited to view a plethora of celestial wonders.
Bays Mountain Park is also a stellar choice for groups. The 3,550-acre nature preserve and the largest city-owned park in Tennessee boasts a state-of-the-art planetarium theater—the only one of its kind in the western hemisphere—with over 7,000 projected stars and high-tech projectors. Groups could also enjoy the park's two observatory structures, which house a number of telescopes that include lensed refractors and mirrored reflectors, offering a window into the stars. Throughout the year, groups could join in on the events hosted by the Bays Mountain Astronomy Club and planetarium staff as they highlight some incredible astronomical sights in the nighttime skies.
For more ideas on stargazing spots in the great state of Tennessee, visit Tennessee Vacation.
Written by Sarah Suydam, Managing Editor for Groups Today.
Photo Courtesy of the National Park System and Tennessee Department of Tourism Development.