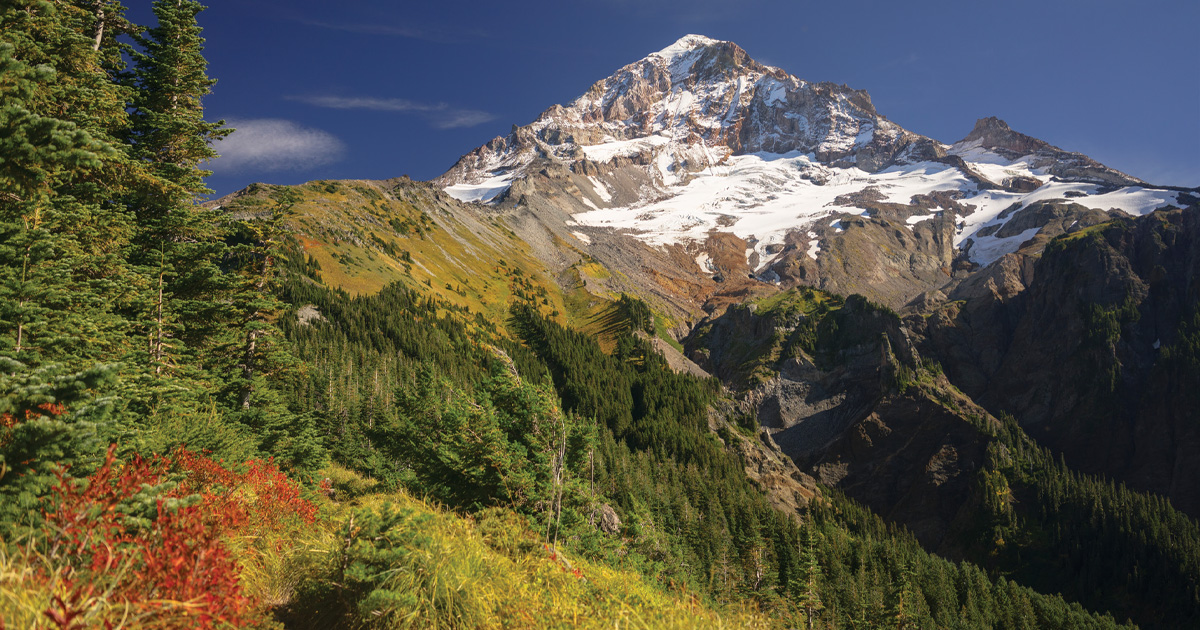 Peaks, Valleys, Shores and More: Discover the Diversity of Oregon
Whether you seek adventure on the waterfront, big city excitement or interesting excursions amid snow-capped mountains, Oregon has it all.
With more than 350 miles of coastline, groups could spend an entire itinerary just exploring the Pacific Ocean region. But, there's also plenty to do in other areas of the Beaver State, including its largest city, Portland, and smaller towns not far from the California border. Here, we cover the highlights of this captivating state.
CATCH A WAVE ON THE COAST
Lincoln City is a somewhat central location that offers an abundance of its own activities and can also serve as a jumping point for other expeditions. Love the arts? Get the free, digital Lincoln City Art Trail Passport and embark on a self-guided tour of murals, mosaics, sculptures and statues. Or, carve time out to visit the Lincoln City Cultural Center and see art exhibits and live concerts, or take a class.
There's also Finders Keepers, a unique promotion that invites visitors and locals to search for more than 3,000 hidden glass floats made by local artisans. As the name suggests, if you find one, you can keep it! Antiquing is also big in Lincoln City, so don't miss the opportunity to pick up a vintage treasure.
The city's Exploriences Program is an excellent way for groups to immerse themselves in the region's points of interest, from clamming, crabbing and birdwatching to beachcombing, hiking and tide pools. Free and led by local experts, the program incorporates topics on a variety of interests.
From there, head north toward the Washington border to Ecola State Park—a popular spot for hiking—or to Astoria Scuba and Kayak to rent a kayak or SUP for an afternoon of paddling. If you don't want to go that far north, at least make a trip to Tillamook, which is not only a great kayaking spot, but also a cheese lover's paradise. Take a tour of The Creamery, see a farm exhibit and dine on some delicious dairy.
There's much to do south of Lincoln City as well, with one of the big attractions being whale watching in Depoe Bay. Whale Research EcoExcursions is one company that provides whale watching tours. (Note that the best time to see whales in this area is June through September, when resident whales come closer to shore to feed.) Dockside Charters is another company that offers whale watching tours, plus charter fishing trips, too.
Take in more of the ocean and nature's grandeur with a visit to the Cape Perpetua Scenic Area—a 2,700-acre coastal habitat. The Cape Perpetua headland, the highest viewpoint accessible by vehicle on the Oregon Coast, towers a staggering 800 feet over the Pacific Ocean, providing views of the marine reserve and the rocky shore. From the Captain Cook Trail, visitors can see Cook's Chasm, Spouting Horn, and a number of tidepools filled with sea life such as snails, urchins, anemones, sea stars and crustaceans.
Sandboarding and buggy riding on the Oregon Dunes in Florence are other fun activities for groups, with Sandland Adventures and Spinreel Dune Buggy and ATV Rental being two services in the area.
Looking for more to do oceanside? Go to thepeoplescoast.com for hundreds of ideas!
PLAY IN PORTLAND
The City of Roses, and the surrounding area, is incredibly varied. The greater downtown has many draws, whether it's browsing literature at Powell's Books—the world's largest independently owned new and used book store—or strolling the Portland Saturday Market, which is open nearly year-round, from early March through December 23. A voyage along the Willamette River aboard the Portland Spirit is also a favorite activity, whether it's for sightseeing or enjoying inspired Northwest cuisine on a dinner, brunch or lunch cruise. Boats run all year and special group rates apply. While in the area, a stop at the Portland Art Museum and adjacent Oregon Historical Society is a must, as is a tour of Pittock Mansion.
If gardens are your vibe, there are blooms galore, best viewed from May to September, at the International Rose Test Garden, which features 10,000-plus rose bushes representing more than 600 varieties. Admission is free and pre-arranged tours are available for a nominal fee. Nearby are the Portland Japanese Garden and Lan Su Chinese Garden, both considered some of the most authentic outside of their respective nations.
Keeping Portland as a home base, there are also a number of day trips that are ideal for groups. Go wine tasting in Tualatin Valley or Willamette Valley, both of which are within 45 minutes of downtown Portland, or venture a bit further to take in the majestic Mt. Hood, Oregon's tallest peak. And, just a 30-minute drive from the city center are the breathtaking Columbia River Gorge Waterfalls, including Multnomah Falls, Oregon's tallest waterfall.
SWING BY (AND STAY A WHILE) IN SOUTHERN OREGON
First stop: Ashland, home of the Oregon Shakespeare Festival. The 2023 season has an impressive lineup of shows; most noteworthy, according to Festival experts, being Romeo and Juliet and RENT. Twelfth Night and The Three Musketeers are also on the docket, and all four stage performances run through October, 2023. If visiting in November and December, check out the comedy, It's Christmas, Carol! There are also workshops and educational offerings tailored to groups, such as one-hour Group Discussions with an OSF theatre professional, Prefaces and Post-Show Talkbacks. Groups of 15 or more save up to 25% on shows and also receive discounted rates on other events.
Not far from Ashland are the towns of Medford and Phoenix, both in Southern Oregon's Rogue Valley. Medford is home to Craterian Theater, so groups can get their theater fix even after leaving the Oregon Shakespeare Festival. Don Jones Memorial Park, Prescott Park and a climb up Roxy Ann Peak, are to-dos near Medford, as well. Phoenix is a mere hop over from Medford and is a hotspot for boutique shopping, and it also has a museum, gallery and a clubhouse that hosts events. And, the Rogue Valley in general is an oenophile's dream, with its award-winning wineries. A premier wine region, it was recently named a top 12 global wine destination by Forbes.
Before you go ... consider a trek to Crater Lake National Park in Southern Oregon's Cascade Mountains. It's the fifth-oldest national park in the U.S. and the state's only national park. Of particular interest is Wizard Island, formed by Mount Mazama, a now-collapsed volcano. The island is accessible by boat and open for hiking and taking in panoramic views.
Written by Allison Kay Bannister, Contributing Writer for Groups Today.
This article originally appeared in the Jul/Aug '23 issue of Groups Today.
Photo © Isaac Lane Koval.