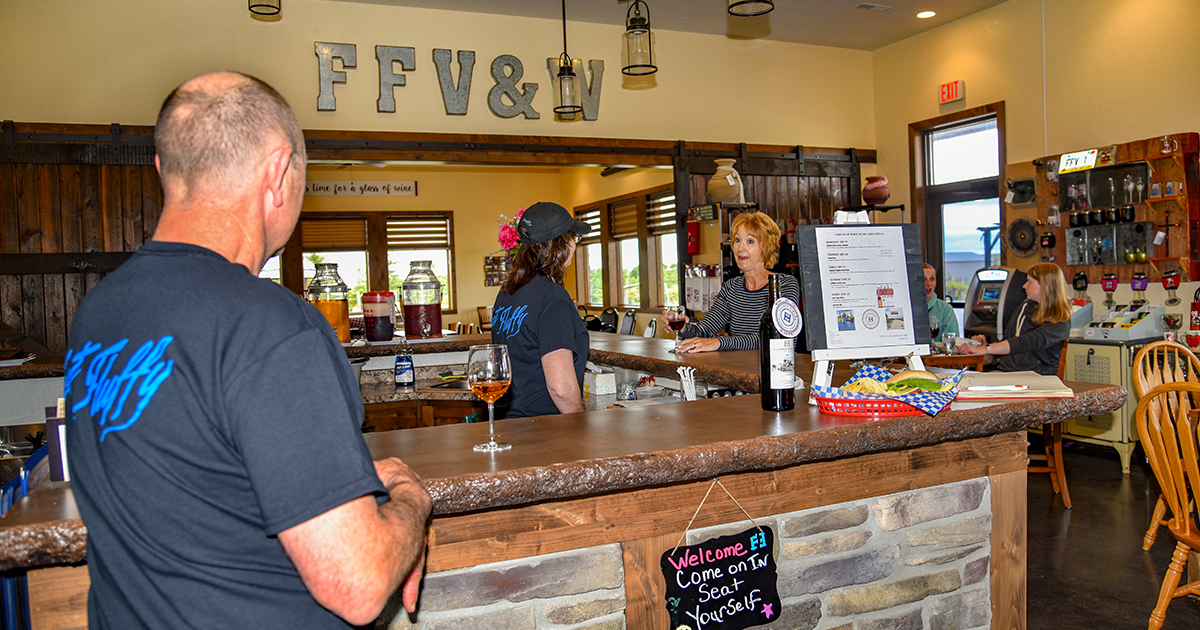 Sip, See, Enjoy!
Puffy white clouds fitter across a blue sky as you make out strange shapes within. Fields of waving grain blow in the gentle breeze that embraces you like a warm blanket.
Welcome to the Northern Plains, where your only care is choosing between white, red or rosé.
Now that you're here, your group has likely found the popular Fluffy Fields Vineyard and Winery, on the edge of Dickinson in Western North Dakota. This oasis for travelers is the perfect place to stop, sip a glass of wine and grab a bite to eat with friends. It's also an ideal jumping-off point before a journey in the Badlands, Little Missouri National Grasslands, Medora and Theodore Roosevelt National Park—located just over a half-hour ride from the award-winning winery and vineyard.
Owners Kevin and Deb Kinzel opened Fluffy Fields in 2016 as Southwest North Dakota's first full-service winery. This labor of love by the Kinzel family is open year-round on the family farm—the place where their idea for winemaking first took root.
Fruit for Fluffy Fields wines are taken from grapevines, cherry, chokecherry, and haskap bushes, along with apple and plum trees. Their garden provides strawberry, rhubarb, carrots and pumpkin, all used in the making of their distinctive wines that are produced using only the best of the best local produce.
Seating is available for 65, but the specious winery still allows for visitors to feel alone with nature on the patio, complete with a glass of wine and a specialty plate of cheese, crackers, and other delicacies.
Before opening a bottle, groups could sample various offerings to find just the right pairing for lunch, dinner or a mid-afternoon break. Request and schedule a tour of the vineyards, winery and gardens—where questions are always encouraged—and make this a memorable stop on your tour.
The Visit Dickinson Convention and Visitors Bureau can also provide information on its community ambassadors who may provide special educational activities to specifically coincide with your visit to Fluffy Fields and additional local favorites like delicious eateries, coffee shops, attractions, accommodations, and outdoor adventures. Planning ahead for 2020? Summer festivals and events in Dickinson include Roughrider PRCA rodeos, demolition derbies, the Roughrider Days Celebration, Ukrainian Culturefest and free concerts in the park.
Written by Deanne Cunningham, Group Travel Marketing, North Dakota Tourism Division.
Content and photo courtesy of North Dakota Tourism.