From Famous Names to Natural Wonders, Kentucky Brings It Home
The beauty of Kentucky spans from its famed bluegrass to its two million-plus acres of National Forest land, making it an appealing outdoor oasis nestled in the southern Midwest. From the birthplace of Lincoln to the home of baseball bats, horse racing, boxing legend Muhammad Ali and so much more, Kentucky offers something for every group. Sports fans, foodies, adventurers, music lovers and historians alike will find something to love. Let's walk through some ideal attractions for group visits.
Pour some bourbon, don your fascinator hats and seersucker suits, and go off to the races at the Kentucky Derby Museum. Standard visits include a walking tour of Churchill Downs Racetrack, a viewing of the 360°, large-screen film The Greatest Race, interactive exhibits, and access to the gift shop and café, but the even bigger showstoppers are the Premium Tour Selections. There are a number of options exclusively available to groups, with the top three being Mint Julep University, Hatitude and Lucky Shoes.
In Mint Julep University, attendees will expertly mix up this signature Kentucky drink. Learn about ingredients and techniques as well as the history behind the illustrious concoction. Pair your cocktails with bourbon balls or purchase a custom gift bag to take home—and don't forget to commemorate your graduation with a group photo! If fashion is more your style, cop some Hatitude in this hands-on, hat-adorning class. A variety of hats for both men and women are provided, as are all the trimmings—from flowers to feathers—and staff are available to offer their skilled guidance. Betting on a good time? Lucky Shoes combines background on the origins of the horseshoe luck charm with the opportunity to decorate their own horseshoe souvenir, complete with dirt from the track at Churchill Downs. All Premium Tours require advance scheduling and a deposit, so plan ahead!
Take your motorcoach behind the scenes of the old ballgame with a stop at Louisville Slugger Museum & Factory—another group favorite. Celebrating the history of these renowned baseball bats and their important role in the sport, the museum regales visitors with stories, exhibits and memorabilia, and wows with the mesmerizing machinery that produces the bats. Discounted group ticket prices apply and include all museum galleries and exhibits, plus a guided tour of the factory and a 16-inch souvenir bat. Carve out at least an hour for your visit and be sure to take advantage of the onsite batting cages, and pick up specialty gear and merchandise or a personalized bat at the museum store.
Muhammad Ali Center is a memorable add to your itinerary, filled with reflection, inspiration and discovery. Rooted in Ali's core principles of Respect, Confidence, Conviction, Dedication, Spirituality and Giving, the exhibits and galleries provide a view into the extraordinary life and legacy of a champion, activist, ambassador and advocate. The Center welcomes motorcoaches and tours with a curated experience, including a "Hop on The Bus" greeting and an introductory overview followed by a professionally guided tour of the Center's award-winning exhibitions. Access to temporary exhibitions is also included, and a stop in the gift shop is a must. Drivers and group leaders receive complimentary admission, and reservations are recommended at least three weeks in advance.
All three of the above attractions are located within a short distance of one-another, making an extended stay in Louisville for these activities and more an essential part of your trip. As Kentucky's largest city, with its picturesque setting on the banks of the Ohio River, Louisville blends old and new, and has emerged as a bit of a cultural hub for arts, entertainment and cuisine. It's worth noting that trip organizers should stay abreast of safety restrictions and protocols, especially with regard to indoor facilities, as those can change.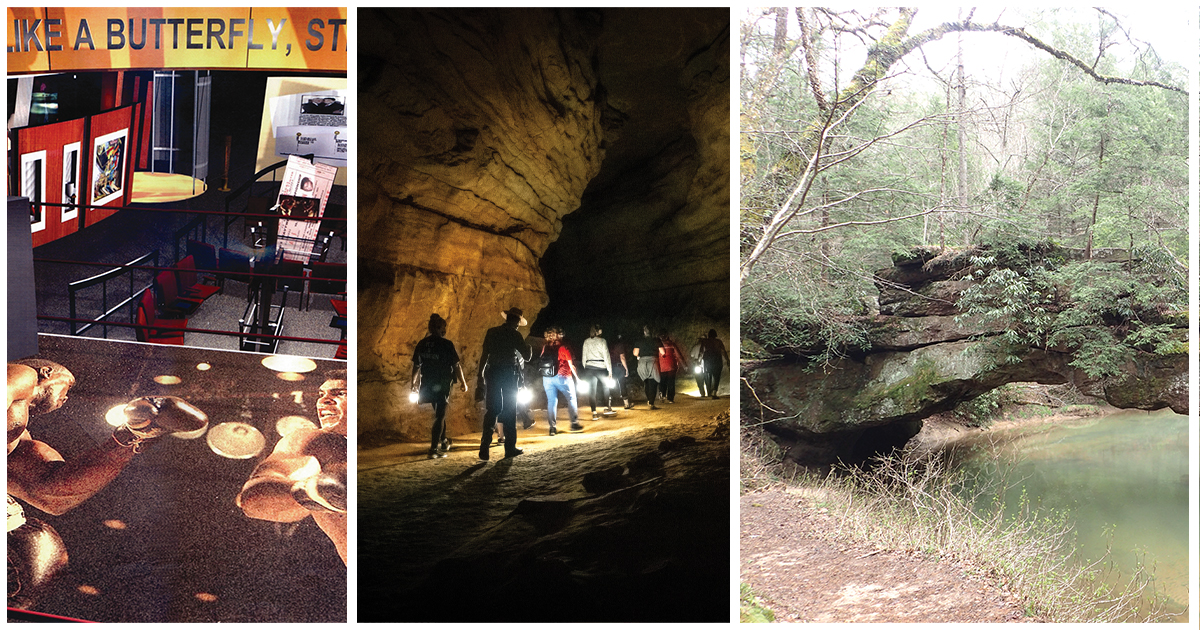 For the next leg of your journey, head south and spend a day delving into the early life of president Abraham Lincoln. Abraham Lincoln Birthplace National Historic Park is home to the country's first memorial to our 16th president, which houses and protects the symbolic one-room birth cabin. The memorial rests above a sinking spring—an important water source for the Lincoln family—where it is believed the original cabin stood. Sinking Spring is a landmark in its own right, and representative of Kentucky's karst topography and part of a larger network of underground streams and caves on the property. Stop into the visitor center to see exhibits and a movie and browse the book store.
Also, a short distance north is the Lincoln Museum in downtown Hodgenville. It features a host of artifacts, life-size dioramas and wax figures, as well as civil war memorabilia and original Lincoln art. Nearby, at Knob Creek, is Lincoln's boyhood home, a historic tourist area set on 228 acres with adjacent woodlands, a picnic area and hiking trails.
Continue your outdoor exploration at Mammoth Cave National Park, the longest known cave system in the world. This awe-inspiring landscape consists of limestone caves, winding rivers, lush forests and hundreds of miles of unique terrain. A variety of guided tours are available to fit your group's comfort level, ranging from fully wheelchair accessible to adventurous crawling tours, as well as short and long walking and lantern tours. Options throughout the year vary, so be sure to check the tour schedule to ensure availability. Pre-purchase of tickets is advised, as tours sell out often, especially in the summer months.
For a truly rugged experience, consider camping at Maple Springs Campground, which can accommodate up to 24 people per site. While in the area, take in some backcountry hiking, horseback riding or cycling; traverse the rivers by boat, canoe or kayak; or attend a ranger-led night sky stargazing program.
Daniel Boone National Forest, a few hours east of Mammoth Caves, is a breathtaking end point to your trip that will leave your group with lasting memories—and plenty of envy-worthy photos. Named after the legendary American frontiersman, the forest encompasses 700,000 scenic acres, punctuated with sandstone arches, steep ravines and dramatic cascades. The Red River Gorge Geological Area is ideal for climbing, hiking and canoeing, with Whittleton Arch Trail, Rock Bridge Trail and the Gladie Visitor Center, among the highlights.
For more climbing and waterfall gazing, head to the London Ranger District to hike Dog Slaughter Falls and Van Hook Falls. Or, for a more low-key experience, visit Natural Arch Scenic Area for panoramic views and picnicking. The amphitheater and group picnic shelters can be reserved, if desired.
Written by Allison Kay Bannister, Contributing Writer for Groups Today.
This article originally appeared in the Mar/Apr '22 issue of Groups Today.