Explore the Great Outdoors: Open-Air Experiences for All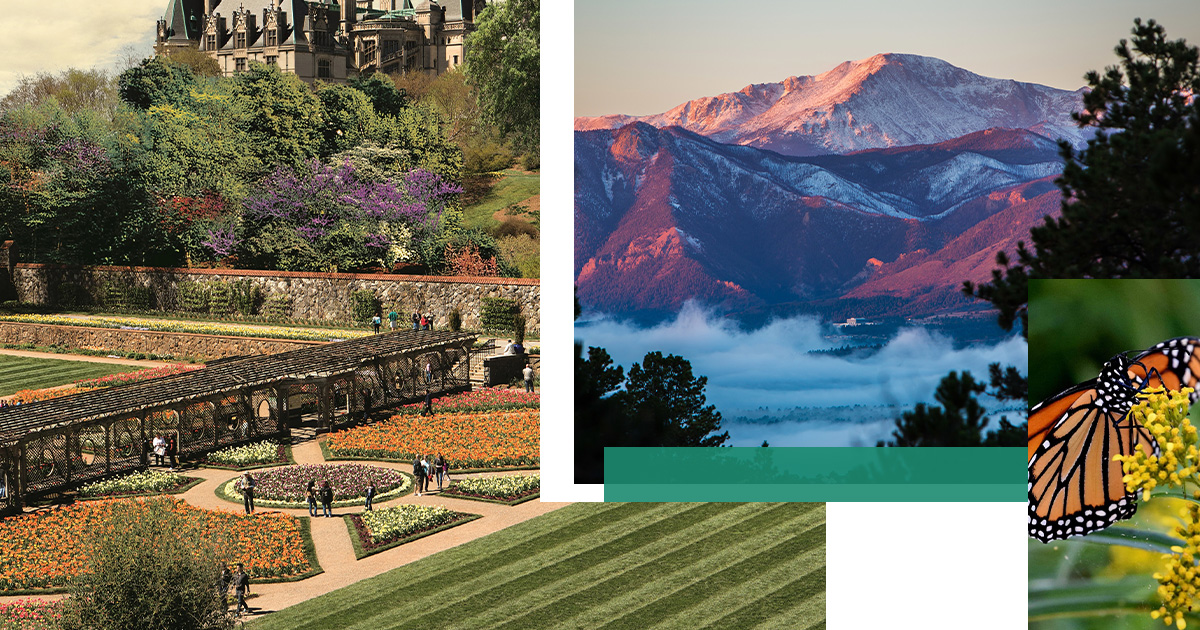 There's nothing quite like taking in a breath of fresh air and spending some quality time in nature. Thankfully, whether your groups are looking for a high-speed adventure in the swamps or a moment of peace in a serene Japanese garden, there's much to discover in the great outdoors. Come along as we explore some of the many outdoor attractions worthy of landing on your group's itinerary.
SPECTACULAR GARDENS
Frederik Meijer Gardens & Sculpture Park in Grand Rapids, Michigan is recognized as one of the nation's most significant sculpture and botanic experiences, having attracted more than 13 million visitors since its opening in 1995. Among the many outdoor experiences available is the eight-acre Richard and Helen DeVos Japanese Garden, designed by Hoichi Kurisu. Groups will feel peaceful tranquility as they wander and admire waterfalls, elevation changes, extensive boulder placement, authentic Japanese structures and a functioning teahouse.
Meijer Gardens is also home to an outdoor amphitheater, a children's garden focused on experiential learning, a 30-acre sculpture park featuring an internationally-acclaimed permanent collection and dynamic exhibition programs, walking nature trails, a shade garden and much more.
Situated in Asheville, North Carolina is Biltmore, America's largest home built by George Vanderbilt. In addition to the stunning home itself, Biltmore's 8,000-acre Blue Ridge Mountain backyard offers groups a bounty of options for taking in the sights. An extensive trail system beckons hikers and walkers, while the estate's equestrian center offers groups an opportunity to horseback ride through pristine forests and gallop over green pastures. Additional guided outdoor activities, including kayaking, rafting, sporting clays and falconry, are also available.
Be sure not to miss Biltmore's historic grounds and gardens, designed by Frederick Law Olmsted, known as the father of American landscape design. Described as a horticultural paradise, the gardens provide groups with an abundance of flora to appreciate, including a rose garden featuring more than 250 varieties. While visiting, they could even take part in a free gardening seminar!
Continue by venturing to Nashville to visit Cheekwood Estate & Gardens, a 55-acre, award-winning botanical garden and art museum located on the historic Cheek estate which offers year-round programming. Connecting with nature is easy here, as groups of all kinds could experience self-guided and guided tours (tailored to their specific interests) of the estate's 13 distinct gardens, showcasing spectacular color and horticultural diversity, and a 1.5-mile woodland trail, featuring monumental outdoor sculptures.
Groups with young ones will also enjoy Cheekwood's Bracken Foundation Children's Garden, in addition to their interactive outdoor TRAINS! exhibit. G-scale train engines and cars ignite imaginations as they chug through tunnels and bridges, passing fairy houses, secret gardens and animal habitats. From May 4 – October 27, 2023, groups could also experience LIGHT: Bruce Munro at Cheekwood, an indoor and outdoor exhibit immersing visitors in a world of wonder and light.
OUT ON THE WATER
For groups looking to make a splash, an adventure with River & Trail Outfitters is just the thing. The oldest and most experienced adventure company in the Harpers Ferry region, River & Trail offers groups a variety of thrilling water experiences on the Potomac and Shenandoah Rivers in the tri-state area of West Virginia, Virginia and Maryland. From rafting, tubing, kayaking and canoeing to airsoft, camping, ziplining, hiking and biking, there's an outdoor thrill for every group.
River & Trail welcomes groups of all sizes, in addition to offering trip customization. And, groups can rest easy knowing River & Trail prioritizes safety and works with the Shenandoah and Potomac Riverkeepers to help keep their waterways clean and healthy for years to come.
If picking up the speed sounds like your kind of trip, Boggy Creek Airboat Adventures in Kissimmee, Florida should be on your radar. Providing airboat tours since 1994 within the Central Florida Everglades, Boggy Creek offers groups a chance to see native wildlife in their natural settings (think bald eagles, sandhill cranes, turtles, armadillos and more). Take a sunset airboat tour to admire the glowing evening light, or opt for a night airboat tour, where groups are guaranteed to encounter nocturnal hunters including the American Alligator.
In addition to airboat rides led by Coast Guard-certified captains and other park experiences, Boggy Creek has recently added a variety of new experiences groups could enjoy, including a Butterfly Aviary, Bat Education and Conservation Zone and Bald Eagle Education Area. Private nature and birding tours are also available.
STUNNING NATURAL SIGHTS & SOUNDS
Elevate your group's experiences to new altitudes with a visit to Pikes Peak, recognized as one of the most accessible mountains in the country and located in the Pike National Forest—minutes from downtown Colorado Springs. While full-size motorcoaches are too large for the Pikes Peak Highway, the mountain can still be easily enjoyed enjoyed by car, van or bus, by train on The Broadmoor Manitou and Pikes Peak Cog Railway (which was recently updated and rebuilt entirely), on a downhill bike tour and on foot using the Barr Trail.
Once groups reach the top of the mountain, they could stop at the new Pikes Peak Summit Visitor Center, an accessible and sustainable building completed in 2021 offering expansive views of Colorado Springs and beyond. Interactive exhibits within help groups interpret the geology, flora and fauna of the mountain, while a cafe offers a chance to refuel for your next outdoor adventure.
In Highland Park, Illinois, groups will find an outdoor music venue and North America's oldest music festival. Each summer within the enchanting 36-acre park, groups could enjoy over 100 events in various genres, including the annual summer residency of the Chicago Symphony Orchestra. With different stages offering both reserved and general admission seating, a Ravinia show is an ideal opportunity to soak up summer's splendor while taking in world-class performances. Depending on the stage and event, groups could even picnic on the lawn by bringing their own chairs, tables, blankets, and food and beverages (including alcohol).
An array of group-specific experiences are also available, from public and private dining in Ravinia's entertaining outdoor spaces, to catering on the lawn and full park rentals.
GET EDUCATIONAL
Home to more than 1,000 animals from around the world, Zoo Atlanta is an inspiring and educational experience groups of all kinds will love. A lush botanical oasis situated mere minutes from Downtown Atlanta, the Zoo is one of only three in the U.S. housing giant pandas, and is also home to one of the largest populations of great apes in North America. The Zoo's most recent transformation—the African Savanna—features new and expanded habitats for African elephants, giraffes, zebras, ostriches, bonteboks, warthogs, meerkats and southern white rhinos.
Conservation and protection of wildlife is a large focus at the Zoo, which is why they offer an array of opportunities for visitors to learn more about the role their personal actions play in saving the species that inhabit the habitats they are exploring, in addition to creating lasting connections between people and animals. Group tickets (which can be purchased a year in advance), are eligible for a discounted rate upon inquiring.
Written by Sarah Suydam, Managing Editor for Groups Today.
This article originally appeared in the Mar/Apr '23 issue of Groups Today.
Photos Courtesy of The Biltmore Company, Boggy Creek Airboat Adventures, and Pikes Peak.