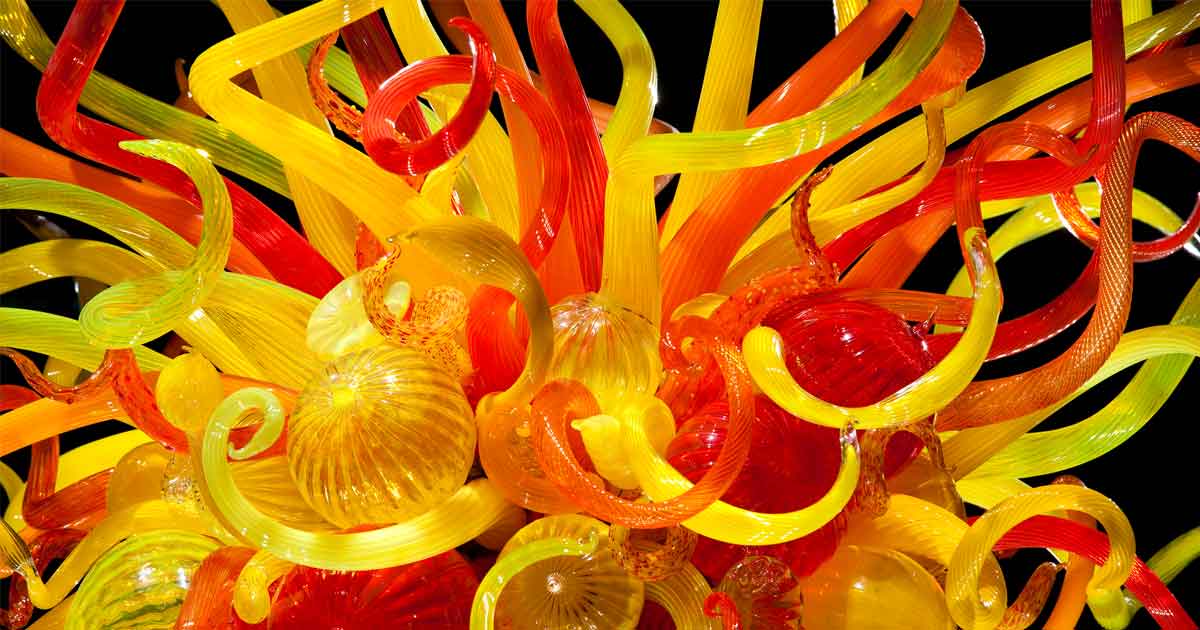 Chihuly at Cheekwood Returns
Following its unprecedented blockbuster success a decade ago, Cheekwood is welcoming back Chihuly at Cheekwood in spring 2020.
Coinciding with the reopening of its acclaimed Carell Woodland Sculpture Trail, the exhibition will feature multimedia artist Dale Chihuly's monumental sculptures presented throughout the historic estate—in its gardens and its galleries.
Groups can enjoy viewing artwork in indoor and outdoor settings, including two new works being designed specifically for the exhibition. Next year will mark 10 years since Chihuly's last exhibition at Cheekwood and commemorate the 60th anniversary of Cheekwood as a public institution.
The exhibition opening will serve as the grand reopening of Cheekwood's newly renovated Carell Woodland Sculpture Trail—a nearly mile-long trail featuring 10 monumental sculptures. Having broken ground earlier this year, the enhancement project will feature a new trailhead entrance, a barrier-free path, evening lighting, horticultural areas and conservation of existing sculptures.
Two Chihuly works will be installed on the Carell Woodland Sculpture Trail for groups to enjoy during the exhibition, while another will be installed in the Great Hall of Cheekwood's newly renovated Frist Learning Center.
"We are delighted to bring Dale Chihuly's extraordinary work back to Cheekwood, where his vibrant installations will be in dialogue with the estate's incomparably beautiful vistas," said Jane MacLeod, President and CEO of Cheekwood.
"For many Nashvillians, Chihuly's 2010 exhibition marked their first visit to Cheekwood, and a decade later, we look forward to welcoming an ever-growing community to again experience the magnificence of Chihuly at Cheekwood."
The 2010 exhibition propelled the institution to an unparalleled level of success, when Cheekwood's annual attendance doubled from prior years—reaching an unprecedented 360,000 visitors.
"I would like to congratulate and thank Cheekwood for bringing back Chihuly," said Butch Spyridon, President and CEO, Nashville Convention & Visitors Corp.
"The first Chihuly exhibition nearly 10 years ago was an overwhelming success for both Cheekwood and Nashville, and with the rise and prominence of the cultural arts scene in our city, this is the perfect time for a return."
Chihuly's work has been exhibited at renowned locations across the United States and the world, including the upcoming Chihuly: Reflections on Nature at the Royal Botanic Gardens, Kew in London, Chihuly in the Light of Jerusalem in Israel, and Chihuly Over Venice in Italy.
Cheekwood will feature special Chihuly Nights admission Thursdays through Sundays, along with regular daytime hours Tuesdays through Sundays. Guided and self-guided tours will be available for daytime experiences. Only self-guided tours will be available for Chihuly Nights. For more information or to book a group tour, visit Cheekwood, call Amanda Bjorklund at 615.353.6971, or contact [email protected].
Learn more at Cheekwood Estate & Gardens.
Courtesy of Cheekwood Estate & Gardens.
Photo courtesy of Chihuly Studio.
If you'd like to receive more group travel content like this, sign up for our complimentary magazine and eDaily.