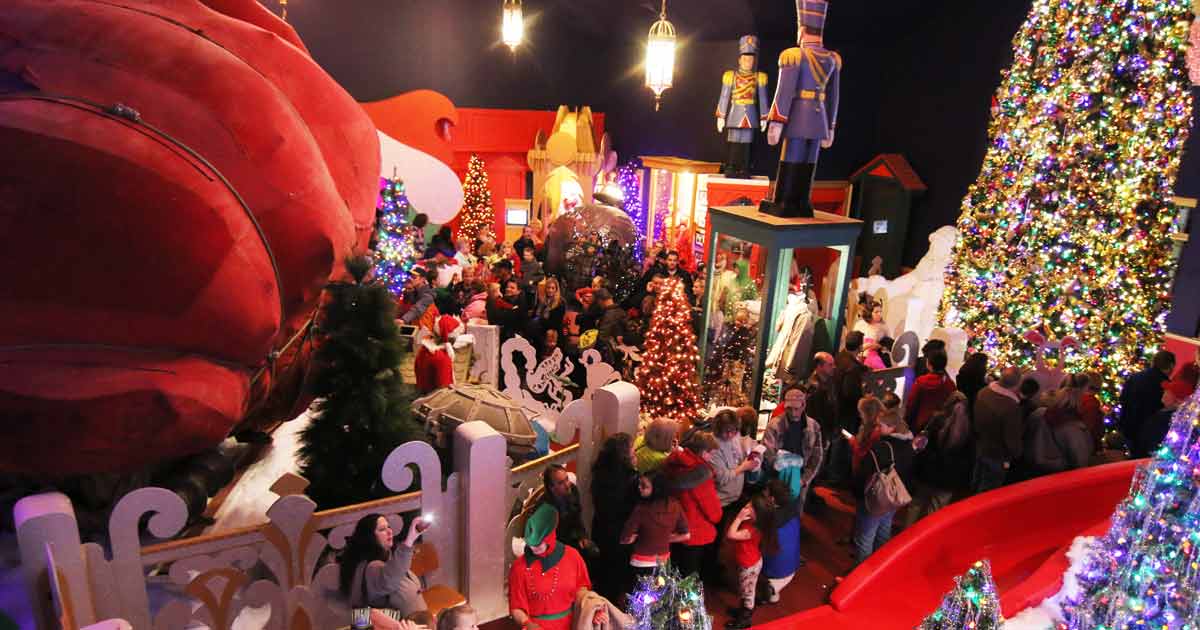 Castle Noel Brings Year-Round Christmas Fun
A magical Christmas kingdom lights up at Castle Noel, located in the heart of enchanting Medina, Ohio, that turns everyone into a kid again.
Welcome to America's largest indoor year-round Christmas entertainment attraction!
Castle Noel takes you on a journey of miracles ... past, present and future. Along the way, explore authentic historic sets, props, and costumes of classic Christmas movies; roam illuminated streets of New York City taking in animated Christmas window displays; and gaze at toys of yesteryear and enjoy other creative fun. Going to Castle Noel is like a private tour of Willie Wonka's Chocolate Factory mixed with Disney magic—and you have the golden ticket.
Mark Klaus and his wife, Dana, owners of Castle Noel, brought their love of the Christmas season to reality with this 40,000-square-foot indoor entertainment venue. Tour guides take groups of about 20 through Castle Noel, which averages an hour and a half to two hours to see everything.
Klaus acquired many of the incredible display pieces through his research and being involved in many Hollywood memorabilia auctions, both in the U.S. and London. Everything groups will see displayed, whether costumes or NYC animated storefronts, has certificates of authenticity.
There is a restoration room where Klaus and his team of elves work on pieces acquired that may need work before being displayed. This could include complete reassembly or simply wear and tear or break repair. This continuous cycle puts new visual experiences into Castle Noel, so return visitors always see new displays.
For example, Castle Noel exhibits the original, miniature sleigh and reindeer from Santa Claus: The Movie starring Dudley Moore. Today, it would likely be filmed with computer-generated imagery (CGI) so this cool part of history is preserved. Then, there's the miniature house used in the Deck the Halls movie starring Danny DeVito. Original costumes from A Christmas Carol feature the ghosts of Christmas past, present and future. Christmas with the Kranks costumes are also displayed, but the crowd favorite is Will Ferrell's life-size Buddy the Elf costume.
"We are very thankful that we partnered with Saks Fifth Avenue, Lord & Taylor, Bloomingdale's, and Macy's to save these amazing visuals and allow people to see them who wouldn't normally get that opportunity," Mr. Klaus said about the amazing window displays. "These stores take their window displays very seriously and do an incredible job turning them into a gift for New York City shoppers."
Reservations are required at least two hours before your arrival time. Tickets for Alien Vacation Mini Golf in Freaky 3D are additional but do not require reservations. Castle Noel is closed typically from early January through mid-February each year and reopens for the annual Medina Ice Festival.
Tickets are $21 for adults, $19.50 for ages 12 and under, and free for ages 3 and under. Groups of 15 or more, seniors and military personnel enjoy a discounted price of $19.50. Call 330.721.NOEL (6635) to schedule your event.
Written by Dan Hostetler, Executive Director, Medina County Convention & Visitors Bureau.
Content and photo courtesy of the Medina County Convention & Visitors Bureau.