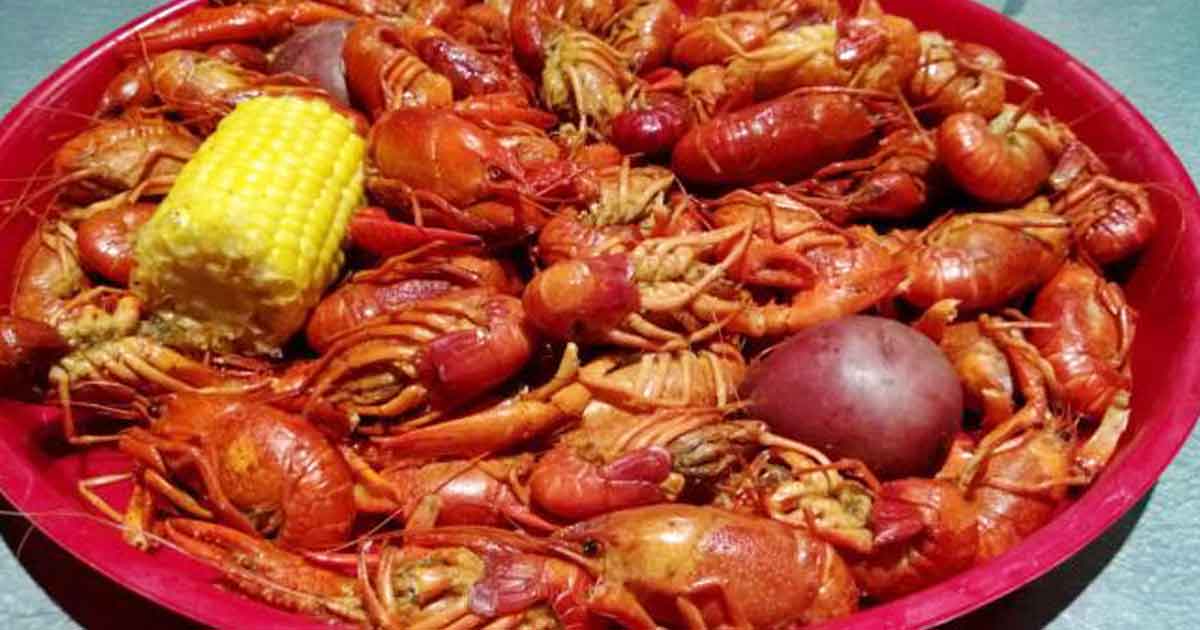 5 Ways to Enjoy Crawfish in Louisiana
The Bayou Bounty, Seafood Sensation and Prairie Home Cooking trails in Louisiana are full of opportunities to taste and experience crawfish.
Springtime ushers in Louisiana's unofficial fifth and perhaps favorite season, crawfish season! It's a time of year that arouses the olfactory nerve with the spicy aroma of neighborhood boils throughout Louisiana. We all love to enjoy a tray of the tasty crustaceans, but here are five unique ways to celebrate them.
1. Crawfish Farm Tour on the Seafood Sensation Trail.
March through May is peak crawfish season and Jeff Davis Parish offers a unique opportunity to learn everything about Louisiana's favorite food with crawfish farm tours. Spectators will experience the habitat, harvest, calculation, distribution and consumption of Louisiana's #1 crustacean. Field trips and group tours must be arranged through the Jeff Davis Parish Tourist Commission. The crawfish tour begins in Roanoke, LA, at the Tietje Crawfish Farm, where you will get to learn about crawfish habitats and harvesting while out in the crawfish fields. You will also learn about crawfish species biology and pond ecology. The tour continues to the I-10 Crawfish Cooperative for an explanation of the marketing sector where visitors will see demonstrations of the cleaning, grading and distribution process.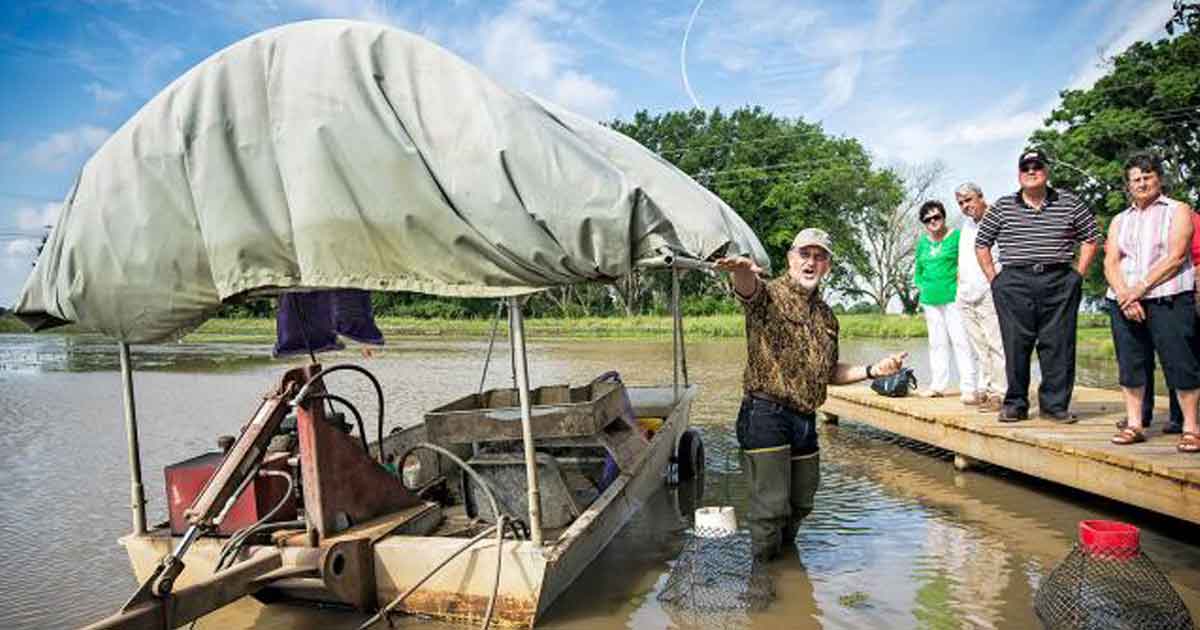 2. Crawfish huts on the Prairie Home Cooking Trail.
In a typical year, from December to June is crawfish time and numerous crawfish huts along the Prairie Home Cooking trail raise their awnings and get their burners blazing in and around towns including Opelousas. Stop by drive-up windows for sacks of live mudbugs or "to-go" orders of boiled crawfish. Or choose to dine at one of the area's numerous restaurants that pay homage to the prized crustacean during season, such as Crawfish House & Grill in Opelousas. And don't leave town without stocking up on the Opelousas-made dinner table staple, Tony Chachere's Creole Seasoning. Check the St. Landry Parish Tourist Commission's website for more travel ideas in the Opelousas area and beyond.
3. Crawfish education on the Bayou Bounty Trail.
Head south to New Iberia and visit the country's oldest operating rice mill—Conrad Rice Mill and KONRIKO. Take a tour of the century-plus old mill and learn about the Acadians and the area's aquaculture that illustrates the symbiotic relationship between rice and crawfish. After the tour, stop by the KONRIKO Company Store and pick up some KONRIKO Crawfish, Shrimp & Crab Boil to take home and try your hand at a Cajun seafood boil. After the tour, you're sure to be craving mudbugs, so stop by R & M's Boiling Point and enjoy few pounds. If you're in the mood for Cajun music and dancing, you'll want to visit Landry's Seafood & Steakhouse of New Iberia (not the restaurant chain) and enjoy crawfish from the buffet. While you're in town, don't miss a tour of Avery Island, home of TABASCO. Plan your visit to Iberia Parish today.
4. Celebrate crawfish on the Bayou Bounty Trail.
No discussion of crawfish would be complete without mentioning the world-famous Breaux Bridge Crawfish Festival. The first weekend of May each year, May 3-5, 2019, people from around the world descend upon this little St. Martin Parish town known as the crawfish capital of the world. Breaux Bridge has been celebrating Louisiana's favorite crustacean in festival since 1960. Visitors will enjoy a parade, crawfish races, Cajun dance demonstrations and lessons, live music, cooking demonstrations, and of course, all of the crawfish you care to eat, prepared a variety of ways. Check out the full schedule of events here. Onsite camping is available or find other accommodations and area things to do at the St. Martin Parish Tourism site.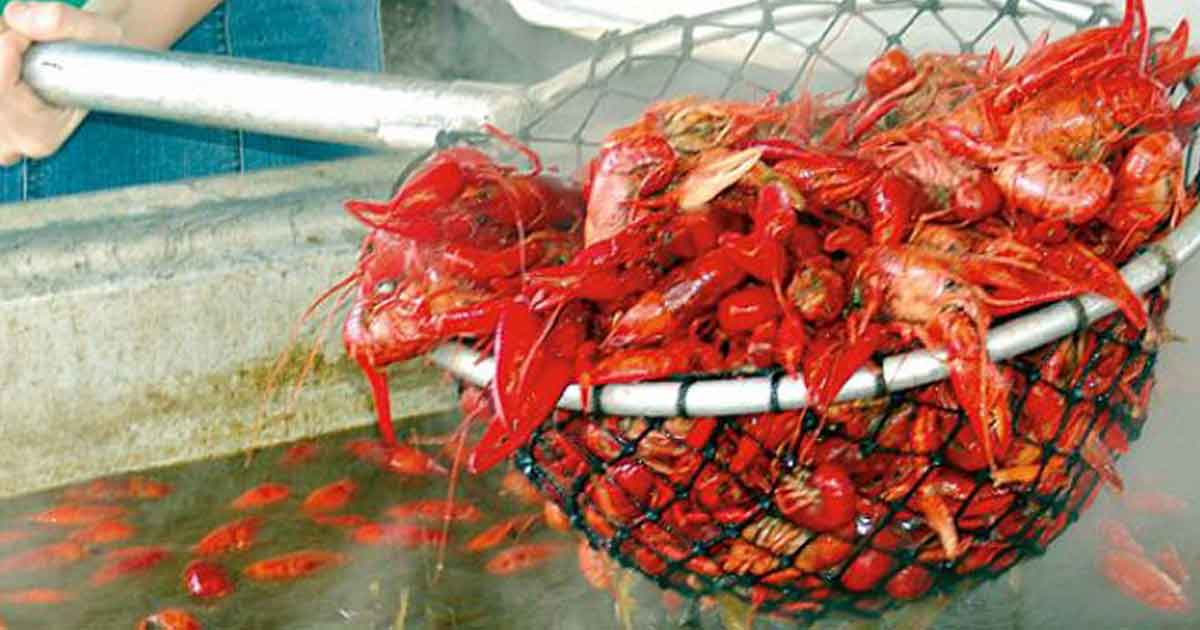 5. Enjoy festival fun on the Red River Riches Trail.
Crawfish celebrations aren't limited to south Louisiana. In 1984, a group of north Louisianians decided to pay tribute to their state by honoring one of her most cherished traditions—the crawfish boil—with a festival. Shreveport's Mudbug Madness festival is scheduled for May 24-26, 2019. The Memorial Day weekend festival set in downtown Shreveport features plenty of boiled crawfish, live Cajun, zydeco, blues and jazz music, and area arts and crafts. To plan your trip to the area, check out Shreveport-Bossier.
Finish planning your ultimate Louisiana culinary road trip by visiting Louisiana Travel.
This article was republished with permission and originally appeared at Louisiana Travel.
Photos courtesy of Lousiana Travel.