Technology Trends in Travel
Advances in technology affect just about every industry today, and travel/tourism is no exception. In fact, today's travelers have new levels of expectations when it comes to technology and the role it plays in travel—and the industry is definitely paying attention.
"Travelers expect technology to not only make their lives easier while traveling, but they also expect technology to improve their overall travel experience," explained Stacey Slifka, an event solution manager at ITA Group, a West Des Moines, Iowa-based company that creates and manages events, incentives, and recognition programs worldwide.
What the Numbers Say
A number of recent surveys have looked at the impact technology is having in today's travel marketplace. Here are some of the findings: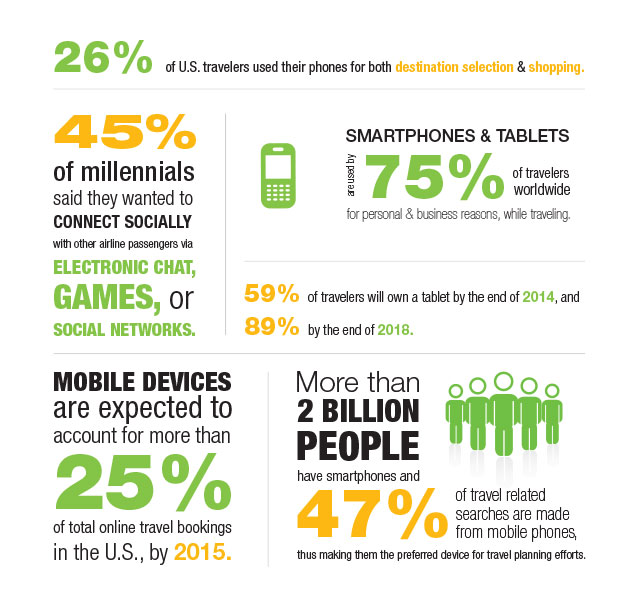 Wi-Fi Access
Surprisingly, Wi-Fi access isn't even close to being universal—let alone free—in today's wired world. But travelers are beginning to push back, because many people now view Internet access as a right, not a privilege.
Mobile Apps
Travel, by nature, is a mobile activity. That's why many companies in the travel industry are using mobile apps and devices to not only conduct sales, but also provide new levels of customer service. This is because travelers now expect real-time answers and greater levels of customization, before, during, and after their trip.
Also of Note
While Internet access, mobile apps, and even the role social media plays in today's travel environment are important, there are other things on the horizon when it comes to technology.
One example is the "MagicBands" being used at the Walt Disney World Resort in Florida. These are radio frequency technology-enabled wristbands that allow guests to do a host of things throughout the resort—everything from opening their hotel room door and riding rides, to paying for meals and merchandise anywhere on the property, all by simply flicking their wristband across mouse ear-shaped touch points found throughout the resort. The "MagicBand" serves as an all-in-one commerce and identification portal to everything you need while visiting Disney World, meaning no need for room keys, ride tickets, or money in your pocket.
Will this type of technology become more prevalent? Chances are it will, especially as hotels, destinations, airlines, and more look to find ways to improve customer interactions (and transactions). But the importance of social media and mobile apps, in particular, will continue to grow. "Mobile technology has changed everything, and mobile apps are now being used in all aspects of travel," said Slifka, who predicts social media will also play a huge role moving forward.
Welcome to the wired world of travel!
Written by Mark Yontz, a freelance writer from Urbandale, Iowa.