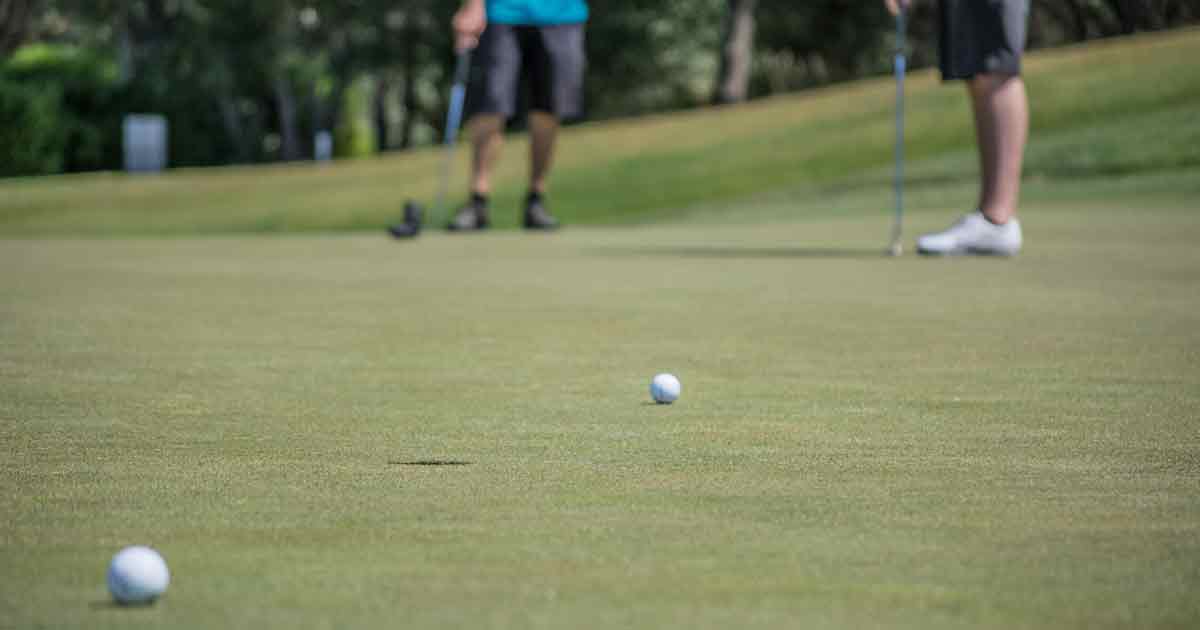 It's Not Where You Are. It's Where You're Going.
Sometimes you find life lessons in unexpected places.
This time it was on the golf course. Almost every Sunday throughout the summer I play golf with some great guys. One Sunday we decided to play the championship tees—meaning we hit from the furthest point away from each hole. Obviously, this makes the game longer and harder. The extra distance usually translates into taking a few more swings at the ball than normal.
One of our players was nervous, as he doesn't typically hit the ball as far as the rest of us. We started by telling him to not let the extra distance bother him—play his regular game. Don't swing harder because it's longer; just relax and play like usual. On his first swing, he hit a beautiful drive that landed in about the same place as he usually lands from the closer tees. A few holes later we were hitting over water. It was obvious he was nervous again because he wasn't sure he could clear the water to land on the fairway. That's when it helps to play golf with a "motivational speaker" (that's me). I smiled and said:
"It's not where you're hitting from. It's where you're going to. Think about where you want to land, not where you don't want to land."
He smiled and swung at the ball. Not only did he clear the water, but he also landed dead center on the fairway. He jokingly said, "I guess the motivational 'stuff' really works!"
I realized that the comment was good—not only in golf but in all areas of life. Don't get hung up on where you are now. It's more about where you're going. That's what you need to concentrate on: Your destination.
How does this apply to customer service? When dealing with an upset customer or contentious situation, you are in the moment. To tie it into the golf metaphor, that moment is where you're hitting from. You must manage that experience, but you also must think about the future, which is where you're hitting to.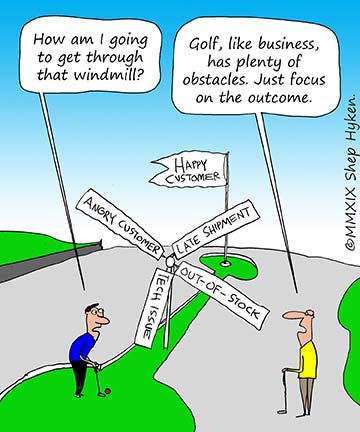 What's the perfect outcome? How does the customer feel now? That's where you're hitting from. How do you want this customer to feel when you finish your conversation? That's where you're heading. Knowing that will free you up to think about what needs to be done to get to the resolution that will make your customer happy. It will allow you to focus on the journey that will lead you to customer satisfaction.
It's too easy to get caught up in the emotion of the moment. It could be an angry customer. It could be a process that's gone wrong. Regardless, it's not optimal. It's a problem or obstacle that must be overcome. Take a swing at the ball, metaphorically speaking, and focus on where you want it to land.
Shep Hyken is a customer service expert, keynote speaker, and New York Times bestselling business author. For information, contact 314-692-2200 or www.hyken.com. For information on The Customer Focus™ customer service training programs, go to www.thecustomerfocus.com. Follow on Twitter: @Hyken
This article was republished with permission and originally appeared at Shep Hyken.