A Realistically Optimistic 2021
As we close out the year, I thought I'd break from the traditional customer service and experience topics and get a little personal—maybe even a little motivational.
I'm very optimistic about the future. But the word very doesn't mean I'm overly optimistic. There's a difference. Put another way, when I'm asked if the glass is half empty or half full, my response is, "Yes." Maybe that seems like a bit of a rude answer, but here is the point. It is half full, and even though I'm very optimistic, it doesn't mean I'm unrealistically optimistic. No, I'm realistically optimistic.
Since March, when the COVID-19 pandemic hit the U.S., I hoped it would be over in a few months. That life would be back to normal by the fall. I was wrong, but that's not the point. Not knowing if I would be right, I planned my business in case it didn't work out the way I wanted it to. As we moved into summer, my projection for normalcy moved to early 2021. Now, I'm thinking it will be late 2021. I continue to plan and adjust accordingly.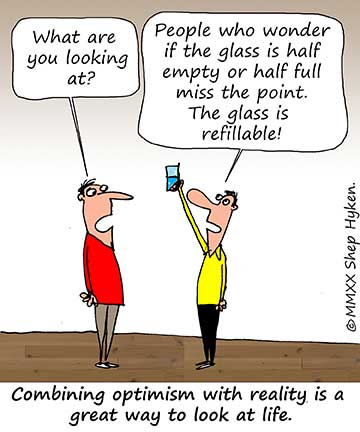 This way of thinking reminded me of Jim Collins' book, "Good to Great". He wrote about something he called "The Stockdale Paradox." Admiral James Stockdale, who was awarded the Medal of Honor in the Vietnam War, during which he was held captive for seven years and tortured more than 20 times, was asked how he was able to endure the captivity. Stockdale said, "I never lost faith in the end of the story. I never doubted, not only, that I would get out, but also that I would prevail in the end and turn the experience into the defining event of my life, which in retrospect I would not trade."
That sure sounds optimistic to me, but consider this. Stockdale went on to say why some of the other prisoners didn't survive. He described them as optimists. They thought they would be out by Christmas. Christmas would come and go, as did Easter, Thanksgiving, and then Christmas again. According to Stockdale, they died of broken hearts.
The Stockdale paradox is about being able to accept your current situation while having faith that you will prevail. In Stockdale's words: "You must never confuse faith that you will prevail in the end (which you can never afford to lose) with the discipline to confront the most brutal facts of your current reality, whatever that might be."
For many, our metaphoric captivity this year has been COVID-19 and how it is impacting our jobs, our finances, our relationships and more. A popular saying is, "This too shall pass." However, that is akin to sweeping a problem under the carpet, pretending it's not there, and hoping it will go away because it's out of sight. I don't like this way of thinking. Instead, I choose to practice realistic optimism, accepting the facts while still having faith in the future.
So, here's to a realistically optimistic 2021. May this be your best year ever, and each year thereafter be even better than the last!
Shep Hyken is a customer service expert, keynote speaker, and New York Times bestselling business author. For information, contact 314-692-2200 or www.hyken.com. For information on The Customer Focus™ customer service training programs, go to www.thecustomerfocus.com. Follow on Twitter: @Hyken
(Copyright © MMXX, Shep Hyken)
This article was republished with permission and originally appeared at Shep Hyken.