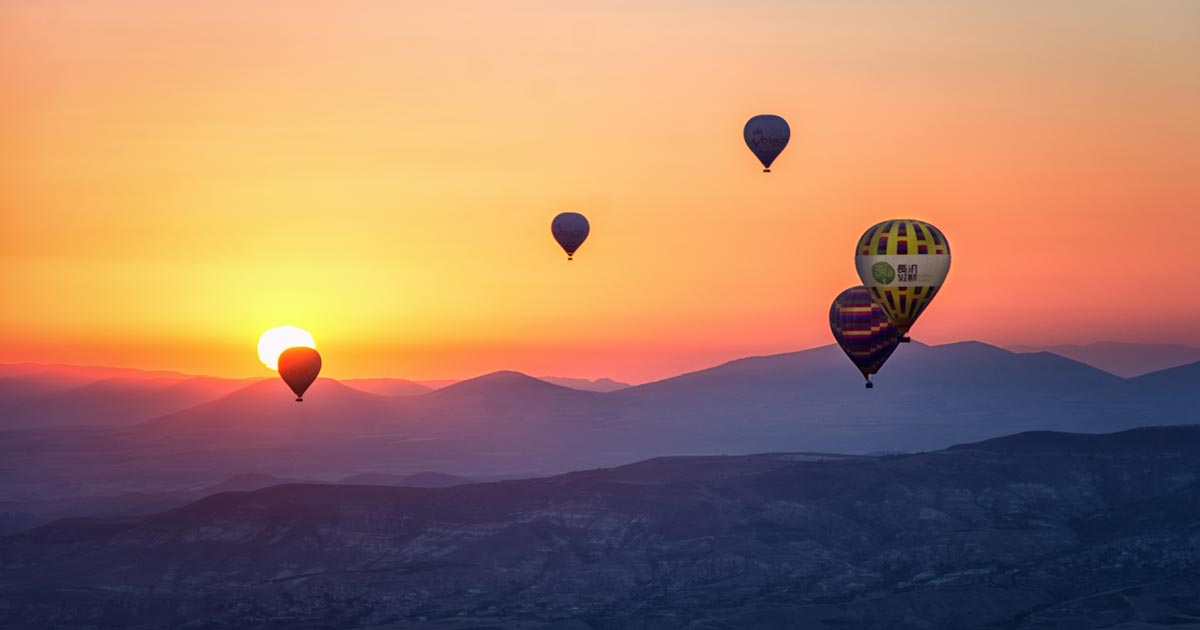 Up, Up and Away!
There's nothing quite like seeing a colorful spectacle effortlessly floating through the sky, against an already breathtaking backdrop.
With hot air balloon festivals taking place around the world, year-round, groups have bountiful opportunities to enjoy these visual delights—and maybe even take an unforgettable ride.
NORTH AMERICA
Annual Alabama Jubilee Hot-Air Balloon Classic | Decatur, Alabama
The colorful Balloons Over Decatur annual classic features hot air balloons, live music, a balloon glow, antique cars and tractors, arts and crafts, fireworks, and other fun, with activities for groups on the ground—and in the air. From balloon races and auto expos to live entertainment and more, there are plenty of thrills for groups to take in.
Albuquerque International Balloon Fiesta | Albuquerque, New Mexico
During the Albuquerque International Balloon Fiesta, groups can expect to see about 500 balloons participating in an early morning Mass Ascensions and enchanting special shaped balloons filling the skies—not to mention 200 balloons lighting up the evening sky with Balloon Glows and spectacular fireworks.
The Great Reno Balloon Race | Reno, Nevada
Having grown significantly over the years, the Great Reno Balloon Race is now known as the largest free hot air ballooning event in the world. Taking place a few miles north of downtown Reno, the event enchants groups of all kinds. Even cooler? Groups can wear their pajamas and sip a mimosa or coffee for the ethereal Glow Show, taking place before the sun peeks above the horizon in the morning.
ABROAD
Mondial Air Balloons | Lorraine, France
Taking place in the heart of the Grand Est region of France, the Mondial Air Balloons festival has much to offer. After groups experience the tranquility of flight in a hot air balloon, they can head over to the Balloon Flea Market to pick up a one-of-a-kind handmade souvenir—a reminder of their memorable experience.
International Hot Air Balloon Festival | Chateau-d'Oex, Switzerland
Every year, this festival attracts balloonists—including the pilots of special balloon types—from all over the world. For nine days, hot air balloons take to the skies above Château-d'Oex and throughout the valley, offering groups a breathtaking spectacle. Wednesday afternoons are devoted to children, with captive balloon flights, creative workshops, a balloon release and even a tea time.
International Balloon Festival of Saint-Jean-sur-Richelieu | Saint-Jean-sur-Richelieu, Québec, Canada
Seeing an average of more than 450,000 visitors every year, this festival—Canada's Largest—brings balloons to life in a truly extraordinary way. In addition to taking in the sights, groups can enjoy live music, take part in a meet and greet with the pilots and crew, hop on some carnival rides, and more.
Written by Sarah Suydam, Staff Writer for Groups Today.