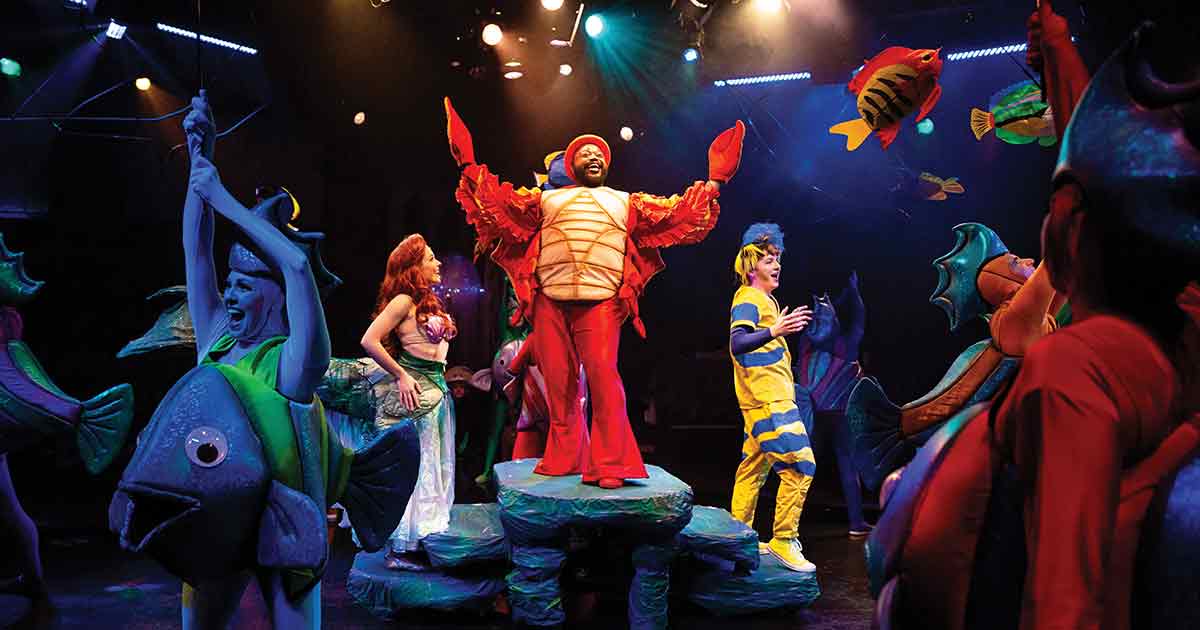 Theater for Everyone!
People Pleasers for Every Style and Taste
Operators, the search for your next group adventure is over! Across the United States and Canada, rousing theater experiences await.
Think traditional fare, such as Shakespearean plays, dramatic operas, and Broadway shows, or unexpected offerings that surprise and excite. With these selections, there's truly a theater extravaganza for everyone.
New York City
At the Metropolitan Opera House, classics, revivals and modern works share a stage. The coming season, to include Sunday matinees, promises an array of arresting productions, from Akhnaten to Porgy and Bess to Tosca, with many more in between.
Want to take a group to Stomp, Wicked, Mean Girls, Chicago, The Phantom of the Opera or another favorite? Broadway Inbound, a popular ticketing resource for buyers and tour operators, also facilitates group tours, workshops, and behind-the-scenes access.
THE RIDE takes your group on an unforgettable journey, where the city itself is the stage. A theatrical show on wheels complete with musicians, dancers, singers, pop-up street performances, and comedic hosts, it appeals to families, seniors, and students alike.
What could rival the thrill of seeing a show? Going from spectator to participant with Broadway Classroom! With the basics, auditioning, improvisation, behind the scenes and more, there's an interactive Broadway Classroom workshop to pique most any group interest.
Canada
Nestled among the charming cobblestone streets of Québec City, Le Capitole concert hall hosts a variety of dance, theater, music and comedy acts. The venue features French- and English-speaking performances, among them the acclaimed Elvis Experience.
Shaw Festival in Niagara-on-the-Lake takes inspiration from Bernard Shaw, presenting a mix of smart and interesting plays performed by its repertory Shaw Ensemble. The festival invites groups to take a deeper look with backstage tours, discussions and readings by Ensemble members.
The Midwest
There's plenty of country fun to be had at Cornwell's Turkeyville Dinner Theatre in Marshall, Michigan. Take in a murder mystery or one of its musical and comedy shows while enjoying a signature turkey dinner. Turkeyville offers year-round events and special group benefits and services.
Chanhassen Dinner Theatres near Minnesota's Twin Cities welcome groups of 12 or more to soak up the warmth and charm—and enjoy special perks. Hits such as Mamma Mia!, other popular musicals and comedies, and a concert series and relaxed tableside service are a few of the draws.
East Coast
Feast on a delicious meal, then watch as talented servers go from dining room to center stage at Toby's Dinner Theater in Columbia, Maryland. Evening or matinee, each in-the-round Broadway show or original musical is accompanied by a live orchestra and boasts great views, from any seat.
Arena Stage in Washington, D.C., focuses on the development, study, production and presentation of American Theater. This Tony Award-winning theater gives voice to topics such as racial diversity and gender equity, opening its 70th season with shows that honor the fighting spirit.
The South
New to Myrtle Beach, South Carolina, is Asher Theatre. Overflowing with family-oriented entertainment, the venue enthusiastically touts its feature act: The Man of a Thousand Voices highlights the comedic, impressionist and musical talents of widely acclaimed James Stephens III.
Pull up a seat to the longest running feud in history at Hatfield & McCoy Dinner Show™ in Pigeon Forge, Tennessee. All-you-can-eat country cooking pairs with singing, dancing, stunts and comedy for a show that appeals to all, whether from the city or the backwoods.
Out West
With meals catered to each show, 12-plus group advantages and classic musicals that satisfy audiences of all ages, Candlelight Dinner Playhouse, a premier entertainment destination in Northern Colorado, opens this season with The Hunchback of Notre Dame and closes with perennial favorite Peter Pan.
Home to the famous Academy Awards and many other renowned events, Dolby Theatre is an entertainment hub amid the buzz of Hollywood Boulevard. See a show or step beyond the red carpet with an exclusive tour, with groups of 15 or more enjoying discounts and customized services.
Ashland, Oregon, offers two theater-going opportunities. Oregon Cabaret Theatre provides first-class entertainment and dining with memorable shows for 2019, including Sweeney Todd and Miracle on 34th Street, plus its One Night Only Cabaret Series. Discounts and packages are available for groups of 12 or more. Tony Award-winning Oregon Shakespeare Festival offers a blend of Shakespearean works and new and classic plays, Festival Noons and Living Ideas educational events, and group discounts.
Seattle Opera brings an abundance of arts and culture to Washington's Puget Sound region. Upcoming productions range from standbys Rigoletto and La Bohème, to the jazz-infused Charlie Parker's Yardbird and mixed-genre vocal spectacular Three Singing Sisters.
Here and There
Medieval Times Dinner & Tournament has 10 castles spread throughout the U.S. and Canada. An experience unlike any other, the evening includes a two-hour tournament featuring knights, horses, fighting and feasting. Groups from 10 to 100 get the royal treatment with exclusive perks.
Though Aladdin, The Lion King and Frozen are based in New York City, beginning this fall Disney Theatrical is taking Broadway's Frozen on a North American tour, giving audiences near and far a taste of the much-loved tale. If visiting NYC, a wide range of experiences are provided to enhance a group trip.
Blue Man Group is yet another universally appealing live show, filled with stories, music and sensory stimulation. It plays domestically in Boston, Chicago, Las Vegas, and Orlando, and tours multiple North American destinations.
Whether at the historic Chicago location or satellites in Toronto and Hollywood, The Second City is your go-to for live sketch comedy, improv and more. Chicago and Toronto in particular cater to groups with dining and celebration options before, during and after the show.
Written by Allison Kay Bannister, contributing writer for Groups Today.
This article originally appeared in Groups Today.
Photo courtesy of Jeri Tedwell Photography