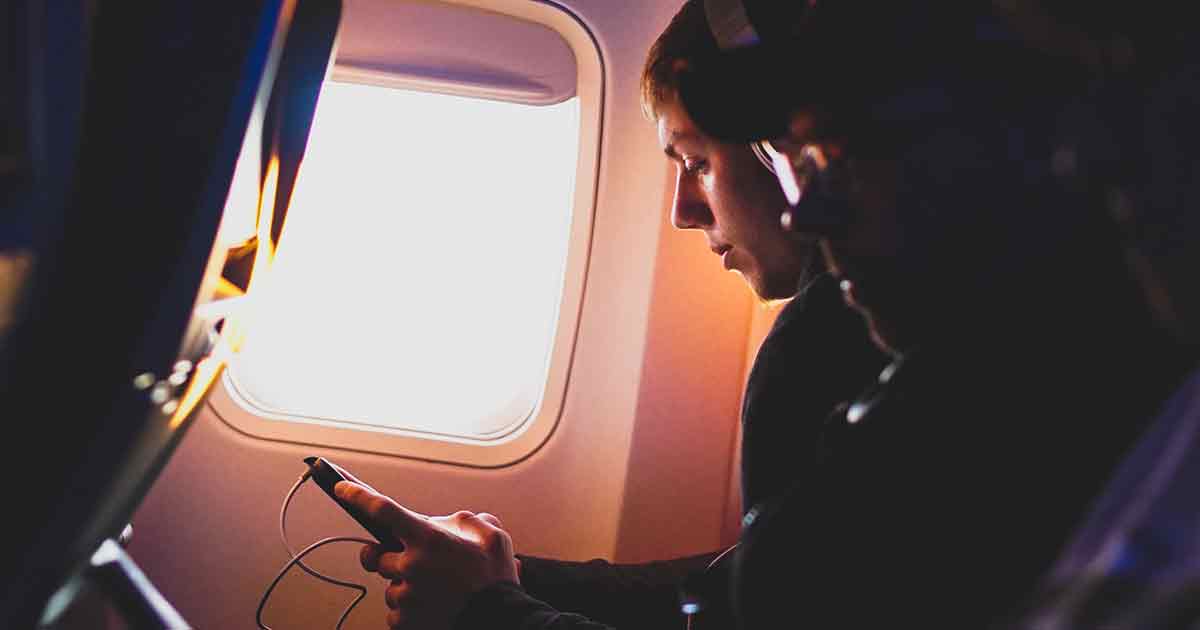 Best Audiobooks to Download for Your Next Plane Ride
Though long plane rides usually mean you're headed somewhere incredible, being stuck in the same spot in the air for hours on end can get old—quickly. Combat the bore with one of our audiobook picks!
Whether it's a best-selling memoir, riveting fictional love story or nonfictional take on lesser-known historic events, this list will leave you reflecting long after the plane lands.
Becoming by Michelle Obama
In her memoir, a work of deep reflection and mesmerizing storytelling, Michelle Obama invites readers into her world, chronicling the experiences that have shaped her—from her childhood on the South Side of Chicago to her years as an executive balancing the demands of motherhood and work, to her time spent at the world's most famous address. With unerring honesty and lively wit, she describes her triumphs and her disappointments, both public and private, telling her full story as she has lived it—in her own words and on her own terms. Warm, wise, and revelatory, Becoming is the deeply personal reckoning of a woman of soul and substance who has steadily defied expectations—and whose story inspires us to do the same.
Aloha Rodeo: Three Hawaiian Cowboys, the World's Greatest Rodeo, and a Hidden History of the American West by David Wolman and Julian Smith
An unforgettable human drama set against the rough-knuckled frontier, David Wolman and Julian Smith's Aloha Rodeo unspools the fascinating and little-known true story of the Hawaiian cowboys, or paniolo, whose 1908 adventure upended the conventional history of the American West.
The Wife Between Us: A Novel by Greer Hendricks and Sarah Pekkanen
When you read this book, you will make many assumptions. You will assume you are reading about a jealous ex-wife. You will assume she is obsessed with her replacement—a beautiful, younger woman who is about to marry the man they both love. You will assume you know the anatomy of this tangled love triangle. Assume nothing. Twisted and deliciously chilling, Greer Hendricks and Sarah Pekkanen's The Wife Between Us exposes the secret complexities of an enviable marriage—and the dangerous truths we ignore in the name of love.
I'll Be Gone in the Dark by Michelle McNamara
I'll Be Gone in the Dark—the masterpiece Michelle McNamara was writing at the time of her sudden death—offers an atmospheric snapshot of a moment in American history and a chilling account of a criminal mastermind and the wreckage he left behind. It's also a portrait of a woman's obsession and her unflagging pursuit of the truth. Utterly original and compelling, it has been hailed as a modern true crime classic—one which fulfilled Michelle's dream: helping unmask the Golden State Killer.
Charged: The New Movement to Transform American Prosecution and End Mass Incarceration by Emily Bazelon
Charged follows the story of two young people caught up in the criminal justice system: Kevin, a twenty-year-old in Brooklyn who picked up his friend's gun as the cops burst in and was charged with a serious violent felony, and Noura, a teenage girl in Memphis indicted for the murder of her mother. Author Emily Bazelon tracks both cases—from arrest and charging to trial and sentencing—and, with her trademark blend of deeply reported narrative, legal analysis, and investigative journalism, illustrates just how criminal prosecutions can go wrong and, more important, why they don't have to.
Bad Blood: Secrets and Lies in a Silicon Valley Startup by John Carreyrou
In 2014, Theranos founder and CEO Elizabeth Holmes was widely seen as the female Steve Jobs: a brilliant Stanford dropout whose startup "unicorn" promised to revolutionize the medical industry with a machine that would make blood testing significantly faster and easier. Backed by investors such as Larry Ellison and Tim Draper, Theranos sold shares in a fundraising round that valued the company at more than $9 billion, putting Holmes's worth at an estimated $4.7 billion. There was just one problem: The technology didn't work.
Which audiobook will you download first?
Courtesy of Groups Today.
Photo Courtesy of Daniel Mccullough, Unsplash.