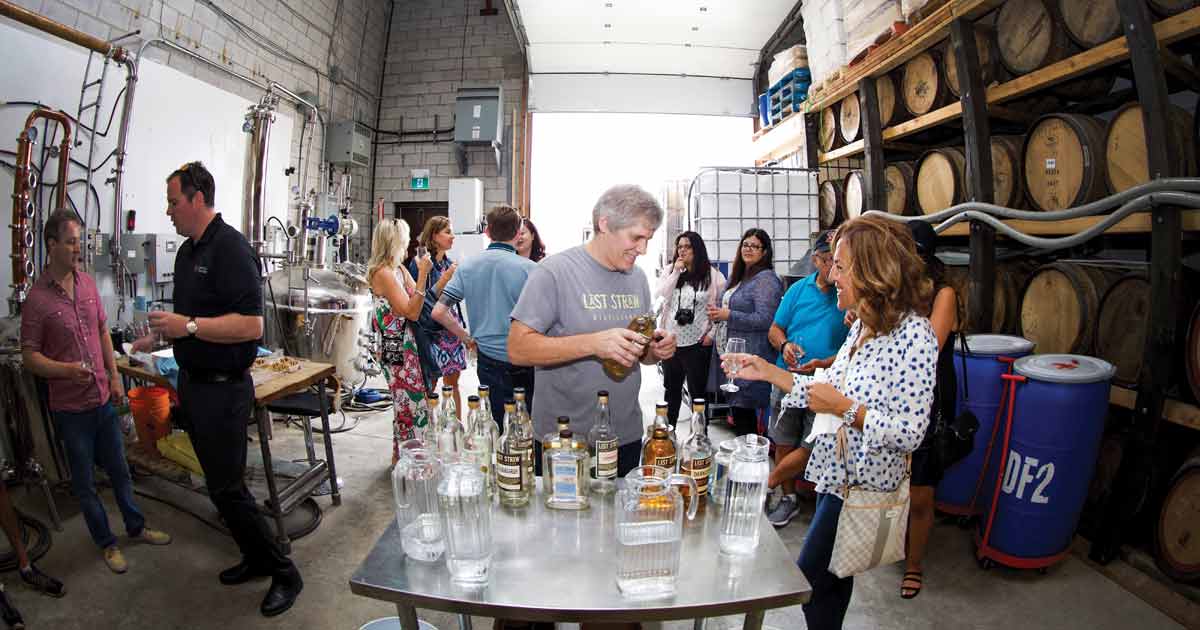 Distillery Travel Worth the Trek
The history and science of distilling has never tasted so good!
KENTUCKY
According to the Kentucky Distillers' Association, bourbon is America's only native spirit—as declared by Congress in 1964. It must be made with a minimum of 51 percent corn, aged in charred new oak barrels, stored at no more than 125 proof and bottled no less than 80 proof. Whew! It's serious business.
The famous Kentucky Bourbon Trail is the perfect place for spirit-loving groups to get their drink on.
Visit the iconic Jim Beam American Stillhouse—producer of one of the world's most noted whiskeys. Groups can take an interactive, multisensory tour where they'll see every step that goes into making their well-loved spirits and even dip their own bottle of Knob Creek, right off the bottling line.
Elsewhere along the trail, check out Angel's Envy, Bardstown Bourbon Company, Bulleit Frontier Whiskey Experience, Evan Williams Bourbon Experience, Four Roses, Heaven Hill Bourbon Heritage Center, Lux Row, Maker's Mark, Old Forester, O.Z. Tyler, Town Branch, Wild Turkey and Woodford Reserve for other adventures.
HUDSON VALLEY | New York
The Hudson Valley is home to a large number of small distilleries that have been refining their craft for decades.
At Hudson Valley Distillers, groups can walk the distillery from start to finish—alongside one of the owners and before sampling three of their award-winning spirits. Hillrock Estate Distillery uses a creative solera aging process for crafting its Scotch-style single malt whiskey, which will undoubtedly leave groups yearning for more to fill their keepsake tasting glass with.
Don't forget to sip the apple brandy at Denning's Point Distillery, enjoy a tasting flight of small-batch spirits at Tuthilltown Spirits, savor the Dutchess Private Reserve Straight Bourbon Whiskey at Taconic Distillery, and sample the locally sourced (and titled) spirits at the cleverly named Still the One Distillery.
CENTRAL COUNTIES | Ontario, Canada
Get ready to drink some seriously good giggle water! Journey back in time to drier days and experience the secret stories of Ontario's silent still with the Central Counties' Temperance and Temptation tours. Whether York, Durham or Headwaters, there's plenty to learn—and drink.
In York, experience what it was like to turn a blind eye to the blind pig. During Temperance, many people pretended to be teetotalers by day—only to cut loose at the underground gin joints by night! How did York's flappers and hep cats balance this double life? Take the York tour to joints like Last Straw Distillery to find out.
The Headwaters tour takes a look at the once thriving moonshine and bootlegging industry in the region's nooks and crannies, before sending groups off to Grand Spirits Distillery for 1920s vintage-inspired cocktails.
MILWAUKEE | Wisconsin
Milwaukee has a deep-rooted history in the liquor realm, so it should come as no surprise that the city has some top-shelf offerings for groups.
A private group tour at Great Lakes Distillery is not only a good time, but also informative. During the one-hour tour, groups experience a full tasting of the Distillery's award-winning spirits and take part in a lively conversation about the distilling process. Even cooler? You can grab a cocktail in the tasting room—before, during and after the tour.
COLORADO SPRINGS | Colorado
Venture to Colorado Gold Distilling for a tour and a lesson in how the only hemp-based, THC-free vodka is produced. From there, visit 3 Hundred Days of Shine, a distillery showcasing the rich history of moonshining in the Pikes Peak region with delicious flavors like Apple Pie and Strawberry Lemonade.
"From seasonal sips to Pikes Peak Hill Shine, visitors can savor their way through the area's distinct distilleries," said Chelsy Offutt, Director of Communications for Visit Colorado Springs. "There's a long history of moonshining in this area of the Rocky Mountains and a number of talented craft beverage creators have tapped into those roots to produce something special that every level of beverage connoisseur can appreciate."
Don't forget Axe & Oak for a variety of whiskeys and moonshine inside a reimagined elementary school; Lee Spirits for gin-centric drinks inside a hidden speakeasy; or internationally-recognized Distillery 291, nestled in the foothills of the Rocky Mountains.
WYOMING
The Cowboy State's history with spirits runs deep, spanning all the way from whiskey distilled on the ranch to secret distilling operations during the prohibition era.
At Wyoming Whiskey, groups can take a 45-minute tour of the facility, starting at the Wyoming Whiskey shop. Here, they'll see grains milled daily, view the distillation area and the custom designed, 38-foot copper still, and enjoy the sweet warehouse aromas. Known for its Milk Can Moonshine, Backwards Distilling Company offers groups tours along with spirits and cocktails that are made from scratch and feature produce from the Wyoming Food for Thought Program, which helps fight hunger in Wyoming's Natrona County.
Also awaiting you are Polish-style Vazoonka at Wotjek Distillery, Koltiska Original Liqueur at Koltiska Distillery, gluten-free Highwater Vodka at Jackson Hole Still Works and Grand Teton Potato Vodka at Grand Teton Distilling Company.
Written by Sarah Suydam, Staff Writer for Groups Today.
Photo courtesy of Central Counties Tourism.