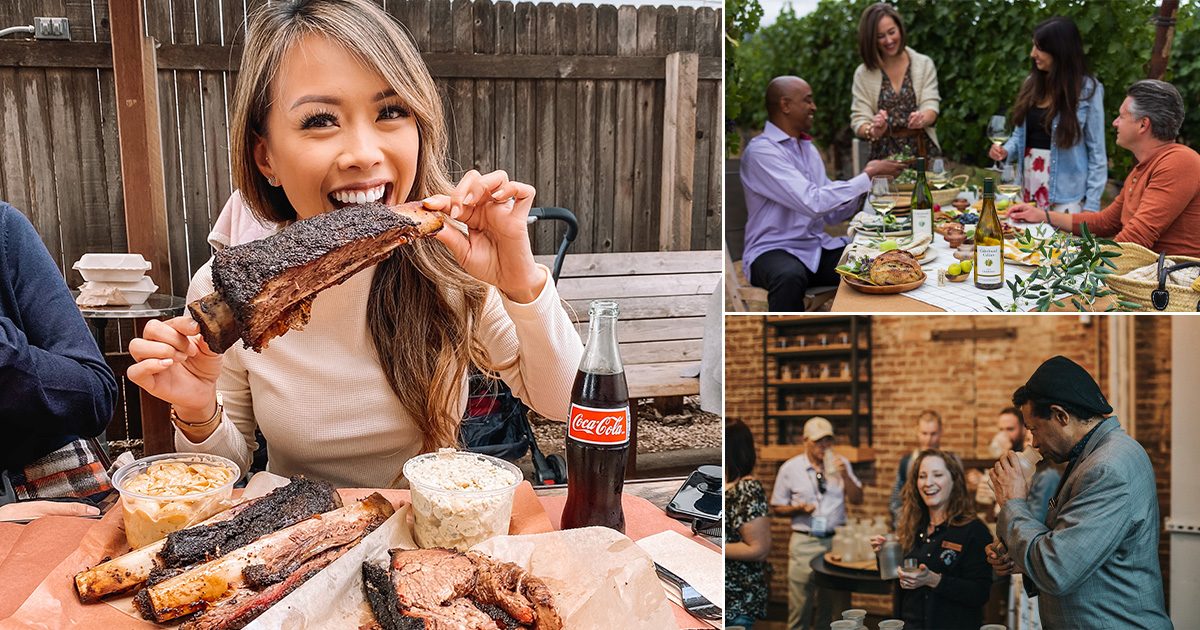 Dining and Drinking Across America: A Snapshot for Groups
These dining and drinking destinations top the list of group-favorite culinary adventures.
James Beard—chef, author, teacher and namesake behind the well-known culinary awards—once said:
"Food is our common ground, a universal experience."
Planning a group tour around a region's dishes and craft beverages is not only a way to bring people together through shared experience; it's also a way to introduce travelers to new flavors and educate them on the country's diverse cuisine.
The destinations featured here range from the infamous to the 'who knew?' Ready to tempt your tastebuds? Let's go!
Northern California's Napa Valley has earned its reputation as a premier wine region, not just in the U.S., but in the world. Beringer Winery, with its historic property in St. Helena, is ideal for larger groups, as it can accommodate up to 100 people indoors and up to 250 people outdoors. But, more than just a large space, it's also the oldest continuously operating winery in the Napa Valley—and therefore a must-see. There's also Cakebread Cellars, another large, iconic estate located in Rutherford, which offers private group tours and wine and food pairing experiences, whether seated or strolling amid the vines. A great way to take in a number of spots is to climb aboard the Napa Valley Wine Train. Seating up to 72 people per car and serving up wine, gourmet food and exceptional views, this restored train takes passengers on a 36-mile round trip with stops at some of the most celebrated wineries in the region.
Austin, Texas may be more known for its live music scene, but therein lies the surprise. It's also a mecca for beer, wine and spirits, as well as signature cuisine, from Tex-Mex to barbeque and more. Taking one of the many available tours is a great way to get a taste of some of the "bests" the city has to offer—and it also allows planners to tailor their activities to their group's interests. Popular options include Austin Brewery Tours, Still Austin Whiskey Co., Pubcrawler of Austin, Livin' It Wine Tours, and Austin Eats Food Tours, to name a few. Even if food and bevvies are your primary reason to be in Austin, there's no reason not to sample some sounds. Parker Jazz Club features Roaring '20s-influenced cocktails and light fare; Stubb's Bar-B-Q is a not-to-be-missed Austin institution with an outdoor amphitheater; and Banger's Sausage House & Beer Garden's name pretty much says it all.
Milwaukee may make you think of skipping down the sidewalk after a day of working on the beer bottling line, but Brew City is more than just suds (though they rightfully play a prominent role). One spot that tops the list for groups is 3rd St. Market Hall, which has more than a dozen food vendors. Try Anytime Arepa for inspired Venezuelan fare and stop into Dairyland to taste some of Wisconsin's best treats, from frozen custard to fried cheese curds. Get your food truck fix at Zócalo Food Park, which is open year round and features global street foods as well as an indoor space for seating. And, don't miss the jerk chicken eggrolls or jerk cheese curds at Pepperpot Jamaican restaurant. Brady Street is known for its wide range of eateries, and a stop at Glorioso's Italian Market is also recommended. And, back to beer, groups can tour the Pabst Mansion and Historic Pabst Brewery, or take a comedian- or rapper-led tour of Lakefront Brewery and enjoy some adult humor along the way.
Take a big swig of "America's Official Native Spirit" along the Kentucky Bourbon Trail®. This road-trip-style experience takes groups through the birthplace of bourbon with guided and self-led tours to suit your group's desire. A great place to start is the KBT Welcome Center at the Frazier, which is part museum and part concierge service with maps and field guides for planning your expedition. Transportation partners such as Mint Julep Experiences and Pegasus Distillery Experiences offer a wealth of options, whether it's a spiked brunch or a tour of area distilleries. Kentucky Cooperage gives a primer on the barrel preparation process; Kentucky River Tours provides tastings and tales of bourbon history by water; and Hermitage Farm blends dining, cocktails, art and horses, all on their sweeping grounds. No matter how you choose to traverse the trail, booking in advance is strongly recommended.
Charleston, South Carolina is another hotspot for cuisine and potables and there's much to do and see in this culturally rich city. Charleston City Market is filled with eateries galore, as well as specialty shops and artisan-made goods, making it a perfect launching point for your visit. If you want an expert's take on the local fare, try a guided walking tour with Bulldog Tours. Or, book a tea tasting with For All the Tea and learn about South Carolina's tea history while you sip on rare and authentic Chinese teas. Charleston is also steeped in African American history and cuisine. Consider a dip into the Lowcountry's influence with Gullah Tours or sample the cuisine at Nigel's Good Food or Hannibal's Kitchen.
North Carolina's capital city, Raleigh, is also a food-lover's destination that belongs on any cuisine-oriented itinerary. Guided tours abound, with favorites led by Taste Carolina Gourmet Food Tours, who walk groups through the city's modern and historic architecture while making stops at selected restaurants, and People First Tourism Experience, which offers hands-on, curated experiences on topics such as agave, mushrooms, herbal teas, coffee, honey and more. Groups could also take a cooking class at Cheeni Indian Food Emporium or sample one of the 350 beers on tap at Raleigh Beer Garden. Transfer Co. Food Hall is also a go-to for groups, with its 43,000-plus square feet of space dedicated to all the eats. From ice-cream sandwiches to empanadas; burritos to burgers to bagels, they satisfy every palate.
If lobster and seafood are what your group craves, venture to Portland, Maine. This motorcoach-friendly city offers extra amenities and services to tour bus drivers and guides, as well as convenient parking. What's more, it's a hub for dining with oodles of group-friendly restaurants, many of which offer special rates. Bull Feeney's, DiMillo's On the Water, Gritty McDuff 's Brewing Co., Portland Lobster Company, and Ri Ra Irish Restaurant & Pub are just a few. Attend a lobster bake on Peak's Island, hosted by Island Lobster Company, or go beyond the shore on a lobstering boat tour with Lucky Catch Tours. Portland also offers a variety of other tours, including the Maine Brew Bus, which provides a behind-the-scenes peek into Maine's distilleries, wineries and craft breweries.
Written by Allison Kay Bannister, Contributing Writer for Groups Today.
This article originally appeared in the May/Jun '23 issue of Groups Today.
Photos Courtesy of Vy Nguyen, Visit Napa Valley, Kentucky Distillers' Association.