Culture and Adventure: Q&A With Discover Puerto Rico's Leah Chandler
In September 2017, Hurricane Maria made landfall in Puerto Rico, causing devastatingly vast damage to the island. Yet tourism—integral to the success of Puerto Rico's local economy—has bounced back strong.
Groups Today sat down with Leah Chandler, CDME, Chief Marketing Officer at Discover Puerto Rico, to learn more about why Puerto Rico is still your ideal next travel destination.
GT: Why should Puerto Rico be on a travel planner's radar as a top group travel destination?
LC: With its rich cultural heritage, gorgeous Caribbean beaches and exceptional local cuisine, Puerto Rico feels like another world—but it's not even another country. Puerto Rico is a U.S. Commonwealth, meaning U.S. citizens can easily travel here without a passport.
If your group is looking to explore nature or experience extreme adventures, there are numerous options that will ensure your group has a once-in-a-lifetime experience. Caving, hiking, rock climbing, rappelling, kayaking, surfing, snorkeling and scuba diving—just to name a few.
GT: What are some of the activities or attractions travelers can enjoy when visiting?
LC: With a wide range of accommodations, delicious food, 250+ miles of beautiful beaches, bustling attractions and incredibly rich culture, it's no wonder that Puerto Rico has been named one of the top destinations to travel to in 2018 by TripAdvisor, Lonely Planet and more.
Visitors can roam the cobblestone streets of colorful Old San Juan, tour historical forts like Castillo San Felipe del Morro and Castillo San Cristobal, try a wide variety of water sports, or simply lounge on the beach. Plus, Puerto Rico is a foodie's paradise. Popular spots like La Factoria, Barrachina, Taberna de Lupulo and Mermalade never disappoint.
One incredible experience is the Bioluminescent Bay Tour: The sun is down, but your adventure is just beginning as you paddle through the glowing waters on a bioluminescent bay kayak tour. Groups can explore this legendary natural phenomenon as the water below glows and sparkles. It's phenomenal!
Additionally, visiting the Bacardi Distillery is an experience sure to give your group the true flavor of the island. Relive history and see how Bacardi evolved from being a small rum manufacturer to becoming the untamable spirit that it is today. Groups can also choose a mixology tour or private rum tasting.
GT: Can you share some of your favorite Puerto Rico hidden gems that visitors will be thankful to know about?
LC: For groups seeking a thrill, Toro Verde Adventure Park offers one of the longest ziplines in the world. If getting in touch with nature is more your group's speed, visit Cueva Ventana, an enchanting limestone cave set into the side of a cliff. Also, visitors should visit El Yunque rainforest—the largest rainforest in the U.S. Puerto Rico is also home to three of the five bioluminescent bays in the world. Looking to discover islands off the mainland? Culebra and Vieques feature some of the best-rated beaches in the world—like Flamenco Beach in Culebra.
GT: What are some of the things travelers should be mindful of when visiting Puerto Rico?
LC: English is widely spoken in Puerto Rico and most U.S. wireless carriers offer excellent service. Flights from the U.S. are considered domestic and U.S. visitors don't have to exchange their money since the dollar is Puerto Rico's official currency.
GT: What are some perks of visiting Puerto Rico—maybe some aspects that are different from most places?
LC: Puerto Rico has become a not-to-miss destination, stemming from increased awareness. More Americans now know that you don't need a passport to travel to the Island and that it has offerings for every type of traveler: the foodies, beachgoers, adventure seekers, nature lovers, luxury travelers, sports fanatics—the list goes on. With each visit, there is something new to discover in Puerto Rico!
GT: How can visitors ensure they're visiting responsibly and supporting the local economy?
LC: Tourism is vital to Puerto Rico's economy, so by visiting you're directly contributing to its incredible comeback. Tourism is a powerful tool for development, with ample capacity to transform the Puerto Rican economy in the short term. It is also an industry that generates direct and indirect jobs, with a multiplier effect in other segments of the economy.
Discover Puerto Rico by staying at hotels, eating at restaurants and buying from local businesses. Puerto Ricans want you to visit and have fun, pride themselves on their hospitality, and live for sharing the beauty of their Island with visitors.
Visit Discover Puerto Rico for current offers and more information on the Island's wide array of accommodations and offerings in adventure, culture and gastronomy.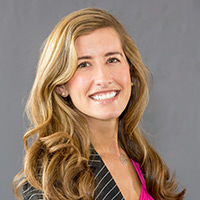 Leah Chandler, CDME, Chief Marketing Officer at Discover Puerto Rico.
Written by Sarah Suydam Staff Writer for Groups Today.
Photo courtesy of Discover Puerto Rico.