Readers' Choice Awards: Tenacity in Travel 2020
This year undoubtedly required the travel industry to dig deeper than probably ever before. In many ways, 2020 has been a bully; constantly pressuring those faced with hardship to take the path of least resistance and give in. Yet through immense challenges, upheavals, and uncertainty, the people who make travel possible continue choosing to press on—thriving and adapting at every turn.
Those at the heart of the industry know: Determination, creativity and sheer persistence will see us through the darkest of times.
That's why Groups Today chose to recognize several individuals and organizations for the grit, innovation, tenacity, and hope they've demonstrated throughout this past year.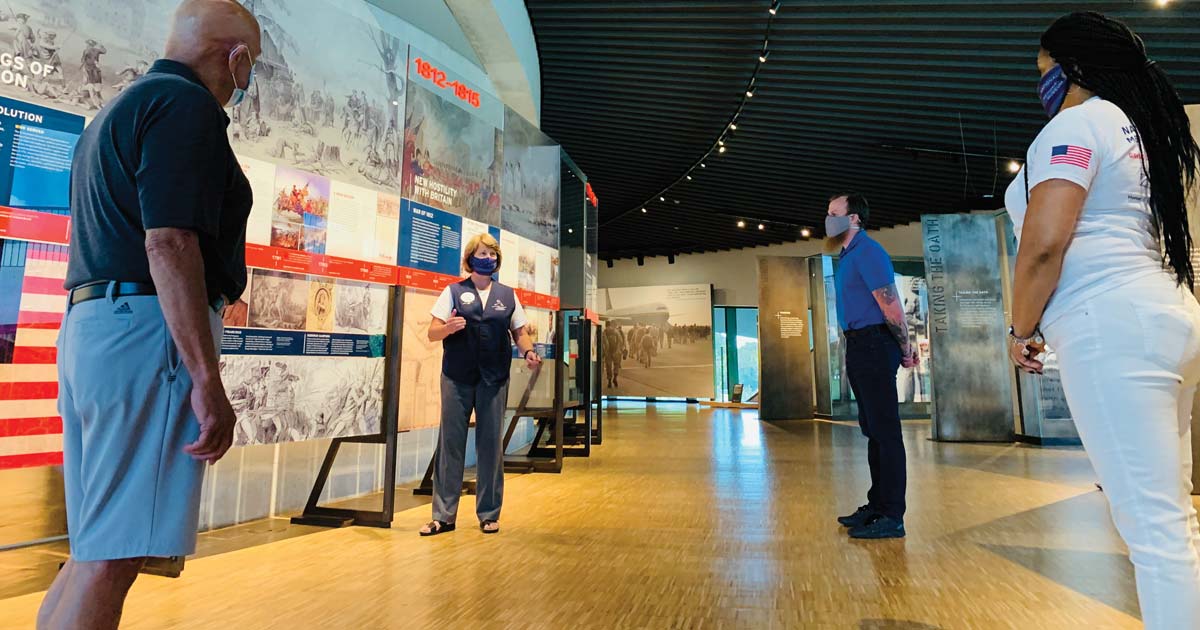 Photo courtesy of National Veterans Memorial and Museum.
Honoring, Sharing and Preserving Every Veteran Story
National Veterans Memorial and Museum
While much of the world was placed on hold in the beginnings of the COVID19 pandemic, the National Veterans Memorial and Museum didn't halt the stories, remembrance, or recognition of extraordinary individuals who served.
Memorial Day weekend, NVMM hosted an "I Will Always Remember" Virtual Memorial, offering families and friends of veterans an opportunity to share who they are remembering. NVMM also hosted a Memorial Day Remembrance Ceremony via Facebook Live, which included a message from Ryan Manion, whose brother, 1st Lt. Travis Manion of the United States Marine Corp, gave his life in service to his patrol and country.
As veterans in Central Ohio nursing home facilities were alone and missing their loved ones, NVMM and Experience Columbus encouraged people to write letters of hope and resiliency and send them to Chillicothe VA Medical Center and Community Living Center, in celebration of their service. NVMM offered discounted admission to frontline workers upon welcoming guests back to the museum, as well.
Throughout it all, NVMM celebrated its two-year anniversary in fall 2020 and commemorated the occasion with permanent and special exhibitions, among them We The People: Portraits of Veterans in America.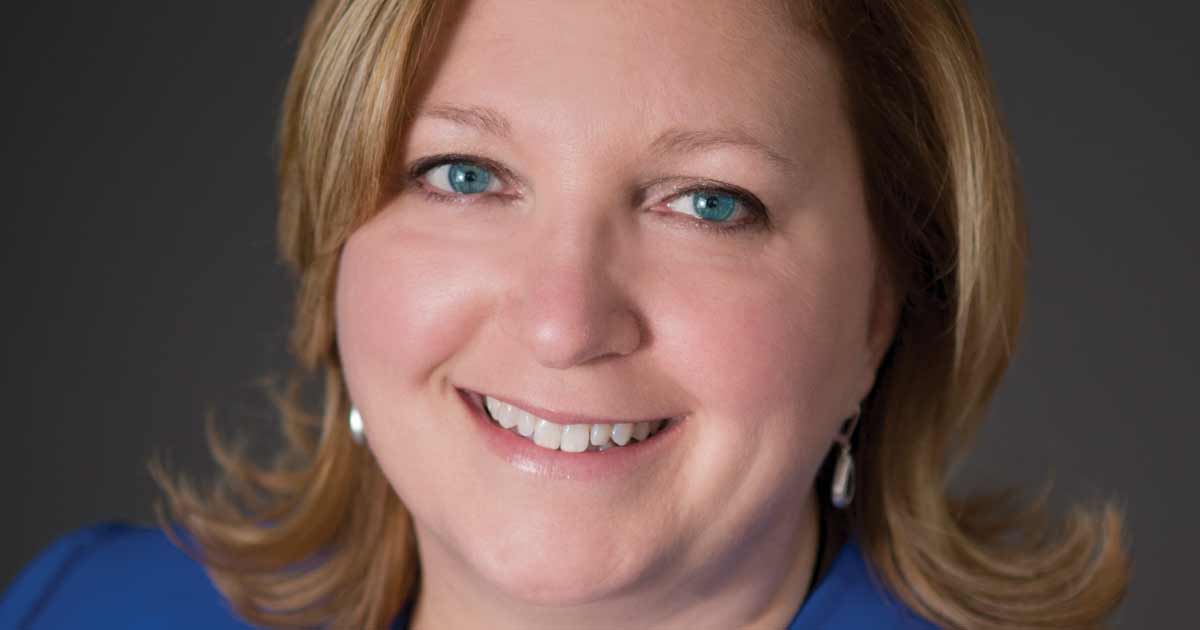 Photo courtesy of Paige Balcer.

She Will Not Be Defeated
Barb Mock, Owner, Travel With Barb
Upon realizing the 2020 student travel season would be canceled, Barb Mock and her staff worked tirelessly to recover all possible refunds for their teachers. Though Mock knew she would eventually have to furlough her staff, she worked to keep employees on payroll for as long as possible, even dipping into her personal savings.
To help clients keep travel in their lives, Mock created the "Destination Dash"— a virtual run incorporating virtual travel to 12 different cities, covering 112 miles over 21 days. Over 140 participants of all ages and locations got outside, logged miles, and shared photos in a private Facebook page, where each post was met with encouragement from Mock and others. Participants also received newsletters containing facts, hidden gems, sites to see, iconic recipes and personal memories from the Travel With Barb staff.
"It's so hard to articulate what the heart feels—and this event gave me and my amazing team ALL THE FEELS," said Mock. "I couldn't have done it without them."
During a difficult time, Mock created and gave to an online community of like-minded individuals something positive to focus on, while demonstrating her commitment to her company, industry, staff, and clients.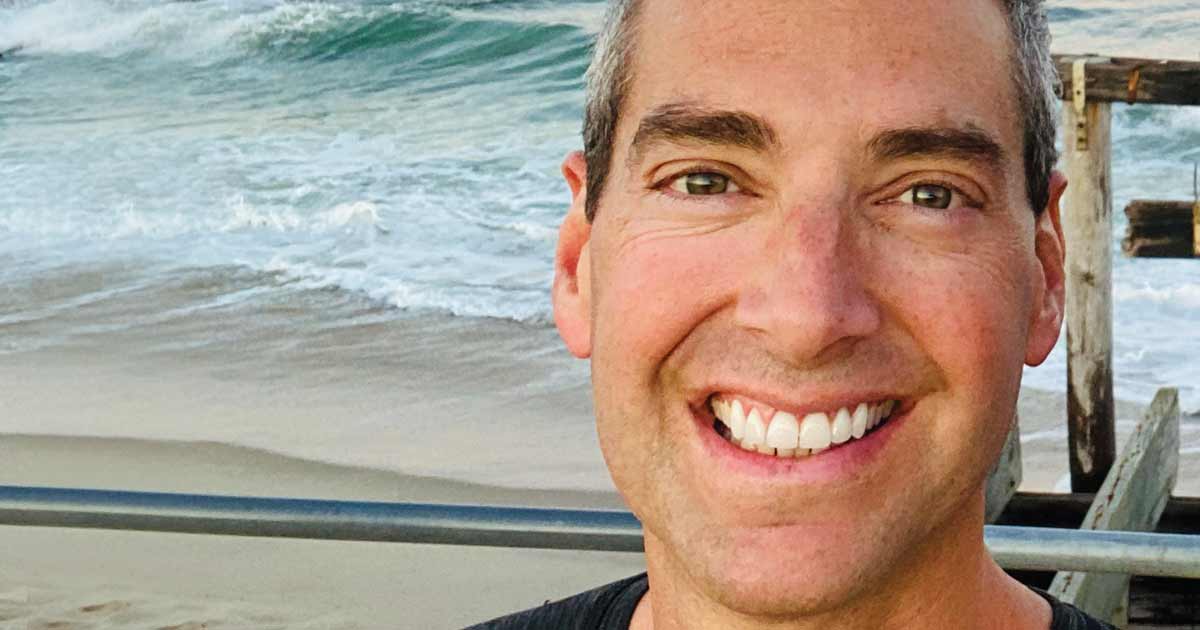 Photo courtesy of Robert Miller, Esq.
Relentlessly Pursuing What's Right
Robert Miller, Esq., President and Owner, TravelAdvocates
When the pandemic struck, Robert Miller used his legal and industry expertise to spend countless hours persistently contacting, negotiating, and advocating to help groups—including ones that didn't book through him—secure the return of tens of thousands of dollars in hotel deposits from canceled bookings.
"I view the travel industry like a family: The industry is only as strong as the relationship between suppliers, buyers and their groups," said Miller, noting he'll forever remember which hotels cooperated and which did not. "When one of the pieces is struggling, we all struggle. By getting money back in the rightful hands of the buyers—oftentimes, wearing my lawyer hat—we restore opportunity and ensure a healthy synergy between our industry family members."
Although Miller had to lay off some employees after their Paycheck Protection Program monies ran dry, Miller and his team remain optimistic they'll be back onboard in the future.
"I am blessed to have a talented group of employees working by my side," Miller said, stressing that any business interruption brings the opportunity for innovation. "During this down time, we have heavily invested in technology to help advance and streamline our processes so that when things get busy again, we will be even stronger, faster, and leaner."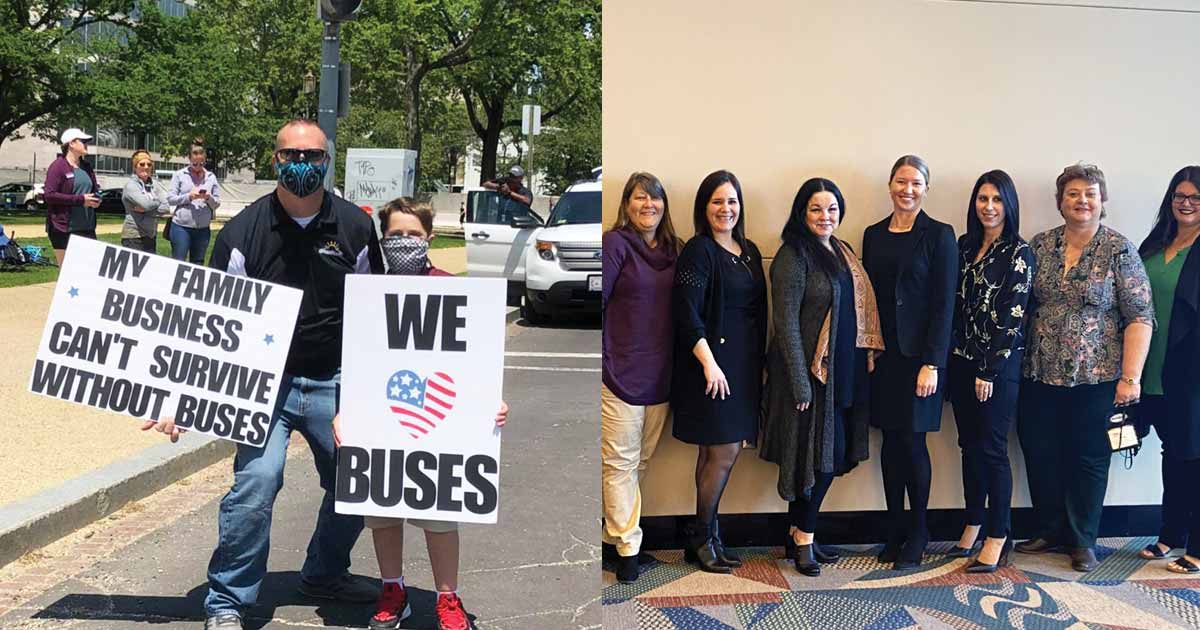 Left photo courtesy of American Bus Association. | Right photo courtesy of Vicki Osman.

Always Advocating and Staying Vocal
American Bus Association | Women in Buses Council
With the motorcoach industry devastated by COVID-19, nearly 2 million motorcoach, group tour and travel employees found themselves unemployed. Unwilling to let the industry suffer in silence, the American Bus Association stepped up to the plate and ramped up the advocacy efforts.
Whether jointly organizing a Motorcoaches Rolling for Awareness grassroots rally on Capitol Hill, maintaining a strong presence and relationship with lawmakers to secure essential industry funding, publishing sample policies for industry postpandemic safety protocols, or making available a Coronavirus Recovery Toolkit, ABA hasn't slowed down its work. In August, the organization notably mobilized 400 buses from 137 companies from around the country to help evacuate those who were in the path of Hurricane Laura.
ABA's Women in Buses Council also became a positive way for individuals from the industry to come together. The council teamed up with BUSRide magazine to create an eBook of stories from women in the motorcoach industry and the effect COVID-19 has had on them and their jobs. More than 40 women from throughout the nation contributed their stories in letters to their Congressional delegation, stressing the dire need for economic relief.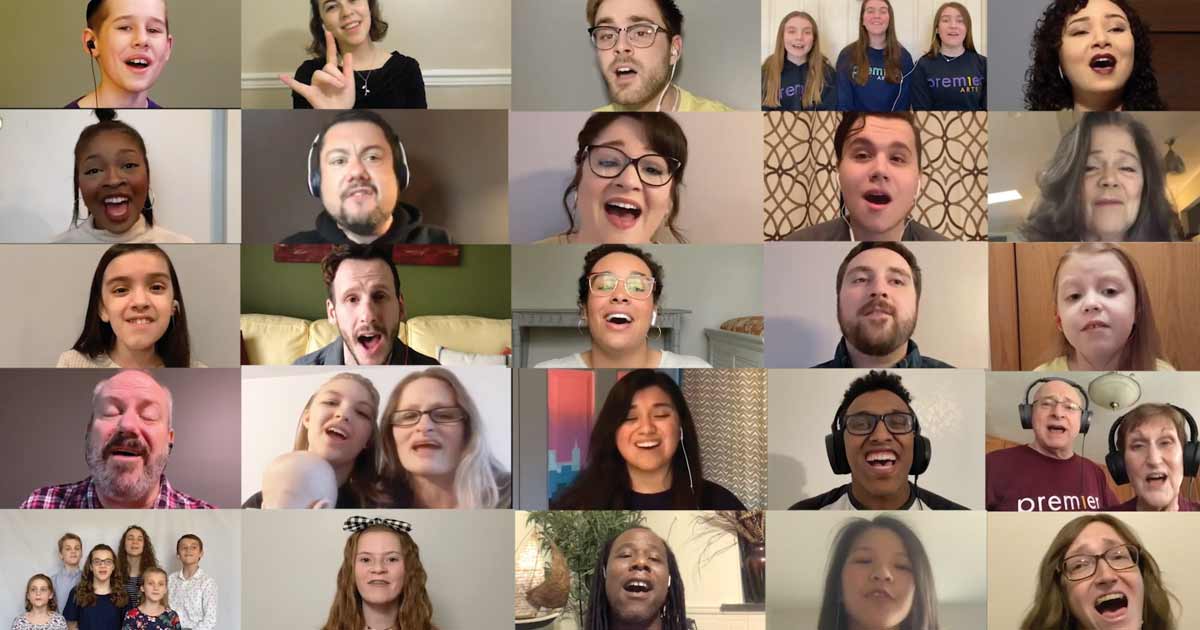 Photo courtesy of Elkhart County, IN CVB.

Today, Tomorrow and Beyond: We Believe in Here
Elkhart County, IN CVB
During the COVID-19 lockdown, Elkhart County, IN Convention and Visitors Bureau in Indiana chose to spread joy and focus on the sunnier side of things through social media. The organization established a positive and hopeful campaign revolving around love notes from groups, organizations, and residents to their neighbors, partners, and friends.
What started as a single video from ECCVB staff quickly grew, with several partners creating their own "love note" videos—set to the iconic and uplifting Annie song, "Tomorrow." Included in the inspirational videos were people of all ages singing, playing the piano and the violin and other string instruments, presenting lyrics in sign language, and more. Always present was their message: "We'll get through this together, because 'We Believe in Here'"—ECCVB's corporate brand.
The heartwarming campaign generated thousands of shares, likes, comments and engagement from a diverse community through the entire Elkhart County area. When skies are grey and times are dark, Elkhart County, IN CVB demonstrated there's always something brighter to look forward to tomorrow.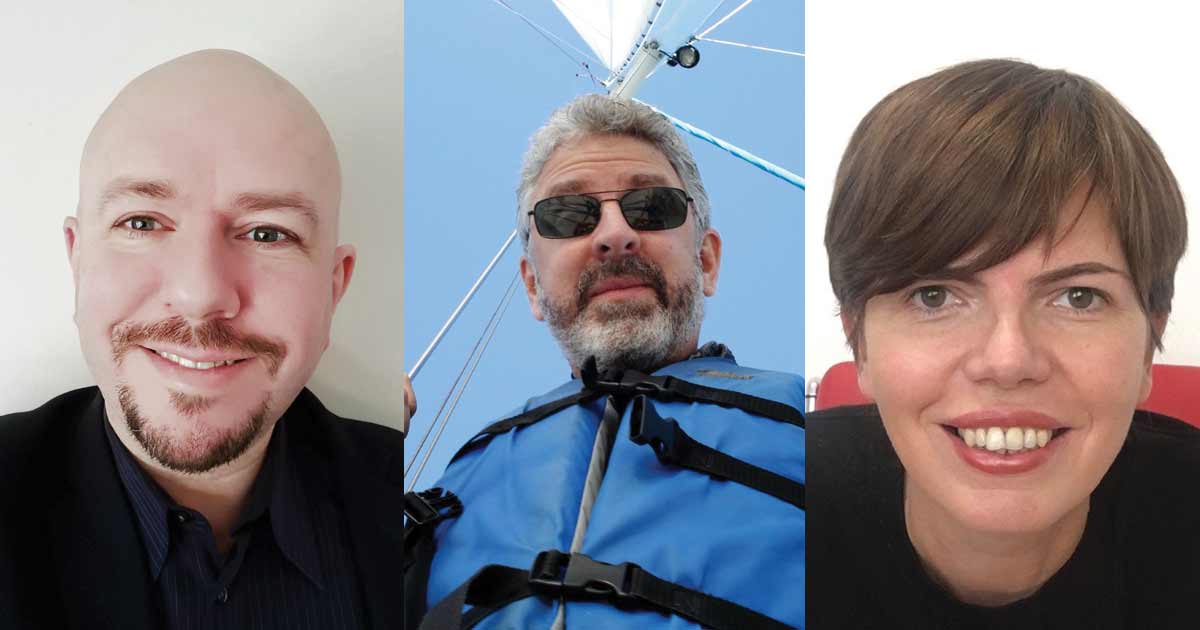 Photo courtesy of HTTA.us.
Coming Together in the Name of Recovery
HTTA.US
In March, Jonathan Elkoubi, CCO, VisitorTix, wrote a blog about his ideas related to actionable recovery steps for the tourism industry and shared it on his LinkedIn profile. The responses to those ideas were exciting, with many people motivated to help Elkoubi make them a reality—including Bruce Amick, CEO, VisitorTix, and Marina Petrova, Places.Events founder.
What came next was the birth of HTTA.US—(U.S.) Hospitality, Tourism, Travel and Activities—a VisitorTix and Places.Events collaboration that's dedicated to the long-term recovery of unemployed and furloughed peers.
Normally competitors, VisitorTix and Places.Events set aside their natural opposition in order to produce a tool with an impact, meant to help the travel industry's long-term recovery.
Thanks to HTTA.US, tourism professionals who lost their jobs are able to gather and feel united as they stay in communication with and informed by the organizations, associations, and destinations with which they were recently involved.
HTTA.US intends on expanding their collaboration and inviting additional competitors, partners, and sponsors to help create additional functionalities, along with planning to add a live industry job board, continuous education resource center, and recovery information repository.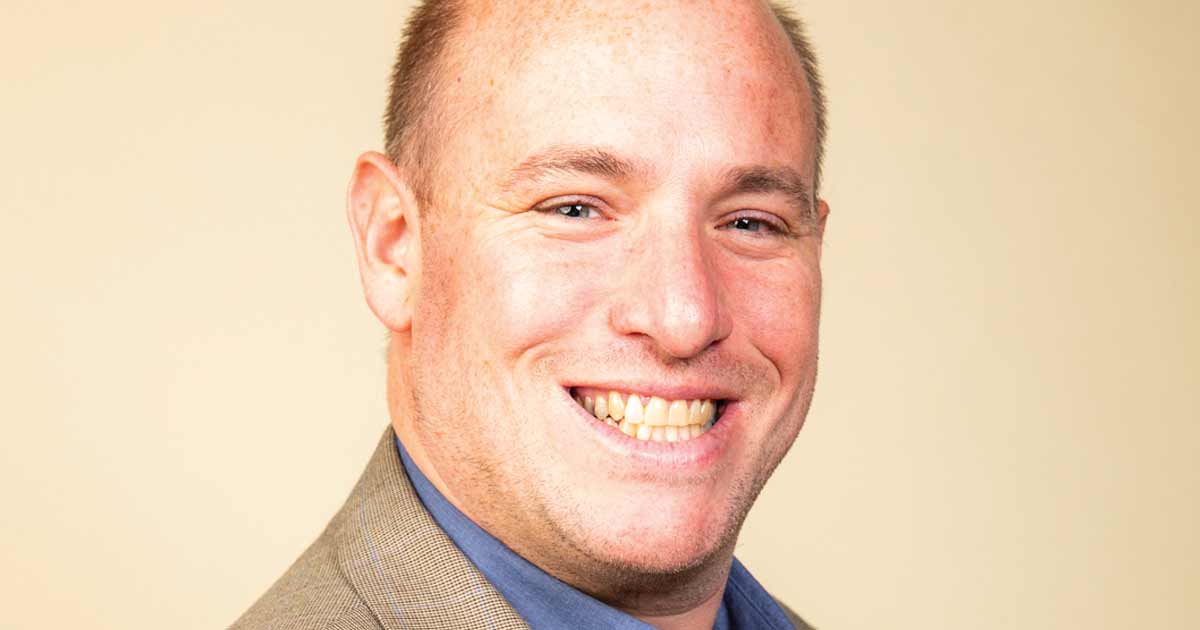 Photo courtesy of Guides Association of New York City.

Seeing the Big Apple and Supporting Small Businesses
Guides Association of New York City
Since the COVID-19 pandemic halted tourists from coming to New York City and taking tours, Michael Morgenthal, Vice President and Chair of the Industry Relations Committee, Guides Association of New York City, developed a program to allow tour guides to promote the town.
Through the TourYourOwnCity.com portal, which lists some of the best tours in NYC, New York-area residents could easily find fun and informative tours to take and rediscover their own city.
By booking tours, groups are able get out and explore the Big Apple while also supporting small New York businesses—the tour operators, tour guides, and all the small businesses they regularly visit on tours—that took a direct hit as a result of COVID-19.
With travel likely being one of the last sectors of the economy to fully bounce back, Guides Association of New York City knew that area residents taking tours would be a lifeline for the thousands of working tour guides in NYC and the other small businesses they patronize.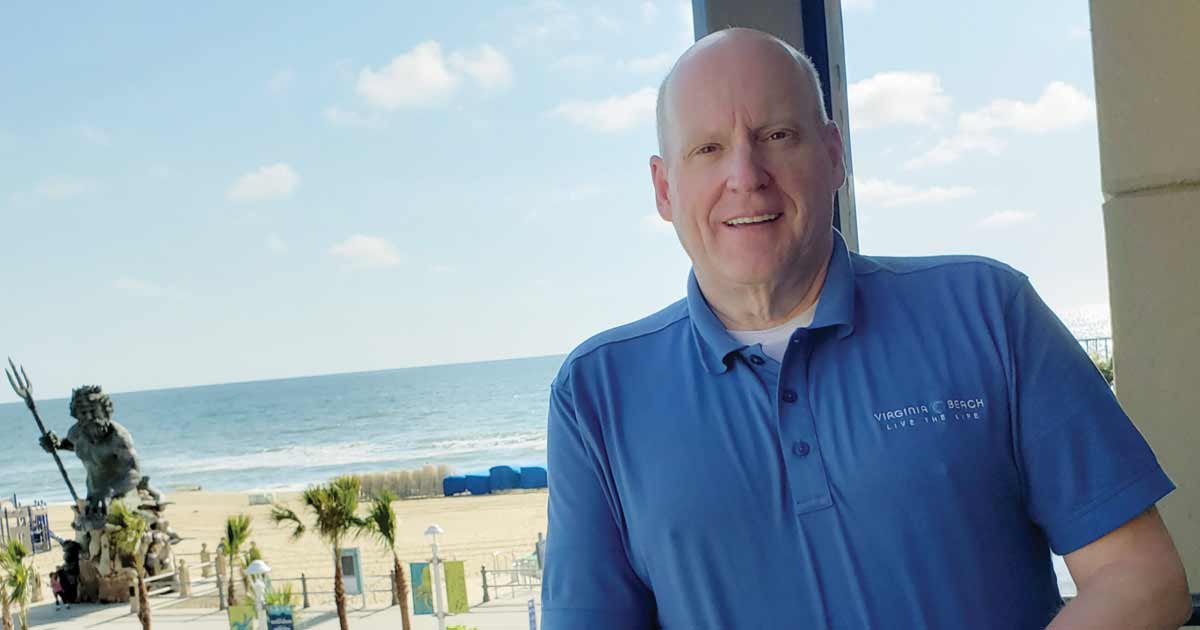 Photo courtesy of Jim Coggin.

Staying Hopeful
Jim Coggin, Tourism Sales Manager, Virginia Beach CVB
When the first motorcoach since the beginning of the pandemic rolled into Virginia Beach, Jim Coggin couldn't help but shed a tear.
"I knew how hard the client and our partners worked to get that tour on the road," Coggin said. "Clients become friends and you can't help but feel emotional about what they're currently going through—and you feel a responsibility to make sure you're doing everything in your power to help them be successful."
All summer, Coggin and the Virginia Beach CVB promoted Summer Smarter—an initiative to adhere to safety protocols without compromise that ensured a safe, fun, and relaxing summer for all. Coggin also worked alongside the CVB to help clients develop new bounce-back itineraries and itineraries featuring open spaces, worked with student tour operators on updating their student educational opportunities, and partnered with VisitNorfolk on a Together at Last program.
"In Virginia Beach, we believe in the power of partnerships," Coggin said. "We are all in this together."
Coggin has tirelessly promoted Virginia Beach, Virginia, as a safe and welcoming destination by maintaining an upbeat presence on social media, offering tips for supporting local businesses, and more—being an ambassador for travel in a time when travel wasn't possible.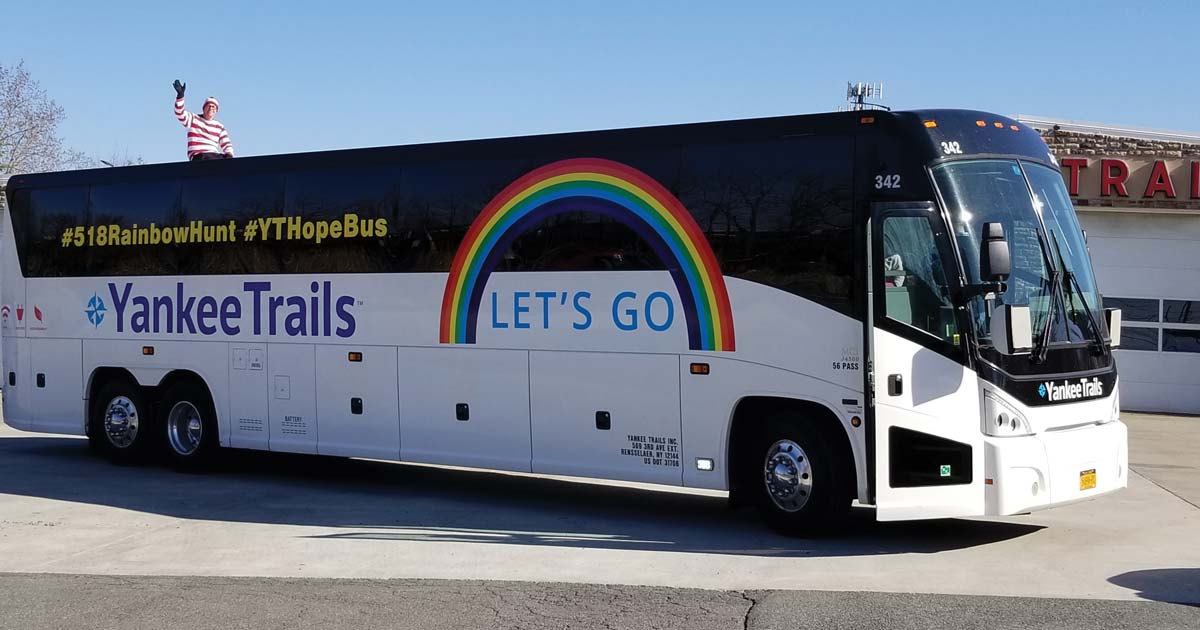 Photo courtesy of Yankee Trails.
Hope on Wheels
Yankee Trails
With many motorcoach companies on the brink of closing or having to file for bankruptcy due to lack of financial support from the federal government throughout the COVID-19 pandemic, the team at Yankee Trails brainstormed an idea to use one of their buses to spread positivity and help those in need: The Yankee Trails Hope Bus.
While their buses were grounded, Yankee Trails used one in conjunction with a local campaign—518 Rainbow Hunt—to reach families in the area that were no longer able to secure meals for their children. In the wake of COVID-19 school closures, many were left scrambling, as school is the sole breakfast and lunch source for many students.
Yankee Trails received an overwhelming response of donations to their Hope Bus Mini-Parade and went on to assist nearly 10 school districts in their region over several weeks, collecting thousands of nonperishable food and personal hygiene items that were then distributed by the districts to the families that needed them most. The parade even included familiar mascots that brought cheer to onlookers of all ages—a much welcomed and joyous sight.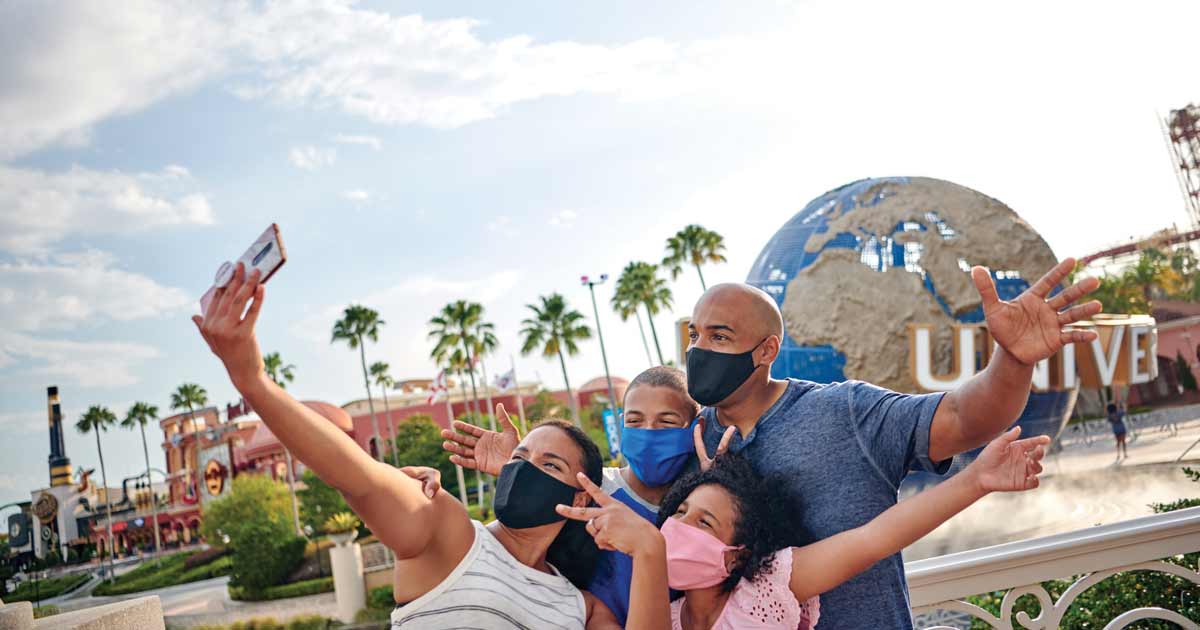 Photo courtesy of Universal Studios Orlando.
Leading the Way to Safe Reopenings
Universal Studios Orlando
When it became safe enough to reopen, Universal Studios carefully examined ways to make the visitor experience a safe one while still maintaining the fun and adventure it's known for.
A wide range of new and enhanced best-practice procedures for health, safety, and hygiene—based on guidelines from the Centers for Disease Control and Prevention and other health officials—were implemented and cover each step of a guest's visit: how they arrive; how they interact with others; how they experience attractions, rides and shows; and how they have meals.
Screening, spacing, and sanitizing also took center stage, with guests and team members wearing face coverings, observing social distancing guidelines, and having temperature checks before coming on-site. Among the additional measures at the popular attraction are staggered parking; reduced park attendance and ridership; increased cleaning and disinfection of food locations, ride vehicles, restrooms, and other frequent "touch points"; touchless payment options; and much more.
At a time when many were looking for guidance, Universal Orlando emerged as a leader for safely reengaging visitors through protocol that put both guest and team member safety first.
Written by Sarah Suydam, Staff Writer for Groups Today.
This article originally appeared in the Nov/Dec 2020 issue of Groups Today.