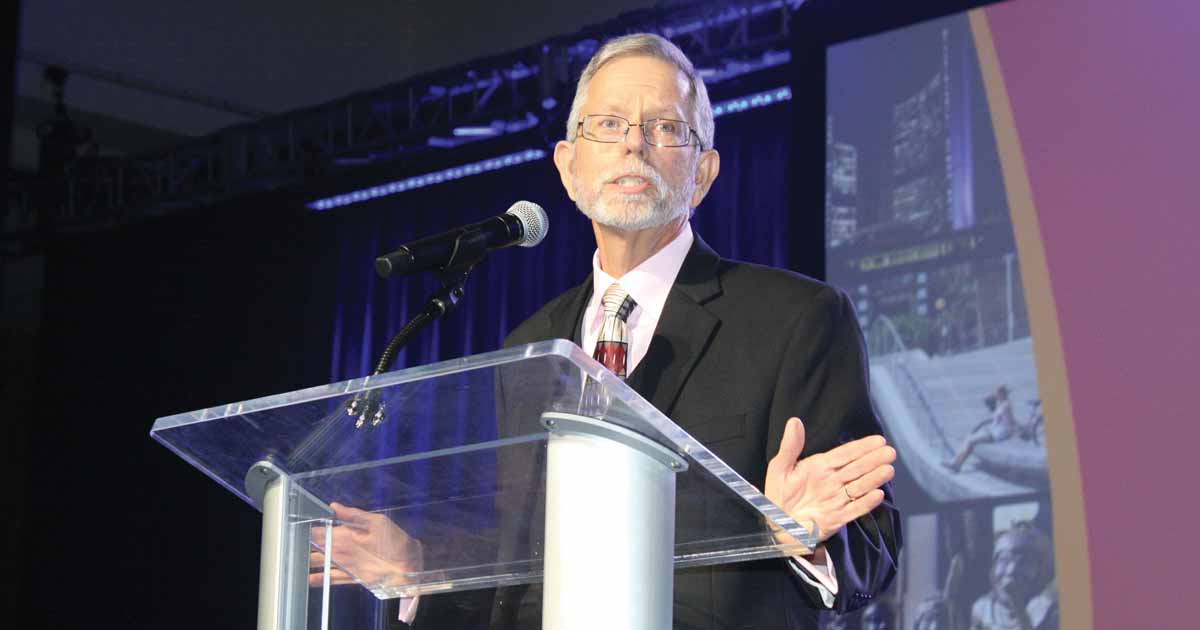 Andy Davidson: You Learn by Doing.
Andy Davidson spent 19 years as band director at Westlake High School in Austin, Texas.
He traveled with students across the United States, to Europe, and—with his band—on an amazing trip to Hong Kong and Guangzhou, China, and Hawaii: 17 days with 175 student and adult travelers.
Davidson experienced the profound effect of student travel and wanted to bring those experiences to more students. When the opportunity arose to work at a student travel company, he jumped at it. "I always had in the back of my mind that I'd return to teaching, which I LOVED, if this venture didn't work out.
"It kind of ended up working out."
Davidson worked 27 years at two-person Masterpiece Tours, doing it all: sales, operations, accounting, tour directing and troubleshooting. He and co-worker Paul Davis traveled 23 bands to the Tournament of Rose Parade—with band members, directors, and chaperones, and family and friends traveling in support. Their biggest group: 1,600, with 750 students and 850 supporters. "These were always large entourages. Who doesn't want to see the Rose Parade live?"
Logistical challenges required extensive planning and preparation. It paid off.
"I never tired of seeing our groups marching down Colorado Boulevard and seeing the excitement and pride of family members in the grandstands as their children, grandchildren, or siblings passed by. Appreciative parents tell me these trips were their families' 'dream come true' or 'trip of a lifetime.'"
Davidson traveled 60-plus high school and middle school bands and orchestras to performances at the prestigious Midwest Clinic, in Chicago. He delighted in hearing clients and their students onstage, performing beautiful music. He also delights in noting that beyond attending annual music conferences in Texas, he never spent money on marketing/advertising or time on cold sales calls.
"It was gratifying that so many band director friends and colleagues trusted me with their travel planning early in my career, continually sending new clients my way. I was fortunate to have all the business I could handle, simply through repeat clients and referrals."
The highlight of those years was being granted, via professional colleagues, the honor of serving on the Student and Youth Travel Association board of directors—ultimately as president.
"I made many wonderful friendships through being involved, and hopefully did my small part to further SYTA and share the importance and benefits of travel for students and youth. I truly believe in the slogan 'Travel Changes Young Lives for Good.'"
When Director's Choice acquired Masterpiece Tours in 2018, Davidson planned to fully retire; DC owner Jon Locke convinced him to join his team, on a trial basis. Davidson now works part time on the operations team, primarily responsible for managing group air bookings.
Davidson learned a key industry lesson early on: When a challenge presents itself, remain calm and stay positive with your client as you work to resolve the problem. "In most cases, the client remembers how you saved the day—much more so than any inconvenience the problem caused."
Along with this, he learned to not be afraid to ask for help or advice. "Never think you know it all." Davidson still learns new ways to better serve clients and regularly calls on others for help or a new perspective—it's part of the joy of sharing best practices.
"In this industry, you learn by doing."
We'll Always Have Paris
"Ever since my wife, Cathy, and I traveled to France 25-plus years ago, I've had a desire to retire to one of the outlying neighborhoods of Paris. I have fond memories of our week there: strolling the wide boulevards, visiting museums and fabulous dining at the sidewalk bistros."
Written by Amy L Charles, Editorial Director for Groups Today.
This article originally appeared in Groups Today.