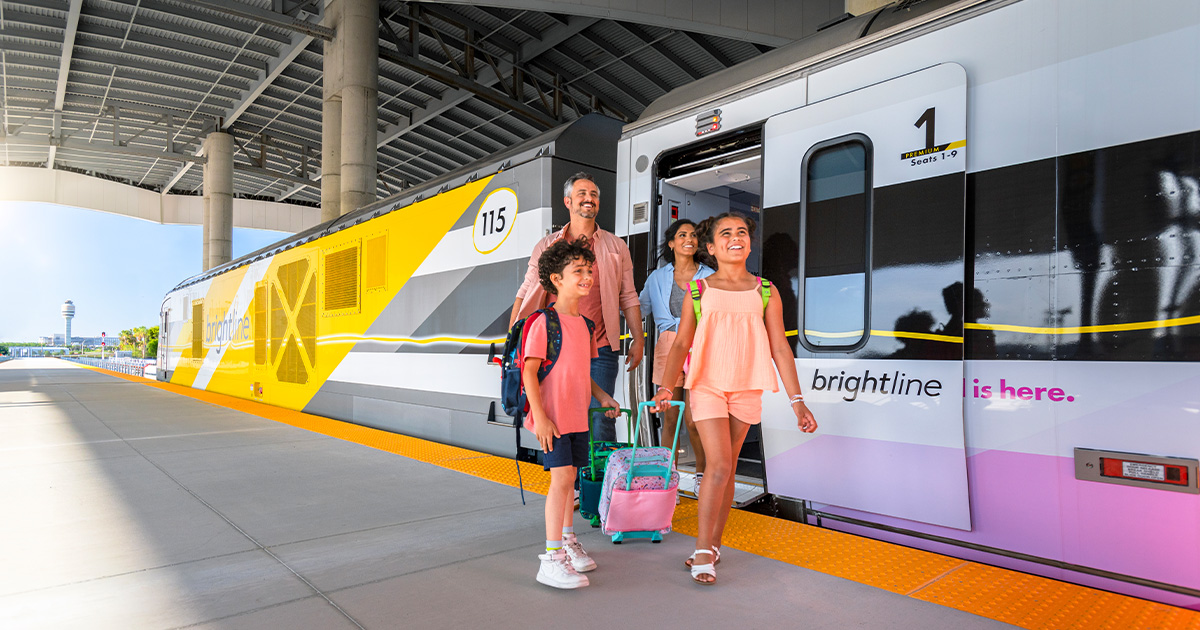 Brightline Service Launches in Orlando
The modern, eco-friendly, intercity rail now provides travelers with transport between Central and South Florida.
Brightline, the only provider of modern, eco-friendly, intercity rail in America, has officially commenced service to and from its new Brightline Orlando Station. Brightline, which also has stations in South Florida (Miami, Aventura, Fort Lauderdale, Boca Raton, West Palm Beach), has been recognized by Fast Company as one of the Most Innovative Companies in Travel and included in Condé Nast Traveler's 2023 Hot List for the best new ways to travel.
The new Orlando station spans three-stories, featuring groundbreaking design and a unique synthesis of luxury amenities that meet the demands of today's modern traveler.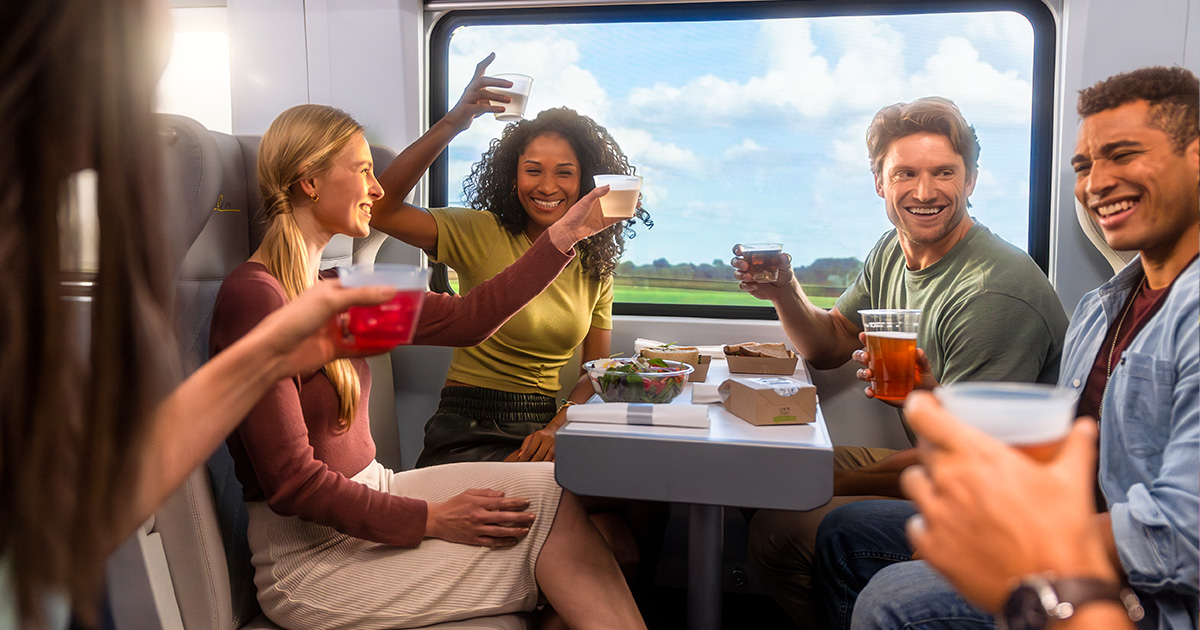 "Opening Orlando fulfills our ultimate business model. We have seen incredible enthusiasm from the business and tourism industries eager to travel between Central and South Florida," shared Patrick Goddard, president, Brightline. "As we start service to Orlando for peak holiday seasons, I encourage everyone to check calendars, make plans, visit our website or app and reserve a seat now."
For a limited time, Brightline is offering one-way SMART fares starting at $79 for adults and $39 for kids. Groups of four and above will automatically save an additional 25% on SMART fares. SMART service offers a comfortable business-class option onboard in hand-stitched leather seats, complimentary Starlink WiFi, multiple power and USB outlets and an array of food and beverages available for purchase. One-way PREMIUM fares start at $149, a first-class experience with added amenities including a dedicated PREMIUM lounge, priority boarding, checked luggage, and complimentary snacks and beverages throughout the journey.
Brightline also offers a variety of industry promotions for its guests, including discounted rates for travel advisors. Brightline expects to offer commissionable fares in the near future, and to be bookable on GDS by the end of 2023.
Reasons to ride north to Orlando include venturing to Exploria Stadium, Camping World Stadium, Universal Orlando Resort, Walt Disney World, SeaWorld Orlando and more, while reasons to ride south to Central Florida include catching a Miami Heat game or performance at Kaseya Center, watch a Inter Miami CF match in Fort Lauderdale, or cheer on the Miami Dolphins for an NFL game at Hard Rock Stadium.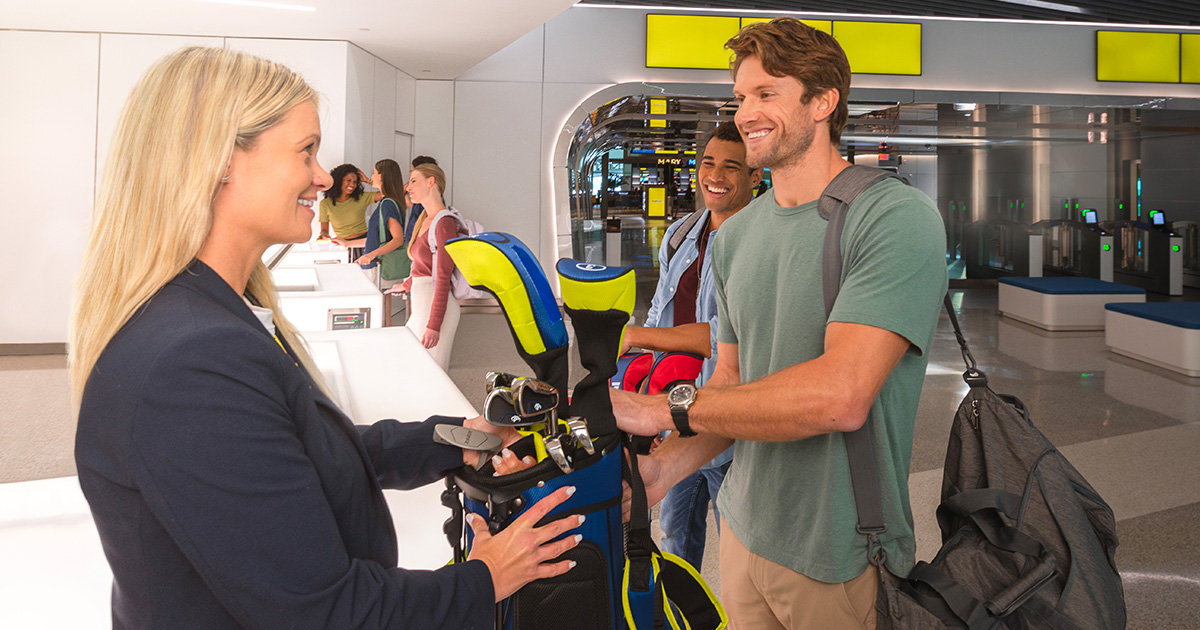 BRIGHTLINE+
In Orlando, transportation and mobility options will cater to the unique needs of the Orlando visitor through Brightline+ products available to book directly through the Brightline app and website. When booked, guests receive confirmation email and instructions on how to add on extras such as parking, checked baggage, and Brightline+ mobility options closer to their trip date.
In South Florida, Brightline's stations are within walking distance of many major attractions. For those looking to travel beyond the city centers, Brightline+ offers a wide variety of first and last-mile mobility options to get guests to and from the stations. Guests simply pre-book an Uber during the train reservation process or opt for walk up services including fixed route pickup and drop off shuttles to the airports, neighborhood electric vehicles that take guests anywhere within a three-mile radius of the stations and dedicated event shuttles.
PREMIUM booked guests also enjoy Brightline's first and last-mile service to get to and from the station with complimentary Uber rides anywhere within a five-mile radius in South Florida.
Learn more by visiting Brightline.
Courtesy of Groups Today.
Photos Courtesy of Brightline and Visit Orlando.