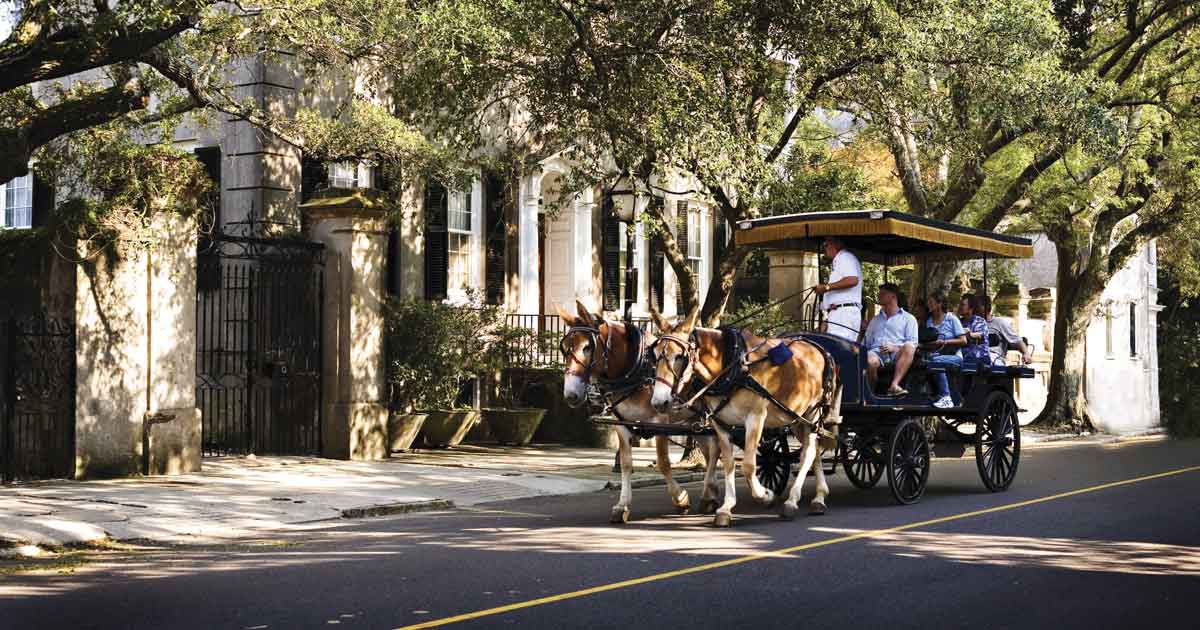 Your Guide to a Charleston Girls' Trip
Sometimes, the girls just gotta get away.
Charleston, South Carolina, is full of tranquil beauty and charm—ideal for spending some time with your best gal pals. Next time a girls' trip is on the docket, hit up these Charleston must-sees.
Brunch at Hominy Grill
This culinary hot spot is popular for a reason. Whether indulging in the Charleston Nasty Biscuit made with fried chicken breast, cheddar cheese, and gravy; the Griddled Banana Bread; or the Heirloom Cornmeal Waffle with hot chicken thighs and strawberry syrup, groups are sure to find something up their alley. The restaurant doesn't take reservations, though, so be sure to arrive early. And wear stretchy pants.
Stand Under the Majestic Angel Oak Tree
A truly peaceful and awe-inspiring natural wonder, the Angel Oak Tree is estimated to be greater than 400 or 500 years old and stands 66.5 feet tall, providing over 17,200 square feet of shade. The tree makes for a wonderful photo op with the girlfriends, and the park it stands on is free to visit.
Explore on a Guided Kayak Ecotour
Just 35 minutes from the city, groups can paddle on Jeremy Creek in McClellanville, one of the Lowcountry's most iconic shrimping areas, along the intercoastal waterway, and on the Santee River. Nature lovers will journey through a flooded forest in a protected wilderness area in the Francis Marion National Forest, see 1,000-year-old cypress trees, and encounter a range of wildlife. There's much to discover from the water!
Grab a Sweet Treat at Sugar Bakeshop
This small-batch bakeshop offers classic baked goods year-round, with weekly specials and featured favorites. Whatever strikes your fancy—cupcakes, tarts, cookies, cakes, pies—they have a treat to satisfy even the strongest sweet tooth. They're also committed to using fresh, local ingredients such as farm fresh eggs, herbs from the borough's garden plot, and seasonal fruits—so you know you're getting the good stuff.
Sit Back and See the Sights on a Horse-Drawn Carriage Tour
This is the perfect option when you want to see all the things that make Charleston so charming and historic—and want to give your feet a rest. Tour guides will inform and entertain with historical facts, lore, and humor while passing by 300 years of history, including antebellum mansions, churches, and gardens. There's even a haunted carriage tour in the evening!
Rejuvenate at the Dewberry Spa
Drawing inspiration from elements of the Lowcountry, including the Southern native dewberry plant, the Dewberry Spa is a perk luxury groups will love. Each signature treatment is handcrafted to include a luxurious blend of antioxidants, sea extracts, and botanicals that nourish mind, body, and spirit. Groups can enjoy treatments like an Atlantic Ocean Facial, a Deep Tissue Massage, a Detoxifying Seaweed Leaf Wrap, and a Satin Smooth Hydrating Hand Treatment.
Written by Sarah Suydam, Staff Writer for Groups Today.
Photo courtesy of the Charleston Area CVB, ExploreCharleston.com.