Give Veterans a Hero's Welcome
A time of reflection, remembrance and reunion: Clarksville, Tennessee, honors the service and sacrifice of veterans with the third annual Welcome Home Veterans event, September 13 – 17, 2017.
Visit Clarksville, in conjunction with the Montgomery County Veterans Coalition, is hosting four days of activities to celebrate and honor all veterans "across the years, miles and conflicts," with an emphasis on Vietnam veterans.
"When veterans returned from Vietnam, they were certainly not given a hero's welcome," said Frances Manzitto, Director of Tourism Sales, Visit Clarksville. "We felt like it is our opportunity to honor and celebrate these heroes."
This is an amazing event, she adds—one that not only is a great trip, but touches people's hearts. Last year, among the comments from her groups was, "This is the first time anyone ever said 'welcome home' to my husband."
As Manzitto notes, most people have been touched by the military is some way—and Welcome Home Veterans is for everyone. Whether your group members are veterans, family members or hoping to honor those who served, the scheduled events offer activities for all.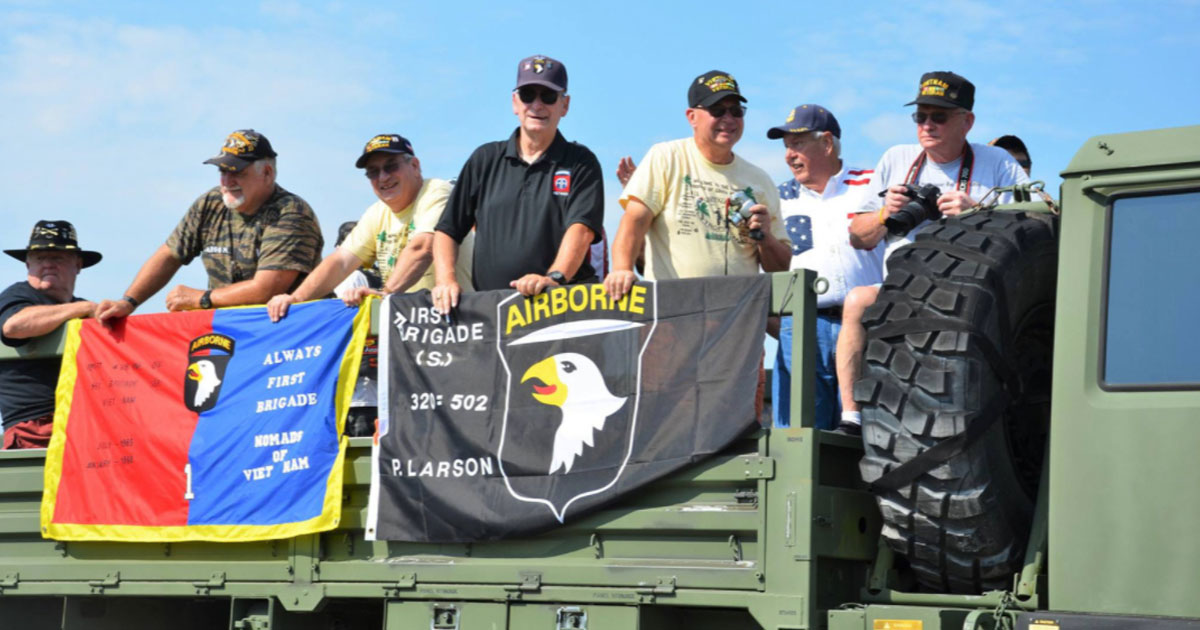 American Traveling Tribute Wall
September 13 – 17
The American Veterans Traveling Tribute Wall—an 80 percent scale version of the Vietnam Memorial Wall in Washington, D.C.—will arrive in Clarksville on Wednesday, September 13, at 3 p.m. Eight feet tall at its apex and 360 feet long, the Tribute Wall contains every name etched on the original monument.
Beginning at approximately 3:30 p.m., from Appleton Harley Davidson on US 41-A Bypass, your groups could join the procession through town as the Tribute Wall is delivered to Beachaven Vineyards & Winery.
The Wall will be open for public display 24 hours a day from noon Thursday, September 14, to 3 p.m. Sunday, September 17.
Field of Honor—Veterans Tribute
September 14 – 17
The Field of Honor—Veterans Tribute flag display, at Beachaven Vineyards & Winery, will pay tribute to the strength and unity of Americans while honoring veterans who served the nation to preserve security and freedoms.
Flags may be purchased in honor of veterans or first responders for $40, online at www.welcomehomeveteranscelebration.com or www.healingfield.org, or by calling 931.647.2331. Purchased flags will be available for pick-up after the event.
The Ship that Won the War
September 6 – 16
Built in 1942, the USS LST 325 has been restored to its original condition and remains the only ship of its kind that is fully operational in the United States. The ship will be docked in Clarksville and open for tours conducted by a crew of WWII, Korean and Vietnam veterans.
Operation Stand Down—Veterans Festival
September 13 – 14, 9 a.m. – 5 p.m.
Operation Stand Down Tennessee's Clarksville office will host the 2017 Veterans Festival to salute the service and honor the sacrifices of all veterans and their families. Services such as benefits counseling, dental examinations, employment, education, family activities, medical examinations, peer support, recreation and community integration will be available—at no cost to veterans.
Remembrance Ceremony
September 14, 7:30 p.m.
On the eve of National POW/MIA Remembrance Day, a remembrance ceremony will be held at First Baptist Church. The ceremony is free and open to the public.
Luncheon with Vietnam POW Bill Robinson
September 15, 11 a.m.
On September 20, 1965, Airman 1st Class Bill Robinson began a typical mission day as part of the team trying to rescue a downed pilot in North Vietnam—but he was captured by the Vietnamese and held for seven years and five months. Groups could join Robinson at a luncheon, where he'll share the story of his experience as the longest-held enlisted prisoner of war in American history. Tickets are $22.
Bob Hope Tribute to the Troops
September 15, 7:30 p.m.
Allow groups to step back in time to the days of Bob Hope. Tribute Artist Bill Johnson and special guests will reenact the days when Hope traveled the world with the USO. Tickets are $39.
Welcome Home Parade
September 16, 10 a.m.
Marching bands, military vehicles, floats and more will command the streets in downtown Clarksville. Whether your group members are marching or saluting, the parade begins at First Baptist Church and proceeds to the Montgomery County Courthouse. Veterans can register to be in the parade online, and applications are available for floats and other participants.
Celebration Picnic and Bluegrass
September 16, 12:30 p.m. – 3 p.m.
What's for lunch? Barbecue and bluegrass. Following the parade, Beachaven Vineyards & Winery is hosting a picnic.
American Pride Concert
September 16, 7:30 p.m.
For the Welcome Home Veterans finale, American Pride is bringing back the songs, memories and authentic sounds of the most award-wining act in country music history: the legendary Statler Brothers. Tickets are $25, free to veterans, and available online.
To purchase tickets and learn more about Welcome Home Veterans, visit www.welcomehomeveteranscelebration.com. If group members are interested in volunteering or participating in any of the activities or events, contact Frances Manzitto at [email protected] or 931.245.4345.