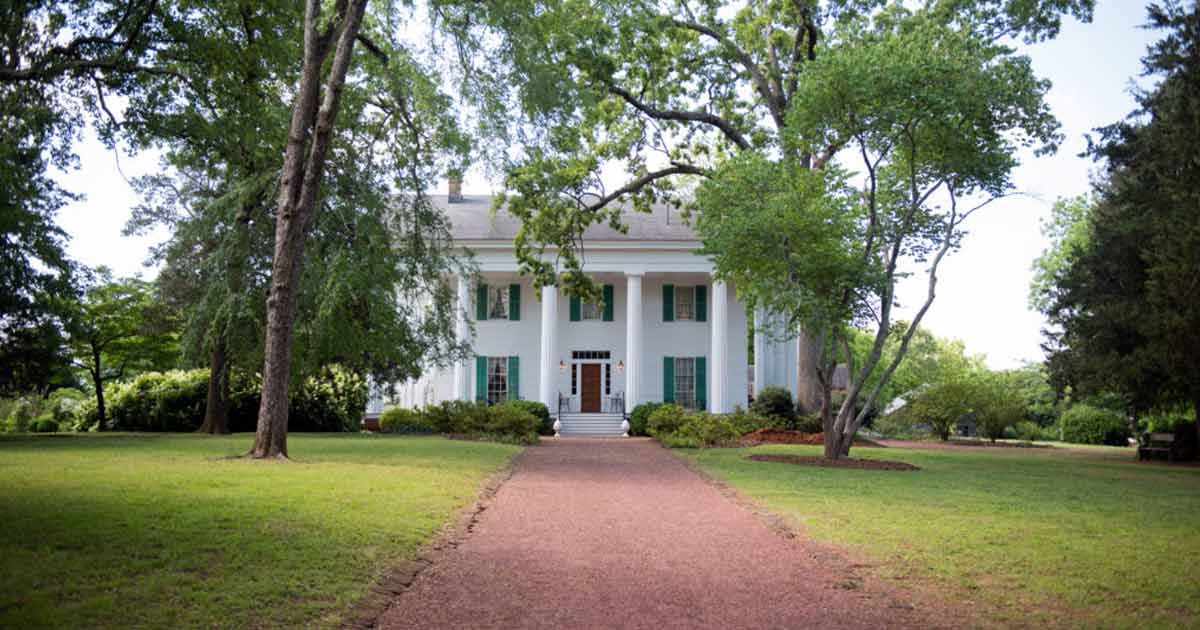 The Intersection of Hip and Historic
Where trendy meets transcendental: Roswell, Georgia, interweaves modern-day fun amidst charming historic sites. Just 20 minutes north of Atlanta, Roswell entices with an eclectic mix of old and new.
Groups could tap their toes to live music throughout the city in wide-open spaces and revitalized venues or step back in time to take in the area's Civil War history.
No matter what groups choose to do, they can set their trip to any tempo.
HISTORIC BUILDINGS
Barrington Hall sits on seven acres in downtown Historic Roswell. In the 1830s, Barrington Hall's builder, Barrington King, and his father, Roswell King, co-founded the colony that became Roswell. The family comes to life in furnishings, artifacts and stories spanning from 1838 until the city of Roswell acquired the home in 2005. On the grounds, groups could explore the only antebellum public garden in the greater Atlanta area, along with original outbuildings.
Slaves built the Greek Revival inspired Bulloch Hall in 1839. The dining room of which was the backdrop for the wedding of Mittie Bulloch to Theodore Roosevelt Sr. on December 22, 1853. The couple's son, Theodore, became the 26th President of the United States. In October 1905, President Teddy Roosevelt traveled through the southern states and came to Roswell specifically to visit his mother's childhood home. Mittie and Thee's other son, Elliott, was the father of Eleanor, who married Franklin D. Roosevelt and became our nation's First Lady. Another fun fact: Mittie is believed to be the inspiration behind Scarlett O'Hara in Gone with the Wind!
In 1838, the Smith family and 30 of their slaves left two struggling plantations along the Georgia coast to make a new start with 300 acres of cotton farmland north of the Roswell Square. The family's slaves built Smith Plantation in 1845, which three generations of the Smith family preserved. The home has since become one of the best examples of vernacular architecture found in the region. Explore servant's quarters, a cookhouse, smokehouse and more, while on the grounds.
ROSWELL'S ROOTS
On the banks of Vickery Creek lay the ruins of the Roswell Manufacturing Company, constructed in 1839. Workers created the waterfall when the creek was dammed to provide waterpower. However, Union forces burned the mills on July 7, 1864. The mill standing today was built in 1882 and has been restored as office space. The ruins are part of Old Mill Park, with hiking trails, complete with interpretive signs and a pedestrian bridge that connects the Roswell trails to the Chattahoochee River National Recreation Area, providing trails on the other side of Vickery Creek. The original machine shop can also be viewed from the interpreted trail.
During the Civil War, the Union Army captured and deported some 400 mill workers, mostly women and children, for the treason of manufacturing Confederate uniforms and tent fabric. Check out the monument in their remembrance on Sloan Street. For a spooky thrill, groups could embark on a ghost tour of the historic area. Locals report hearing children laughing and playing, or seeing a swing going full speed while others sit perfectly still while no one is there. Roswell Ghost Tours also takes guests around historic homes, local restaurants, a cemetery and more.
ROCK 'N' STROLL
Groups could continue to walk down memory lane on Canton Street. Now home to sidewalk cafes and storefronts, these fun and modern establishments are housed in historic buildings. Roswell is home to over 200 independently owned restaurants, and Canton Street is home to many local favorites. Savor Southern fare at Table and Main, feast on Cajun classics at Adele's on Canton, or order upscale gastro-pub favorites at Salt Factory Pub. The oldest building along Canton Street is the brick building on the corner of Canton and Elizabeth Way, which currently houses Go With The Flow, the state's premier paddlesports store. With a stroll down this picturesque street, groups experience the perfect mix of yesteryear and today.
ROSWELL'S RHYTHM
The live music scene in Roswell is growing and ever-evolving to include new spaces and events. The musicians who frequent here capture the life of the city, uniting people together with good times and good tunes.
Music series and festivals abound, including Music on the Hill, Alive in Rosewell, Riverside Sounds, Sundays on the River Concerts at the Chattahoochee Nature Center, and more.
Groups could find a show almost any night of the week at Gypsy Rose. Known for hosting some of the best up-and-coming Georgia artists around, audiences are swept away by live entertainment, delicious food, a fully stocked bar, and an overall vibe that feels like a home away from home. With the style of a trendy speakeasy, the comforting feel of the bar next door, and incredible talent, The Gaslight also serves up a night of unmatched entertainment.
From there, groups could sip some suds at Gate City Brewing Company. This two-story space used to be two mechanic shops and now serves as a brewhouse with a 3,000-square-foot taproom. Choose from 20 house-brewed beers on draft while listening to live music weekly.
From the Earth Brewing Company is where passionately crafted beer and food meet. Groups could sip on internationally inspired ales and indulge in a chef-inspired menu inside this rustic and elegant setting while catching live performances every Thursday night.
Whether groups like a trip that's slow and steady or fast and friendly, Roswell has it all.
Courtesy of Groups Today.
Photo courtesy of Visit Rosswell, Georgia.