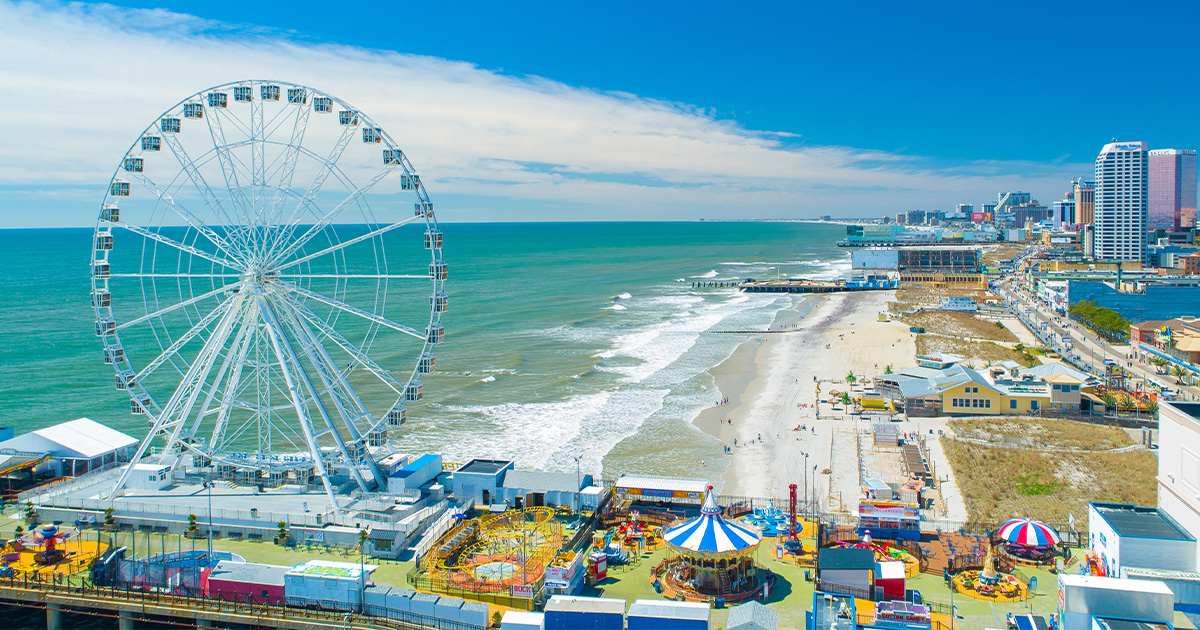 See What Fun Awaits at America's Playground
Famously recognized as America's Playground, Atlantic City welcomes one and all to this seaside destination, where local spirits are connected, and the celebrations are unforgettable.
Nestled between the land and sea, experience Atlantic City's unique location, situated within one-third of the nation's population. Atlantic City's convenient location allows for visitors to travel in the comfort of a car or fly directly to the Atlantic City International Airport (within 12 miles) or the Philadelphia International Airport (within 60 miles). Once you've arrived, hop on the Atlantic City Jitney, which is powered by compressed natural gas and is Atlantic City's most convenient and affordable mode of transportation. With a variety of transportation options, Atlantic City aims to make your next visit easily accessible.
With more than 17,500 first-class hotel rooms, Atlantic City is an exceptional place to lodge. Whether in the Marina District or situated on the world-famous Atlantic City Boardwalk, a stay at one of the nine casino resorts will guarantee a memorable experience. Along with precise guest services and waterside elegance, each casino resort showcases panoramic views of Atlantic City from every angle.
From group-bonding opportunities to evening adventures, Atlantic City is ready to celebrate life's greatest moments with thrilling year-round events and attractions. Stroll the Atlantic City Boardwalk and discover endless family-centric fun at historic Steel Pier and Lucky Snake Arcade & Raceway, the largest indoor arcade along the East Coast. For live entertainment, score front row seats at Jim Whelan Boardwalk Hall as entertainment's biggest and most successful acts take the stage. Endless excitement continues at Atlantic City's casino resorts where nightlife and late-night experiences are always celebrated.
With constant excitement and endless entertainment, a variety of services for the ultimate well-being recharge can be found at one of Atlantic City's world-class spas. Treat yourself and your group to the illuminating spa services for a journey of peace and relaxation. Being pampered at one of Atlantic City's spas is not only a luxury, but a necessity to recharge and enjoy the many energetic events during your Atlantic City experience.
Known for its thriving culinary scene, Atlantic City welcomes all to explore the city's famous dining establishments. Ranging from celebrity chef restaurants to locally owned eateries, Atlantic City's restaurants are well equipped to accommodate special events for large or small groups, served in unique spaces. When visiting Atlantic City, come hungry because the diverse cuisine selections will surely satisfy taste buds of all kinds.
Atlantic City also has a unique place in American history. From the opening of the nation's first Boardwalk to inspiration for the Monopoly game, Atlantic City history can be found around every corner. Spend the day learning about the city's evolving history from 1929 to the present day at the Atlantic City Experience, Atlantic City's historical museum. See life from above by climbing one of Atlantic City's most historic landmarks and attractions, the Absecon Lighthouse, Averaging 171 feet tall with 228 steps, it's New Jersey's tallest lighthouse!
Atlantic City awaits your arrival as strides to celebrate and let loose continue to live every day in Atlantic City.
See meetac.com for more.
Courtesy of Visit Atlantic City/Meet AC.
 Photo Courtesy of Shutterstock/Visit Atlantic City.