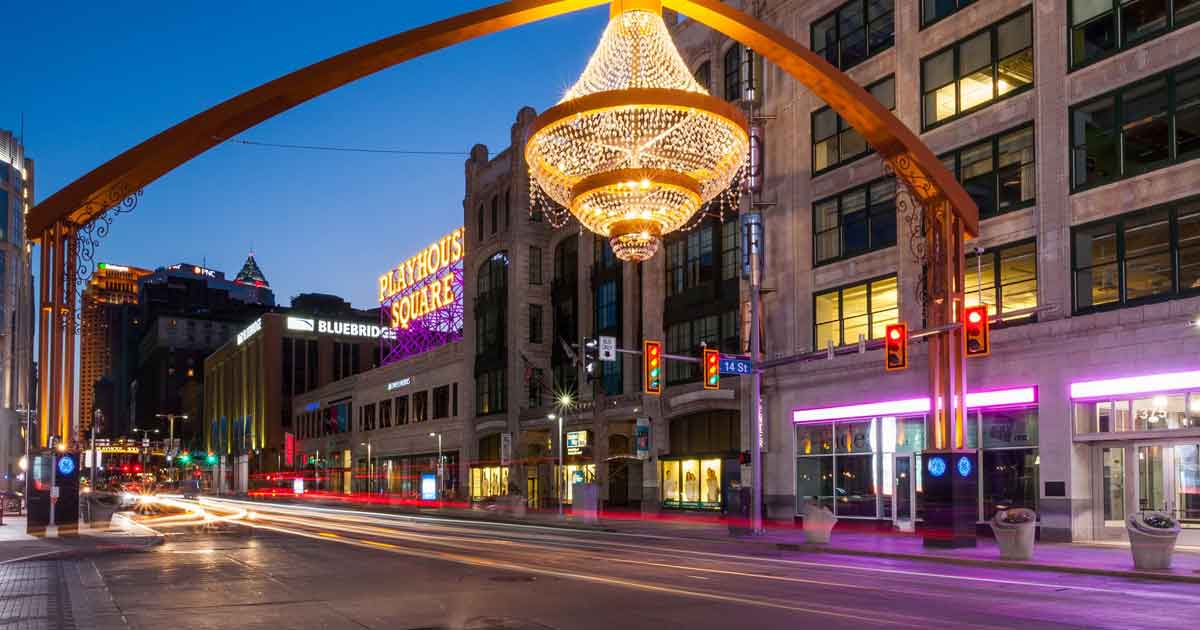 See, Hear, Do: Performing Arts in Cleveland
With world-class arts, culture, and rock 'n' roll, Cleveland offers plenty of unexpected and engaging activities for overnight group trips and inquisitive students.
Now, there are even more ways for groups to enjoy this bustling Midwest city—from new exhibits to reveling in performances and more.
See what's new!
ROCK & ROLL HALL OF FAME
In summer 2019, the second floor of the Rock & Roll Hall of Fame will be turned into a garage studio—Interactive Garage—where guests can strap on a guitar, grab the drumsticks, and step up to the microphone to mix and record their own hit record.
Play It Loud: Instruments of Rock and Roll will be on display in November 2019, following its debut at The Metropolitan Museum of Art. The exhibit features more than 130 instruments from artists such as Chuck Berry, The Beatles, Elvis, Jimi Hendrix, Joni Mitchell and The Rolling Stones. Groups will be able to get up close to admire these instruments—many of which have never been seen outside of a performance setting.
Also worth noting is the Hall of Fame experience, which debuted in 2018 and is devoted to rock 'n' roll's greatest contributors. It includes a redesigned space honoring each inductee, an interactive Voice Your Choice area where fans can share their nominations, and Inductee Jukeboxes. Memorabilia from the Inductee Class of 2019 is now on display, including instruments, clothing and a video history filled with behind-the-scenes clips of each honoree.
PLAYHOUSE SQUARE
Playhouse Square, the country's largest performing arts center outside of New York City, recently announced its 2019 – 2020 KeyBank Broadway Series. Among the shows are:
SUMMER – The Donna Summer Musical | October 8 – 27, 2019
The Band's Visit | November 5 – 24, 2019
Mean Girls | December 3 – 22, 2019
Anastasia | February 4 – 23, 2020
Jesus Christ Superstar | March 10 – 29, 2020
My Fair Lady | April 28 – May 17, 2020
Disney's Frozen | July 15 – August 16, 2020
PERFORMANCE OPPORTUNITIES
Want to get in on the performance action? Student groups can take center stage in Cleveland with more than 40 performance opportunities around town, from giving a concert at a music venue to entertaining crowds at various recreation locations.
At the Rock & Roll Hall of Fame, for example, the same stages where Rock Hall Inductees belt out tunes from time to time are available for student shows. If the energy of the audience in an intimate concert setting is important, students could open for a headlining entertainer at Bop Stop and receive a copy of their performance, thanks to Bop Stop's on-site recording studio.
Groups could also perform the National Anthem at Progressive Field before the Cleveland Indians take the field for home games.
Or they could showcase their talents at "The Roller Coaster Capital of the World." Whether it's marching down the Main Midway or singing on the Group Performance Stage, groups can experience the thrill of being the center of attention before taking on the thrill rides at Cedar Point—located just an hour's drive west of Cleveland.
Courtesy of Destination Cleveland.
Photo coutesy of Cody York for ThisisCleveland.com.