Royal Aviation Museum of Western Canada Opens in Winnipeg
The new and highly anticipated Royal Aviation Museum of Western Canada (RAMWC), situated on the campus of the Winnipeg Richardson International Airport, has now opened. The museum, which encompasses a staggering collection of more than 70,000 artifacts including bush planes and military and commercial aircraft, tells the stories of the pioneers and innovators who put Canada on the aviation map.
Even before its establishment as a city, Winnipeg was recognized as the epicenter of trade and commerce for Indigenous nations and travelers headed for all points north, south, east and west. When air travel landed in Western Canada in the 1920s, Winnipeg continued as a gateway for development, eventually becoming the operational headquarters for each of Canada's first three national air services. From aerial survey and mapping to cargo and passenger transport, to innovation in cold weather flying and rocket science, Manitobans have led the way both nationally and internationally in aviation and aerospace innovation.
"Because of its geographical location as the longitudinal center of Canada, Winnipeg has longstanding, deep ties with the aviation sector going back to the early 20th century," said the Hon. Jim Carr, Member of Parliament for Winnipeg South Centre. "The Royal Aviation Museum of Western Canada's state-of-the-art facility will honor that history through exhibits tailored to visitors young and old, local and from away."
When the museum's founders set out on a journey to create an aviation museum, they were driven to preserve the history of bush flying in western and northern Canada. The museum they ended up building is much greater in scope. Today, building on the work of these visionaries, the RAMWC team is shuttling the museum into a new era.
The RAMWC team has taken into consideration the shifting demographics and emergence of new technologies which have redefined the expectations of visitors. Museum-goers now look for a more interactive experience, a space for community and enhanced learning opportunities. Groups visiting the new RAMWC will discover stories of pilots, engineers, explorers and innovators in a new way. The immersive and engaging experience will take them on a journey throughout meticulously curated exhibits, including videos produced by Centric Productions and Foundation Films.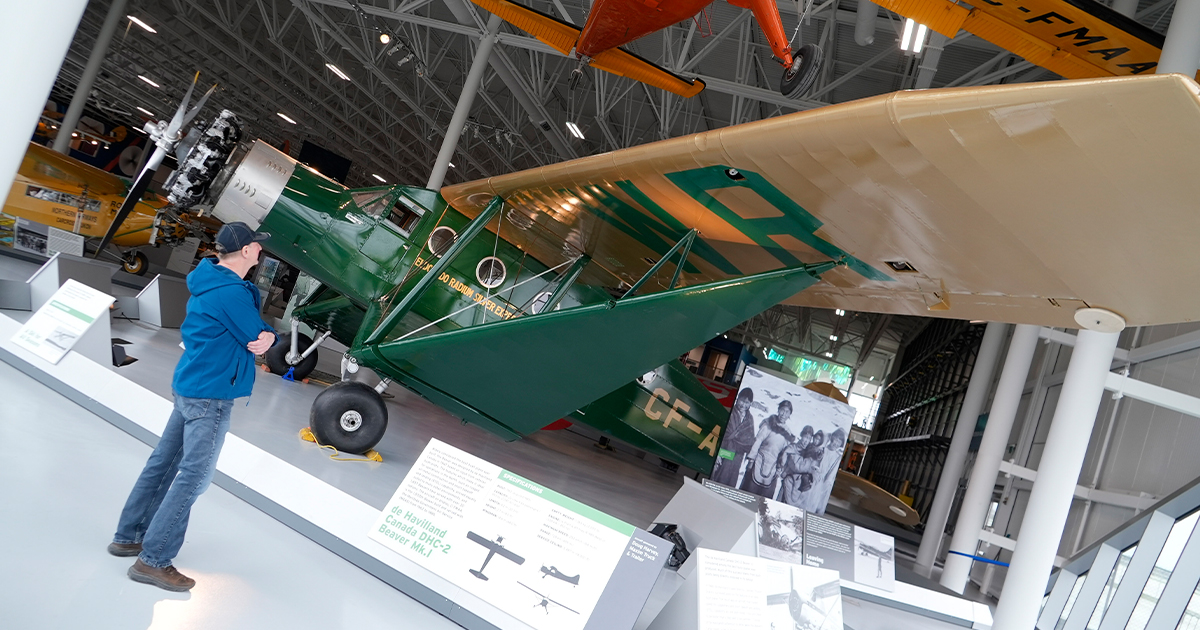 Of special note is the museum's commitment to Truth and Reconciliation, threaded throughout its content. The Norway House exhibit details the crucial role the Indigenous peoples of this community played in helping pilots map and navigate the area's challenging landscapes and weather. To help tell this story and others, RAMWC brought Dr. Niigaan Sinclair on board as their Indigenous Curator. With his expertise, the museum has ensured that Indigenous perspectives are considered in every panel of every exhibit.
In addition to its 17 exhibit spaces, the museum includes: A children's play area—the Galaxy Exploration Zone featuring its new mascot, Hobbs; an observation lounge with stunning views of the airport's runways and RCAF 17 Wing; meeting spaces; a new boutique giftshop, and more. RAMWC says it's looking forward to, once again, being a valuable part of Manitoba's cultural and tourism landscape.
The museum's opening was made possible by generous public and private sector support, including $10 million each from the Government of Canada and the Province of Manitoba, and more than $22.5 million from private and corporate donors.
"On behalf of all Manitobans, I want to congratulate RAMWC's team and board, and their donors and dedicated volunteers as they 'take off' on this new chapter in their new state-of-the-art facility that is sure to be a must-see tourist destination for generations to come," said Premier Heather Stefanson. "With enhanced exhibits and visitor experiences, the RAMWC will continue to be a place to gather and celebrate, learn and reflect, and I look forward to seeing the unique ways RAMWC will share the diverse stories of Canadian aviation to Manitobans and visitors from around the world."
"We're so thankful for the generous support we've received from our federal, provincial and municipal governments," said Terry Slobodian, RAMWC President and CEO. "We would not be able to fulfill our mission to educate, inspire, and entertain without their contributions, and those of our community."
Learn more by visiting the Royal Aviation Museum of Western Canada.
Courtesy of Groups Today.
Photos courtesy of Dave Brandt, Courtesy of RAMWC and Chronic Creative, Courtesy of RAMWC