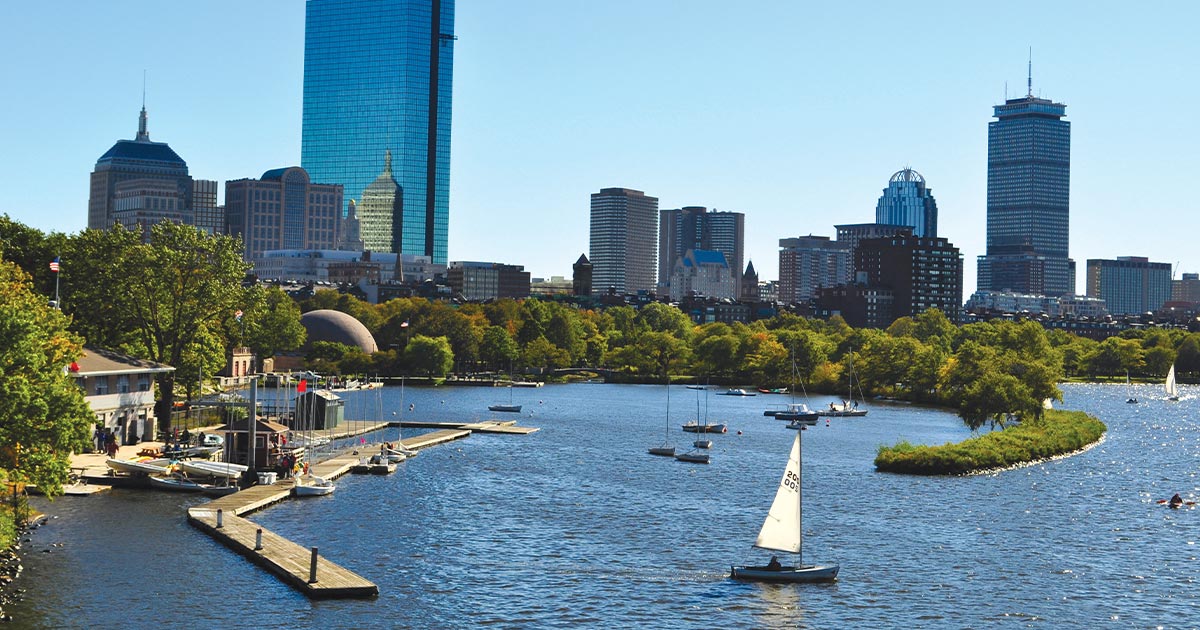 Massachusetts: A State for All Seasons
In the cluster of states that make up New England, Massachusetts stands out as a hub for all things historical, as well as home to a number of appealing destinations—all packed into just over 10,000 square miles. As one of the smallest states in the US, it still manages to be the most populous in the region, owing its attraction among residents and visitors alike to its diverse geography and industry, charming waterfront towns, significant landmarks, prestigious educational institutions, celebrated sports teams and, of course, breathtaking fall colors.
Massachusetts boasts events like the landing of the Mayflower, the start of the Revolutionary War, and the infamous witch trials. It's the birthplace of Harvard University and the nation's first library, and its waters provide for some of the most renowned cuisine, from chowder and oysters to lobster and more.
Groups interested in exploring The Bay State, will find gems at every turn—and plenty to do all year round. And while the capital city of Boston and the Atlantic shoreline have their draws, there's much more to see to create a full itinerary.
A great starting point for a group tour is the Greater Merrimack Valley, located about 30 miles northwest of Boston. Encompassing the cities of Lowell, Lexington, and Concord, it's considered a fountainhead for American literature, with Jack Kerouac, Louisa May Alcott, Henry David Thoreau and Nathaniel Hawthorne all hailing from the region. It was also the nexus of both the American Revolution and the American Industrial Revolution.
Beginning in Lowell, groups will find an abundance of offerings, from unique shopping and dining to cultural experiences, including museums, galleries and theaters, as well as trolley and boat tours. Visit Lowell National Historical Park, the country's first urban national park, and take a Suffolk Mill walking tour, which gives a view into the booming textile industry of 19th-century New England.
In Lexington, revolutionary history abounds, with Battle Green, a National Historic Landmark, as one of the focal points. Stop in to the Visitor Center or pre-purchase tickets online for a one-hour tour of the grounds. Nearby Minute Man National Historical Park features sites such as the North Bridge, made famous for "the shot heard 'round the world" that kicked off the battles of Lexington and Concord in 1775, as well as the interpretive Battle Road Trail—a five-mile trail that connects several historic sites and follows the route of the Minute Men. The area is also punctuated with natural beauty and scenic woodlands and wetlands.
Adjacent is the city of Concord, which has its own significance as not only an old battle ground, but also as a poets' and writers' haven. It's the location of Walden Pond, which inspired works by both Thoreau and Ralph Waldo Emerson, and the Orchard House and The Wayside, residences of Louisa May Alcott, writer of Little Women. Concord Museum contains artifacts and antiques from early America, as well as several engaging and thought-provoking exhibits. A visit to the Robbins House, which details the stories of African American figures of the time, is also a must.
Another not-to-be-missed Massachusetts destination is Salem, less than an hour drive from Concord. In addition to being especially motorcoach friendly, it also has more than a dozen attractions within a one-mile area. At the heart is the Salem Witch Museum, which serves as a major landmark within the city. The museum, which is celebrating its 50th anniversary in 2022, tells the stories of the witch trials of 1692, as well as documenting tales of witches, witchcraft and witch hunts throughout history.
Presentations and exhibits, including guided tours, multimedia displays, events and open dialogues are all part of the museum's educational offerings. Tickets must be purchased online in advance, and groups of 25 or more are advised to book their tour, with discounted admission, through group sales. The museum is capable of accommodating two motorcoaches every 30 minutes, and their main presentation can be translated into eight languages on request.
In the immediate vicinity is Jonathan Corwin House—known as The Witch House—and the Witch Dungeon Museum, which offers live reenactments and tours through a replica dungeon. There's also The House of the Seven Gables, which inspired Nathaniel Hawthorne's novel of the same name.
As an important shipping port, and the largest on the east coast, Salem was not only integral to the spice trade, it also has deep roots in maritime and pirate history. Groups are encouraged to visit the Real Pirates exhibit, as well as the Peabody Essex Museum, for more exploration into these important aspects of the region. There's also an entire section of Salem that's known for its extraordinary architecture. Groups could take an hour-long, self-guided tour of the McIntire Historic District, which features 300-plus historic structures.
A trip to Massachusetts without venturing into Boston is, in a word, inconceivable. However, with so many options in the city, the idea of putting together an itinerary might feel overwhelming. And, the FOMO on the best sites and activities is real! Boston Attractions Group are experts in travel planning for the area and are equipped to work with leaders to create the right experience for their group's interests.
Tours of note include Harvard University, Fenway Park, and Prudential Center. Also not to be missed is Freedom Trail Foundation's Walk into History®, which takes visitors from Boston Common to Faneuil Hall, and covers a host of moments and landmarks of revolutionary history in between. An ideal endpoint, Faneuil Hall Marketplace offers exceptional shopping and dining opportunities.
For those who want to take in the city from a different perspective, try a Boston Harbor City Cruise by Hornblower, a combined land and water excursion on a World War II-style DUCK, or a high-speed catamaran ride to learn about the whales in Massachusetts Bay.
A show at the Boch Center or a ballet performance at the Citizen Bank Opera House will give arts and culture lovers their fix, while a Boston Symphony Orchestra concert is absolutely in order. BSO group sales offers discounted tickets for groups of 20 or more and also provides recommendations, personalized assistance, and customized planning.
Other Boston highlights include: the Museum of Science, New England Aquarium, Mapparium at the Mary Baker Eddy Library, Boston Tea Party Ships & Museum and the Franklin Zoo—to name a few.
No matter what program you put together for a Massachusetts group tour, dedicating at least two to three days to Boston is ideal. After a whirlwind of excitement in Beantown, side trips to Cape Cod, Nantucket, and Martha's Vineyard on the east coast or the Berkshires in western Massachusetts provide a relaxing way to complete your journey.
Written by Allison Kay Bannister, Contributing Writer for Groups Today.
This article originally appeared in the Jul/Aug '22 issue of Groups Today.