Awaken Your Senses in North Dakota
We can't keep it a secret: Theodore Roosevelt National Park in North Dakota, is an inspiring place. Come see the uncrowded, untamed beauty of this national treasure named for the conservationist president who once ranched here.
What makes Theodore Roosevelt National Park so special? Unique sights, sounds, history and adventure have come together to make an amazing national park—without the crowds.
Rather than stepping to the back of a waiting line, you can step right out to the scenic overlooks, stretch your arms wide in the breeze and imagine you're soaring like the eagles overhead. The hiking trails never feel like rush hour—they're popular, but offer plenty of breathing room. Trail head parking lots have buses, cars and RVs like any other national park—but they also have space for your group.
The park's three units are set in the Badlands canyons of western North Dakota—remnants of a vast, prehistoric inland sea millions of years ago. Keep your camera ready when you visit, because every direction you turn is picture perfect.
Unlike parks found in other states, the North Dakota Badlands display distinct multi-colored layers of clay, sandstone, red "scoria" rock and black coal veins. Senses are awakened with sounds and scents drifting on the breeze—silver sage, green junipers, poplar trees, bronze prairie grasses and a wide variety of wildflowers and blooming cacti.
Visiting groups can see a variety of wildlife in the park. Herds of bison roam amid vast prairie dog towns. Whitetail deer populate the river bottoms, while mule deer claim the highlands. In the park's north unit, keep your eyes open and looking upward for bighorn sheep. In the south unit, look to the hillsides for elk, and scan the plateaus for wild horses and pronghorn antelope running free.
The south unit is the largest and most visited, featuring a 24-mile scenic drive with spectacular views of the Little Missouri River. Favorite views of the park are found at Painted Canyon (accessible from Interstate 94), Buck Hill and Wind Canyon. You can also visit Roosevelt's Maltese Cross Cabin by the interpretive center.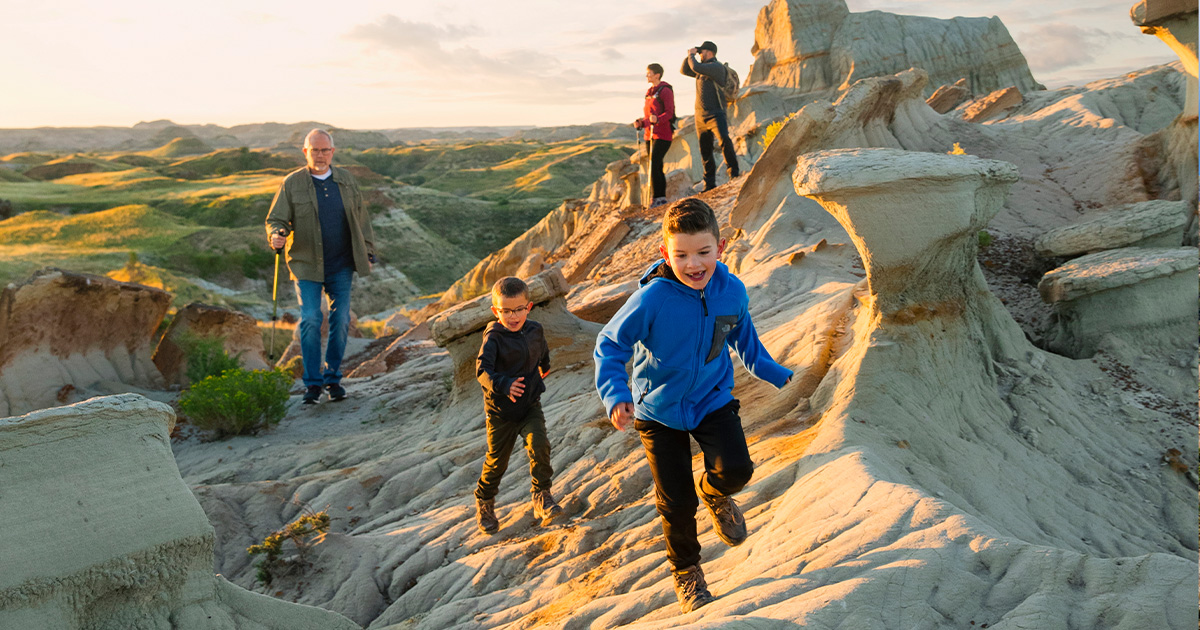 The north unit features a 14-mile scenic byway culminating at Oxbow Overlook. It's a breathtaking view of a riverbend around which Roosevelt chased two thieves who stole his boat. Take time to marvel at formations like cannonball concretions—smooth, round boulders often perched on slowly-eroding pedestals. At the park's entrance, you can also see a herd of longhorn steers like those of the Old West cattle drives down the Long X Trail, which passed through here.
One of our most popular destinations is the historic town of Medora, located at the entrance of the park's south unit, where visitors can find fun shopping, dining and lodging, plus the North Dakota Cowboy Hall of Fame, which also includes Native American history and culture, plus fascinating exhibits about rodeos and the Old West.
Groups love the Gospel Brunch in the morning and Pitchfork Steak Fondue in the evening—offering up delicious steaks cooked cowboy-style and served with a spectacular view. Then see the acclaimed Medora Musical, a Broadway-style western variety show featuring patriotic themes. It is performed nightly throughout the summer in an outdoor amphitheater.
Guests also enjoy touring the Chateau de Mores, the 26-room "hunting lodge" of the town's founder, the Marquis de Mores, a French nobleman who once challenged Roosevelt to a duel. (He also had the future President over for dinner on at least one other occasion.) The Marquis named the town of Medora after his beloved wife.
Also near the south unit is the city of Dickinson with even more hotels, stores and restaurants. A favorite Dickinson attraction is the Badlands Dinosaur Museum, located here because of the vast treasure trove of prehistoric fossils found in the Badlands region surrounding Theodore Roosevelt National Park. Visiting groups can enjoy full-scale casts of dinosaur skeletons, plus many original fossils including a fully intact triceratops skull.
Near the north unit, visit Watford City. Here, groups will find boutique shopping, new hotels and excellent dining like Stonehome Brewing Company or Outlaws' Bar and Grill. Learn more of the region's history at the Long X Trading Post Visitor Center. A little farther northwest near the city of Williston, National Park Service fans also enjoy visiting Fort Union Trading Post National Historic Site and the Missouri-Yellowstone Confluence Interpretive Center. Between 1828 and 1867, Fort Union was the most important fur trade post on the Upper Missouri River.
Start planning your group tour to uncrowded Theodore Roosevelt National Park today and visit North Dakota Tourism.
Courtesy of North Dakota Tourism.
Photos courtesy of Chuck Haney and Jason Lindsey.