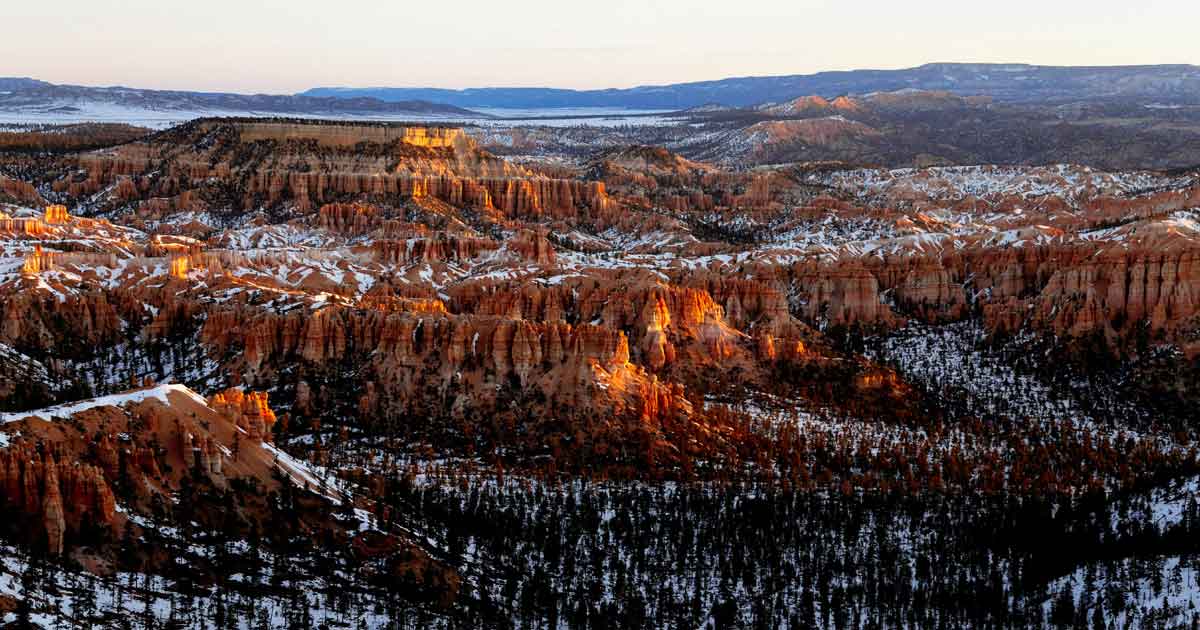 4 National Parks That You Should Experience This Winter
En español | These four spectacular national parks are much less crowded in the cooler months, when they offer a completely different kind of vacation than you'll find in the tourist-clogged summer season.
Bundle up, and enjoy the elbow room.
YELLOWSTONE NATIONAL PARK | MONTANA/WYOMING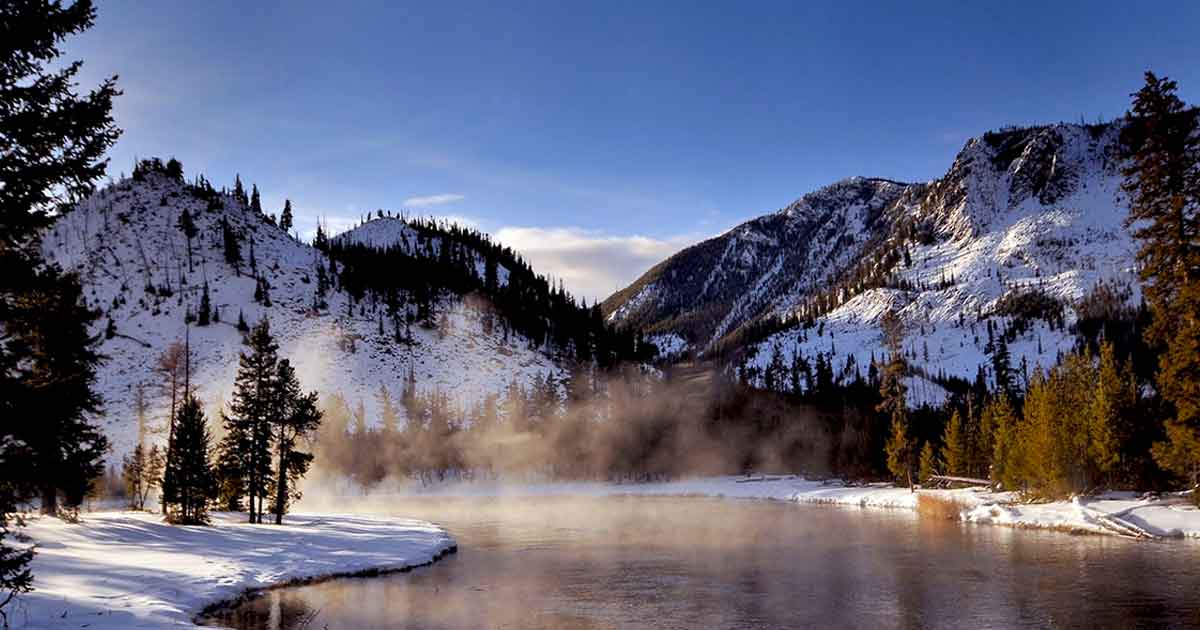 Photo courtesy of Jason Whitman
True, Yellowstone is awfully cold in winter: You'll need to pack your warmest parkas, thermal underwear and snow boots. But you'll be rewarded with the chance to see glistening icy waterfalls, steaming hydrothermal pools and spouting geysers — all without the traffic jams and packed parking lots that are routine in summer. While the wildly popular park draws more than 4 million people throughout the year, it welcomes fewer than 100,000 January through March.
During those cold, quiet months, the only road open to cars runs between Mammoth Hot Springs and the northeast entrance. That means you'll be traveling by snowmobile or snowcoach, your chariots for wildlife viewing expeditions and photography safaris. You can also join guided cross-country ski and snowshoe tours, catch a ranger-led nature program or take a dip in the Boiling River (where a hot spring merges with the Gardner River).
Old Faithful Snow Lodge is open from December 16 to March 1, 2020, and is a short shoveled walk to its namesake geyser. Mammoth Hotel and Cabins is open from December 15 to March 2, 2020. Book lodging through Yellowstone National Parks Lodges, and if you're flying into Bozeman Airport be sure to reserve the daily shuttle (winter only) between the airport and the park.
DEATH VALLEY NATIONAL PARK | CALIFORNIA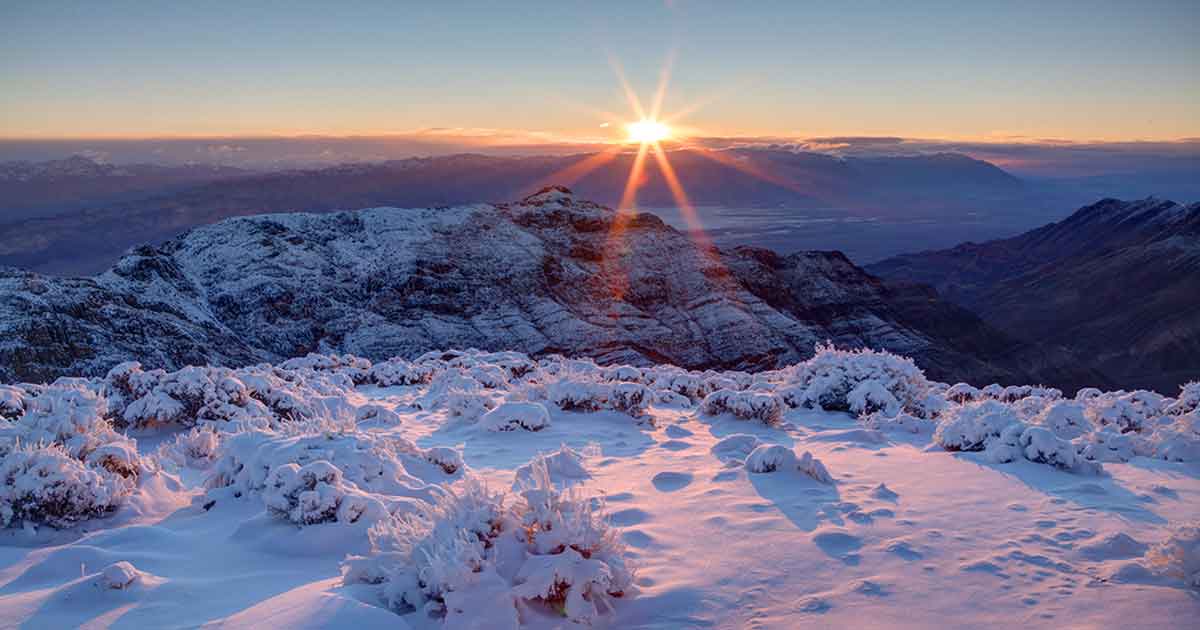 Photo courtesy of Eric Lo/Getty Images
This park really sizzles in the summer, but the cooler days of winter—when daytime temperatures tend to settle in the 60s or 70s, with hardly any rain—offer the perfect weather for exploration.
Death Valley has a wide variety of terrain, allowing you to walk or hike through sand dunes, desert peaks, deep canyons and salt flats where you might glimpse bighorn sheep, coyotes, jack rabbits or a tortoise. You can also take it slow on a scenic drive to famous spots such as Rainbow Canyon, Badwater Basin (the lowest point in the U.S.) and the 600-foot-deep Ubehebe Crater. Then stay late for an incredible view of the night sky (this is an official Dark Sky Park).
After Thanksgiving and before Christmas Day is the quietest time to visit. Book early if you'd like to stay at one of the four popular lodging options within the park.
ACADIA NATIONAL PARK | MAINE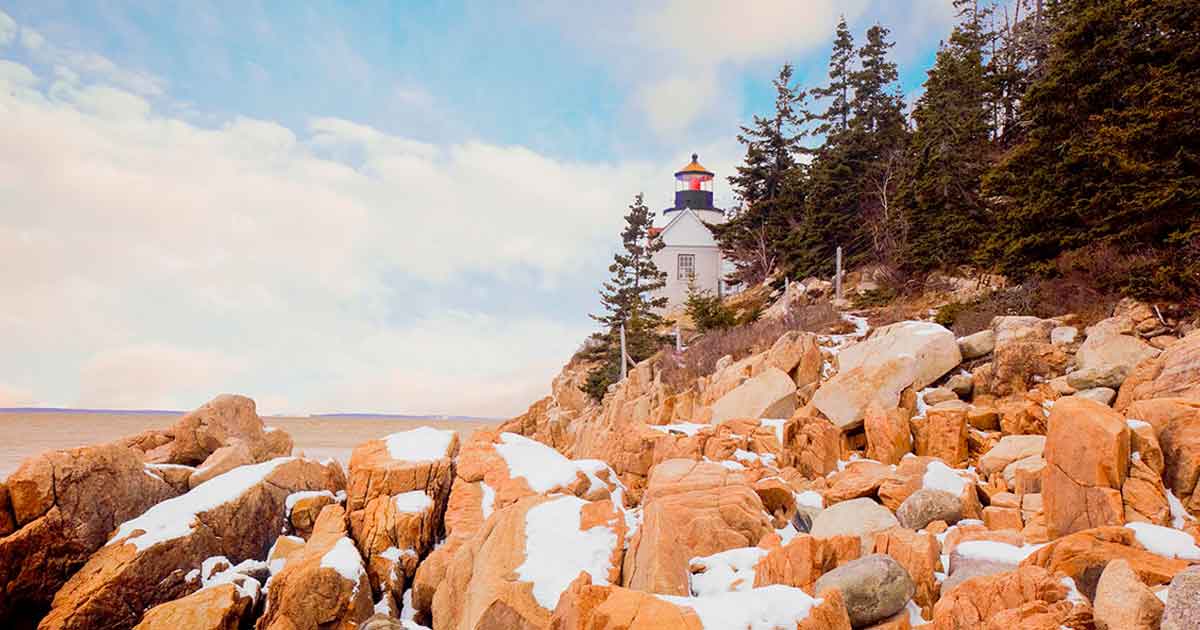 Photo courtesy of Michael Leggero/Getty Images
Intrepid outdoor enthusiasts—those who don't mind below-freezing temperatures—will relish the solitude of an uncrowded New England winter playground. Located on Mount Desert Island near the seaside village of Bar Harbor, Maine, Acadia offers beautiful views of the Atlantic, with snowy inland trails twisting along mountain valleys.
While most of the facilities are closed in winter, visitors still enjoy easy flat walks along the Ocean Path, Compass Harbor Trail, Ship Harbor Trail or the historic carriage roads first built by John D. Rockefeller and family in the early 20th century. You can also join one of the birding groups that gather at the park in hopes of seeing snowy owls (sometimes tough within a white winter landscape). Look into birding tours led by the Schoodic Institute's Bird Ecology Program.
The park has no lodging, but there are plenty of hotels and bed-and-breakfasts nearby in Bar Harbor.
BRYCE CANYON NATIONAL PARK | UTAH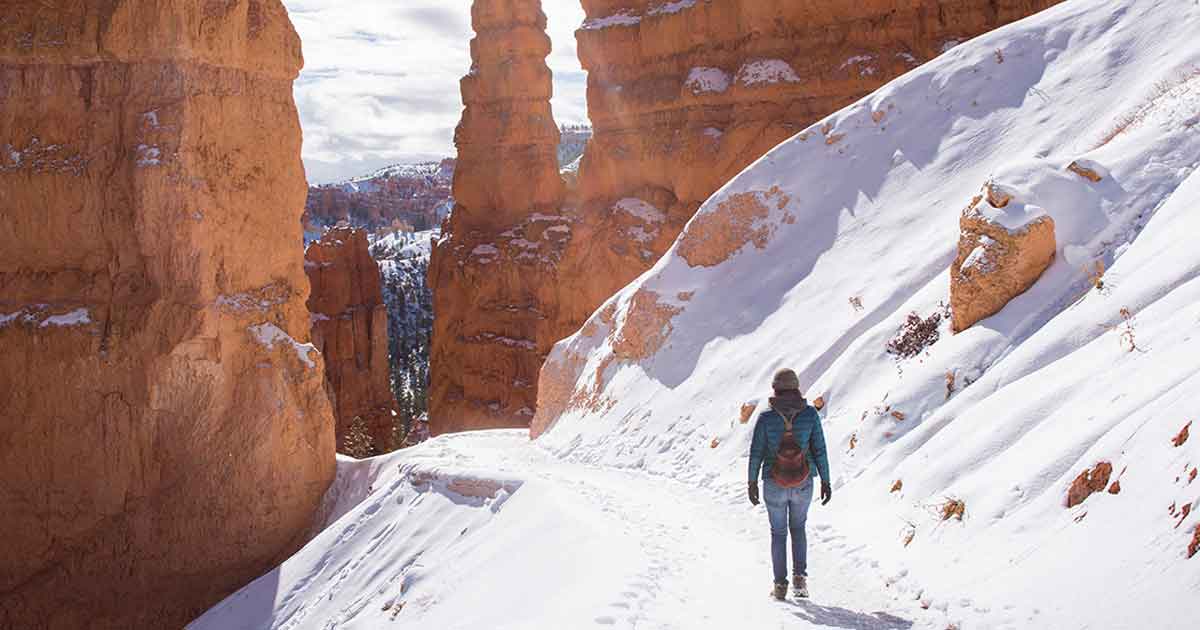 Photo courtesy of Cavan Images/Getty Images
Perched near the top of the Grand Staircase-Escalante National Monument in southwestern Utah, this park on a high plateau lures about 430,000 tourists in a typical July. Bryce draws a fraction of that in winter, when the canyon's colorful copper spindles of red rock are cloaked in snow. The main road is plowed and sanded, so you can drive to see the snow-capped hoodoos (a collection of irregular rock formations that look like tall columns). More adventuresome visitors can snowshoe and cross-country ski along hiking trails.
There are a range of chain and independent hotels and motels in Bryce Canyon City, a mile from the park. They include Ruby's Inn, which hosts the Bryce Canyon Winter Festival, offering all kinds of free fun in mid-February every year.
Written by Gigi Ragland, Courtesy of AARP.
This article was republished with permission and originally appeared at AARP.