What's Your Passion?
I love seeing visible signs of a customer- and employee-focused culture.
My wife and I were on vacation in Mexico. The employees at the resort were amazing. They were upbeat, outgoing and willing to do anything to make their guests' stay as perfect as it could be. Something I noticed right away was the customer-centric culture that was part of the atmosphere of the resort. You could feel that customer service was at the heart of what they were about.
In addition to all that one would expect in a resort, there was something that stood out. It was small, yet noticeable. It was the employee name badges. I've been to resorts where the name badges included where the team members were from. This extra detail humanized the employees. They weren't just people working at a resort, but real people from real places. And every once in a while, I'd see that someone was from my state or even my city, which always led to a friendly conversation.
But on this trip, the name badges didn't state where the team members were from. Instead, they stated their passions. For example, one of our servers had his name at the top of the badge, and underneath it read, "My passion is my family."
Another team member's name badge read, "My passion is soccer," and another, "My passion is fishing."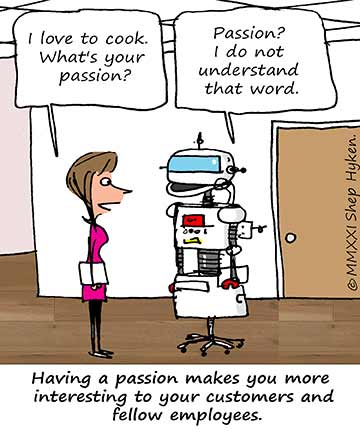 What an interesting concept. Including the employees' passions makes for even better conversation starters that get team members excited about sharing what is important to them with their customers or guests. After all, passion isn't small talk. It's big. Case in point, our server was so excited to tell us about his family. Of course, we told him about ours. It created an instant bond between us.
Another employee's passion was cooking, so we asked what he liked to cook. He shared his favorite meals and how it is as much an event to cook them as it is to eat them. He prepares a weekly feast for his family on Sundays.
This is just a small idea. You're not going to change a culture by adding an employee's passion under a name on a badge. You aren't going to dramatically change the customer experience either. But it does add to the experience, if even in a small way. And small things add up. Before you know it, a number of these small enhancements will make a change to the customer experience. Your customers start to notice. Maybe they notice everything, or maybe just one enhancement. The point is they notice, and that's good.
Shep Hyken is a customer service expert, keynote speaker, and New York Times, bestselling business author. For information on The Customer Focus™ customer service training programs, go to www.thecustomerfocus.com. Follow on Twitter: @Hyken
(Copyright © MMXXI, Shep Hyken)
This article was republished with permission and originally appeared at Shep Hyken.