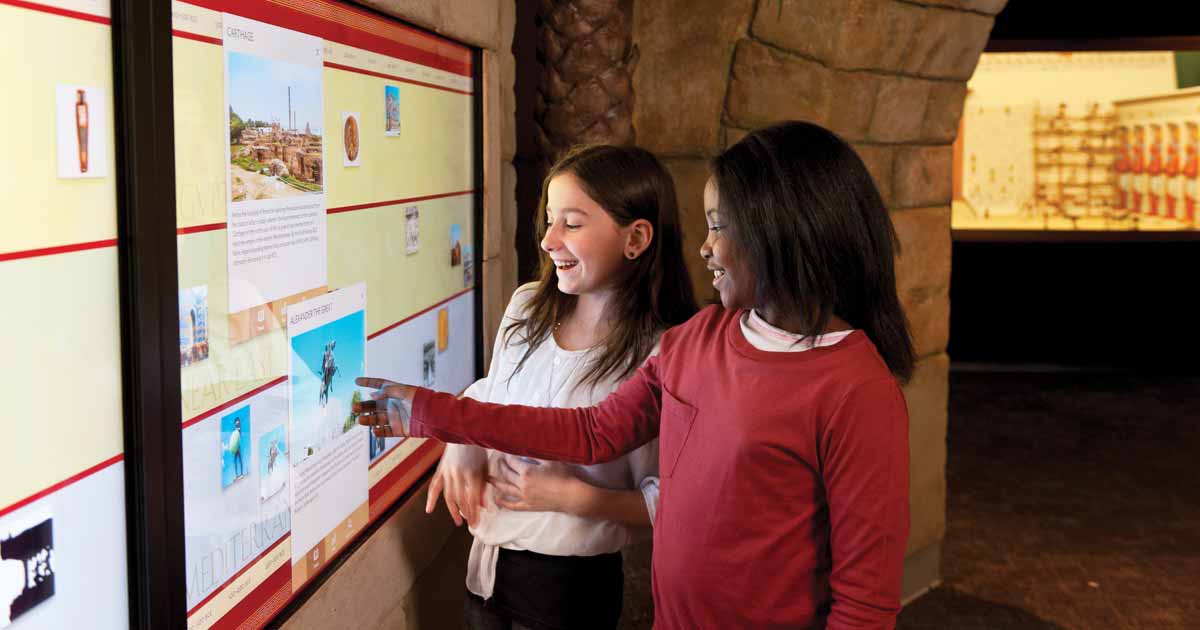 Never Stop Learning
Student experiences from 1 to 100.
Whether age 1 or 100, there are endless opportunities for travelers to learn on the road. From lively sightseeing to science and art museums, age is just a number at these mentally stimulating attractions.
Educational thrills abound in Orlando! Walt Disney World Resort's Youth Programs harness the storytelling power of Disney to unlock creativity through performance opportunities, entertainment workshops, programs focusing on applied sciences, environmental studies, liberal arts and leadership development, and more.
At nearby Universal Orlando Resort, younger students could head to the interactive Jurassic Park Discovery Center, where they could test their DNA to see what kind of dinosaur they would have been, experience how dinosaurs saw and heard the world, and marvel at towering fossils.
With more than 50 interactive exhibits—and a 45-yard indoor football field—the Chick-fil-A College Football Hall of Fame in Atlanta allows groups of all ages to get in on the action. Fans could cheer for their favorite team while kicking and passing on the Peach Bowl Skill zone, complete with a regulation size field goal. Peruse the Champions Archive, full of information on every bowl victory, championship, trophy and individual player accolades.
Groups age 21 and up will love getting a taste of country music and comedy on a sightseeing tour of Nashville with Music City Rollin' Jamboree. The only thing that makes learning about the history of the city via a sing-along on a decked-out school bus even cooler? When the occasional celebrity guest hops on board! Crack a cold one and warm up those pipes.
Visit the Country Music Hall of Fame, where older groups familiar with classic country could discover who wrote the song they've loved for years, the inspiration behind it, who played on the record, and possibly see an instrument used on the track. The Inside Tracks with Meghan Linsey and Tyler Cain workshop lets younger groups co-write and produce their own original song!
Madame Tussauds Nashville is filled with interactive components that appeal to all ages. Groups perform onstage in front of an interactive crowd with their favorite country icons backing them up while appreciating the craftsmanship of each Madame Tussauds figure, meticulously created by professional artists and sculptors over the course of months.
Lutricia Eberly, director of sales at Roundtop Mountain Resort in Pennsylvania, sees people of all ages enjoying their OGO ball: an 11-foot inflatable ball that takes visitors on a crazy ride.
"Since Roundtop is only one of two places in the U.S. with an OGO ball, that means everyone who visits is likely having their first experience with it," Eberly said. "The best life is lived with new experiences that stretch our imagination!"
What better way to learn about theater than seeing performers up close? At Toby's Dinner Theatre in Columbia, Maryland, groups of all ages could enjoy award-winning Broadway and original musicals in-the-round—while indulging in a plentiful dinner buffet. The servers are also the actors, so you never know what will happen.
The wonders of the universe are at your fingertips at Liberty Science Center in New Jersey—home to the largest planetarium in the Western Hemisphere. Whether it's learning about 3:D printers, using cutting-edge technology to design custom animation, or taking part in the center's forensics program, there's something for all groups.
The 9/11 Memorial & Museum in New York City remembers and honors those killed in the attacks of September 11, 2001, and February 26, 1993. Ideal for teenage learners and up, the memorial and museum explore the ongoing impact of 9/11 through rotating exhibitions, education, and reflection. Visitors could leave with resources aiding in discussion of those events with especially young learners.
Keep the history lesson going at Intrepid Sea, Air & Space Museum, where groups can celebrate the 50th anniversary of the Apollo 11 mission. Whether they're learning about the mission for the first time or reminiscing about where they were in 1969, Apollo 11: Media, the Moon and Beyond is an exhibit accessible to all.
New York City Ballet welcomes groups 10 years and older to enjoy behind-the-scenes access, where they can interact with—and learn from—NYCB artists. Ballet classes and performance workshops are aplenty!
With shows around the world, including New York, Las Vegas, and Berlin, Blue Man Group performances are loved by groups young and old. Younger students will enjoy the art, music, and having a Blue Man walk over the top of their seat. Adult learners will appreciate the subtle nods to modern art and laugh at the not-so-subtle jabs at societal norms.
The Kohl's Art Generation Open Studio inside the Milwaukee Art Museum provides a welcoming space for groups of all ages to create their own art.
"A visit to the Museum helps build a sense of community between generations and encourages social interaction among peers and elders alike," said Amy Kirschke, Director of Adult, Docent and School Programs, Milwaukee Art Museum.
Not far away, Milwaukee Public Museum gives the youngest groups a thrill while searching for secret buttons hidden throughout the venue—such as the infamous rattlesnake button. Young-at-heart groups will enjoy traveling back to the Streets of Old Milwaukee on a self-guided or docent-led tour.
San Francisco's iconic PIER 39 offers young learners a chance to explore nature up close at Aquarium of the Bay, while older groups could kick back with a San Francisco Whale Tour—an essential Bay Area experience.
To see things from a new perspective, consider these observatories across North America:
NEW YORK CITY: Top of the Rock | Empire State Building Observatory | One World Observatory
BOSTON: Sky Walk Observatory
CHICAGO: 360 CHICAGO | Skydeck Chicago
PHILADELPHIA: One Liberty Observation Deck
TORONTO: CN Tower
SEATTLE: Sky View Observatory
LOS ANGELES: OUE Skyspace
WASHINGTON, D.C.: The View of DC
Written by Sarah Suydam, Staff Writer for Groups Today.
This article originally appeared in Groups Today.
Photo courtesy of Milwaukee Public Museum.