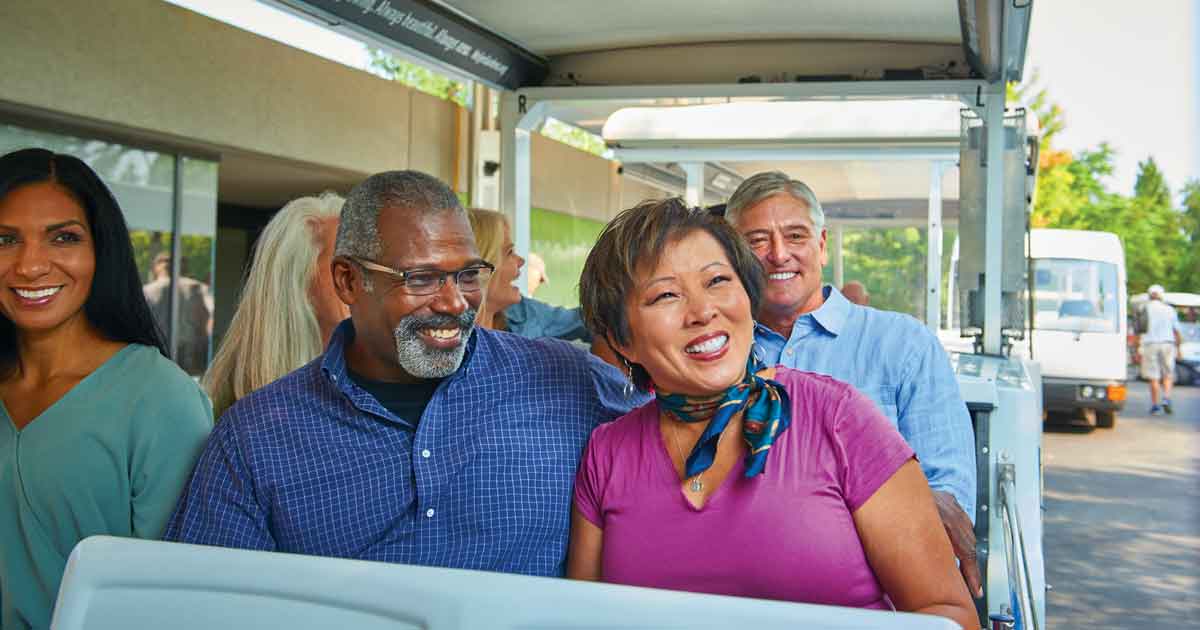 Baby Boomers: Start Thinking Accommodations
According to AARP, baby boomers continue to be avid travelers and plan to take a total of four or five leisure trips in 2019.
This generation, however, views health as a barrier to travel at a significantly higher rate than their millennial and Generation X counterparts. Catch a glimpse of how some attractions and suppliers are further accommodating this vibrant traveler demographic.
John VanderHaagen, Director of Communications for Frederik Meijer Gardens & Sculpture Park in Grand Rapids, Michigan, understands the importance of accessibility. He notes the Gardens are extremely committed to making accommodations for tour groups—especially those with baby boomers.
"Both indoor and outdoor spaces are barrier-free with ramps and paved pathways to accommodate wheelchairs and allow easy maneuverability," said VanderHaagen. "Courtesy wheelchairs are available for use on a first-come, first-served basis and our narrated tram tours offer hearing loops for our guests who are hard of hearing."
VanderHaagen notes that the Gardens' tram tours in particular are a great way for baby boomer tour groups to see highlights of the 158-acre grounds, enabling them to sit back and enjoy a comfortable ride led by a narrator who points out sculpture and horticulture highlights.
A leader in the cruise industry, Celebrity Cruises boasts accessibility on all of its ships, from bow to stern. Celebrity offers boarding and departure assistance and can arrange for airport-to-pier transportation. Travelers are able to book accessible staterooms equipped with wider doors, roll-in showers, grab bars, and other special features that specifically accommodate guests with limited mobility and other disabilities.
Travelers who are blind, have low vision, are deaf or are hard of hearing can rest easy knowing Celebrity has their back. Teletypewriters (TTY) are available in staterooms upon request. American Sign Language (ASL) interpreting services are available as well and can be provided for main production shows, port and shopping presentations, and other major activities.
All types of oxygen cylinders are permitted on board, in addition to Celebrity accommodating guests who require continuous ambulatory peritoneal dialysis—though it's important to note travelers should contact the cruise line prior to departure for more information on specific policies and procedures.
Celebrity has taken notice that while baby boomers may sometimes require extra assistance, that doesn't mean they aren't ready to explore the world's treasures. With many new customized excursions, these travelers can embark on adventures that require a less strenuous activity level—making these exciting experiences available for groups of all ages. From discovering Istanbul from the comfort of a fully wheelchair-accessible coach to traveling through the ancient streets of Florence on a wheelchair-friendly tour, there are endless ways to see the sights.
Travel Tips
Visit AARP for information and a variety of tips relevant to baby boomer travelers and others.
Written by Sarah Suydam, Staff Writer for Groups Today.

This article originally appeared in Groups Today.

Photo courtesy of Robert Neumann/Experience Grand Rapids.