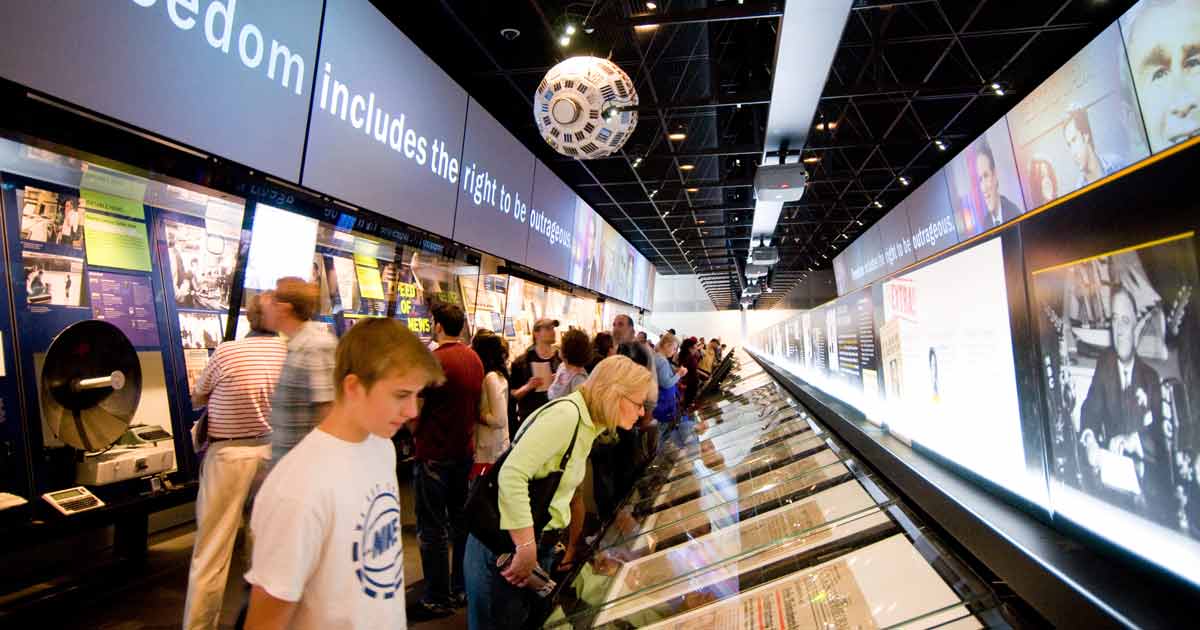 What You Need to Know About the Sale of the Newseum Building
In January, the Freedom Forum—creator and primary funder of the Newseum—announced it had entered into an agreement to sell the building in which the Newseum is located.
But don't worry: There's still time to see the Newseum's extraordinary offerings. Learn more about this development and how this affects groups in 2019.
The building, at 555 Pennsylvania Avenue, is being sold to Johns Hopkins University, who will use it as a new consolidated center for its D.C.-based programs.
What You Need to Know
"This was a difficult decision, but it was the responsible one," said Jan Neuharth, chair and CEO of the Freedom Forum. "We remain committed to continuing our programs—in a financially sustainable way—to champion the five freedoms of the First Amendment and to increase public awareness about the importance of a free and fair press."
Since its opening in 2008, the Freedom Forum has committed more than $600 million to build and fund the Newseum, one of the largest gifts to any museum anywhere in the world.
"We stand ready to continue much of the Newseum's important work for decades to come," said Peter Prichard, chair of the Newseum board of trustees, "through digital outreach, traveling exhibits, and web-based programs in schools around the world, as well as hopefully in a new physical home in the area."
The mission of the Newseum, located in Washington, D.C., is to increase public understanding of the importance of a free press and the First Amendment. Visitors experience the story of news, the role of a free press in major events in history, and how the core freedoms of the First Amendment—religion, speech, press, assembly, and petition—apply to their lives.
"All of the artifacts on display in the museum will remain on exhibit for our visitors to learn from while the details of the agreement are settled," said Carrie Christoffersen, curator and executive director of the Newseum. "Our collection preserves journalism and news history, and we will continue to be responsible stewards of our permanent collection of historic artifacts and newspapers."
Learn more by visiting the Newseum.
Written by Sarah Suydam, Staff Writer for Groups Today.
Photo courtesy of Sam Kittner/kittner.com.