Tourism Cares Holds 2022 Meaningful Travel Summit
In late September, Tourism Cares—a 501c3 U.S. nonprofit dedicated to the travel industry's long-term survival by advancing its positive social, environmental and economic impact to help people and places thrive—held its annual Meaningful Travel Summit in Victoria, British Columbia.
The event brought together more than 120 travel industry professionals to Canada's west coast and on the traditional territory of the Lekwungen-speaking peoples. Victoria—the capital of the province—is a community known for its commitment to sustainable tourism.
The Meaningful Travel Summit is a global event that unites travel and tourism industry professionals around interactive, educational activities and experiences that assist local community enterprises, particularly those that encourage sustainable tourism. Over the course of three days, attendees built relationships with local changemakers, fellow travel industry colleagues, and Indigenous-led organizations in order to gain practical knowledge and discuss how they can use their businesses to positively impact tourism communities and enhance stewardship of lands receiving visitors.
"Nature-based experiences are some of the fastest-growing elements in tourism, and one the travel industry can play a direct role in helping to responsibly manage," said Greg Takehara, CEO of Tourism Cares. "Wilderness areas across Canada share a symbiotic relationship with Indigenous communities, a heritage teeming with stories that define Canada's culture today. Conservation of our natural resources is critical for destination communities and the travel experience."
Paul Nursey, CEO, Destination Greater Victoria, shared that it meant a lot for Destination Greater Victoria to partner with Tourism Cares and for the community to host the Meaningful Travel Summit.
"The conference program is very engaging and I know delegates will have an amazing experience," said Nursey. "Increasingly, destination management and destination stewardship are becoming core functions of our organization. Examples include creating the IMPACT Sustainability Travel & Tourism Conference, establishing a Sustainability Committee within our governance framework and Destination Greater Victoria achieving a Carbon Neutral designation. The Tourism Cares Meaningful Travel Summit aligns with Destination Greater Victoria's values of working collaboratively with stakeholders, including First Nations groups, and giving back to our community."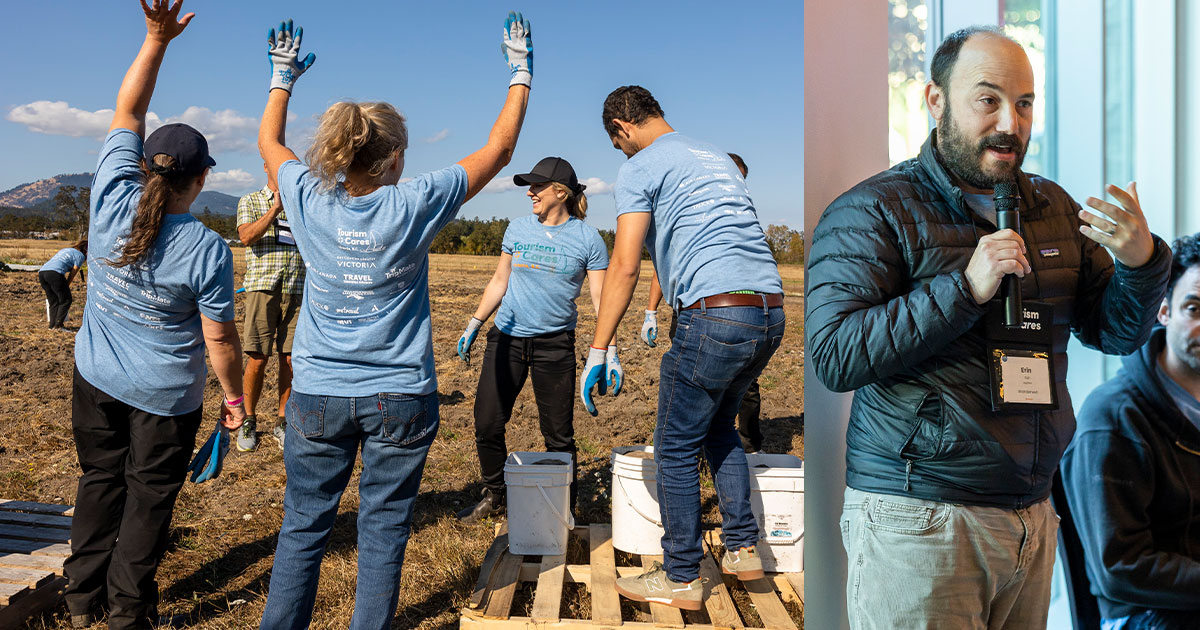 Tourism Cares designs its Meaningful Travel Summits by working closely with local community organizations and stakeholders to pinpoint the greatest needs, challenges, and opportunities for tourism to positively contribute to the local economy. Programmatic content was designed in partnership with Destination Greater Victoria, with additional support from the Songhees Nation, Indigenous Tourism Association of Canada (ITAC), Synergy, 4VI, and Tartanbond.
The event included experiences with partners where attendees were provided the opportunity to disperse across Victoria to visit with, and in some cases, volunteer their time in service to the community. These included Eagle Wing Tours, Sandown Centre for Regenerative Agriculture, Sea Change Marine Conservation Society, PEPÁḴEṈ HÁUTW̱ Foundation, Peninsula Streams Society, and Power To Be.
Those organizations, and many more across Canada and the U.S., will be featured on Tourism Cares' Meaningful Travel Maps, which Tourism Cares is developing to help tour operators and travel advisors find vetted, authentic community tourism businesses and services for their itineraries. The maps are designed to link the travel trade and visitors to non-profits and other social enterprises, giving visitors and tour operators insight into the places that share their values, as well as local changemakers a platform to promote their actions more broadly.
Tourism Cares also acknowledged that the Summit took place over Canada's National Day for Truth and Reconciliation, a day that honors the lost children and survivors of residential schools, as well as their families and communities. Throughout the event, the organization highlighted efforts to support Indigenous communities through tourism and encouraged attendees to participate in local events to honor the day.
To learn more about the benefits of joining the Tourism Cares Community and to find additional information on events happening in 2023, visit tourismcares.org.
Courtesy of Groups Today.
Photos courtesy of Heath Moffat Photo