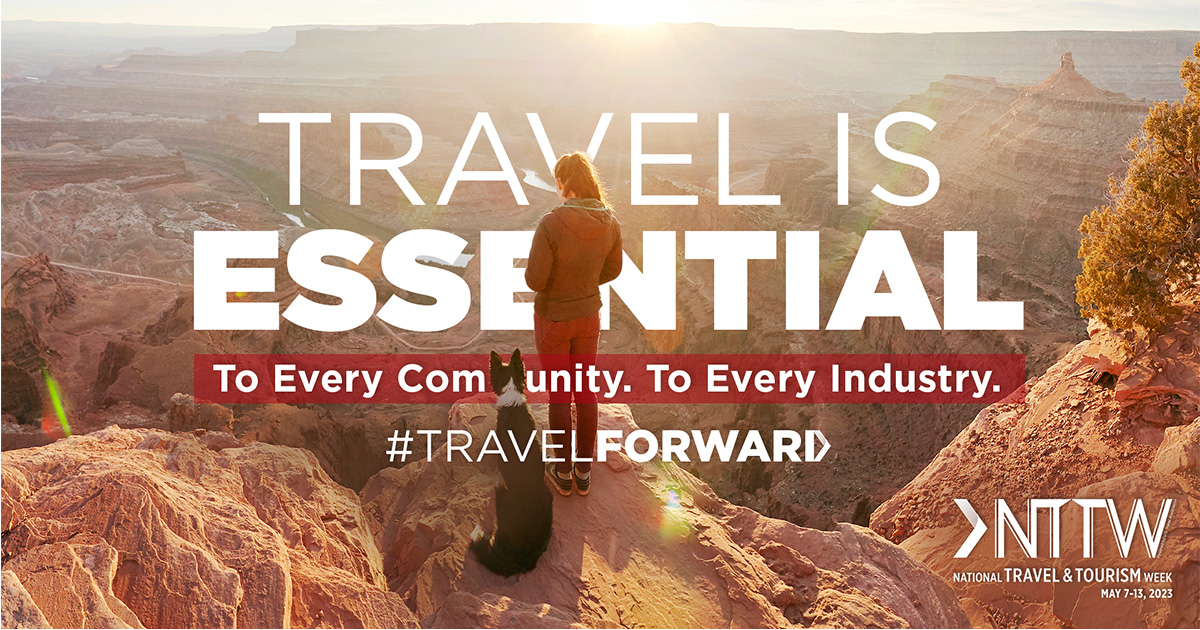 National Travel and Tourism Week 2023: Moving #TravelForward
2023 marks the 40th anniversary of the annual industry celebration.
Are you ready for National Travel and Tourism Week? Occurring from May 7-13, 2023, the annual celebration of the contributions of the U.S. travel industry will spotlight the essential role that travel will play in driving economic growth and innovation through the theme #TravelForward.
"The travel industry fuels every industry—our industry's success is the nation's success," said U.S. Travel Association President and CEO Geoff Freeman. "This week is a prime opportunity to elevate the message that travel is essential to moving America's economy forward."
Established in 1983, NTTW is an annual tradition to mark the U.S. travel industry's role in stimulating economic growth, cultivating vibrant communities, creating quality job opportunities, stimulating business activity and elevating the quality of life for everyday Americans.
Travel serves as a catalyst for a productive U.S. economy and helps power the success of other industries. The U.S. travel industry generated a $2.6 trillion economic output in 2022 and supported 15 million jobs, fueling communities, small businesses and working families across the country.
Travel spending also generated nearly $160 billion in federal, state and local taxes in 2022—revenue that helped fund critical public services while saving each U.S. household an average of $1,270 in taxes.
Group travel professionals can do their part to help celebrate the power of travel thanks to several NTTW initiatives shared by the U.S. Travel Association, including this "Ways to Engage" calendar:
SUNDAY (May 7): Kick-off by posting the NTTW video on social.
MONDAY (May 8): Highlight the week with a press release or blog (which can be found in the NTTW Toolkit).
TUESDAY (May 9): Share the special 40 years of NTTW video or GIF.
WEDNESDAY (May 10): Issue a proclamation alongside a local official.
THURSDAY (May 11): Host a travel rally with local partners.
FRIDAY (May 12): Throw an appreciation event for your travel workforce.
SATURDAY (May 13): Recap an impactful week on social.
The above-mentioned materials can be found and downloaded through the NTTW toolkit, which is full of resources such as social media graphics, fact sheets, messaging and more to help your efforts. You can learn more, view the toolkit and plan your posts to celebrate by visiting U.S. Travel Association.
Courtesy of Groups Today.
 Photo Courtesy of U.S. Travel Association.