Watch Out, Nashville: Rome is Coming.
It might be a few centuries too late, but Rome is finally taking over Nashville, Tennessee. Rome: City and Empire at the Frist Center will display more than 200 of the British Museum's Roman objects that tell the dramatic story of how Rome grew from a cluster of small villages into a mighty empire that reigned for more than 500 years.
On display February 23 through May 28, 2018, Rome: City and Empire is the first time that art and artifacts from ancient Rome and its empire will be on display at the Frist Center—the sole North American venue on the exhibition's tour.
Portraits of emperors, military leaders, citizens and mythological figures, as well as examples of pottery, paintings, jewelry, coins and other objects spanning 10 centuries of Roman history, explore the diversity of the empire's population, and how the empire was won and held.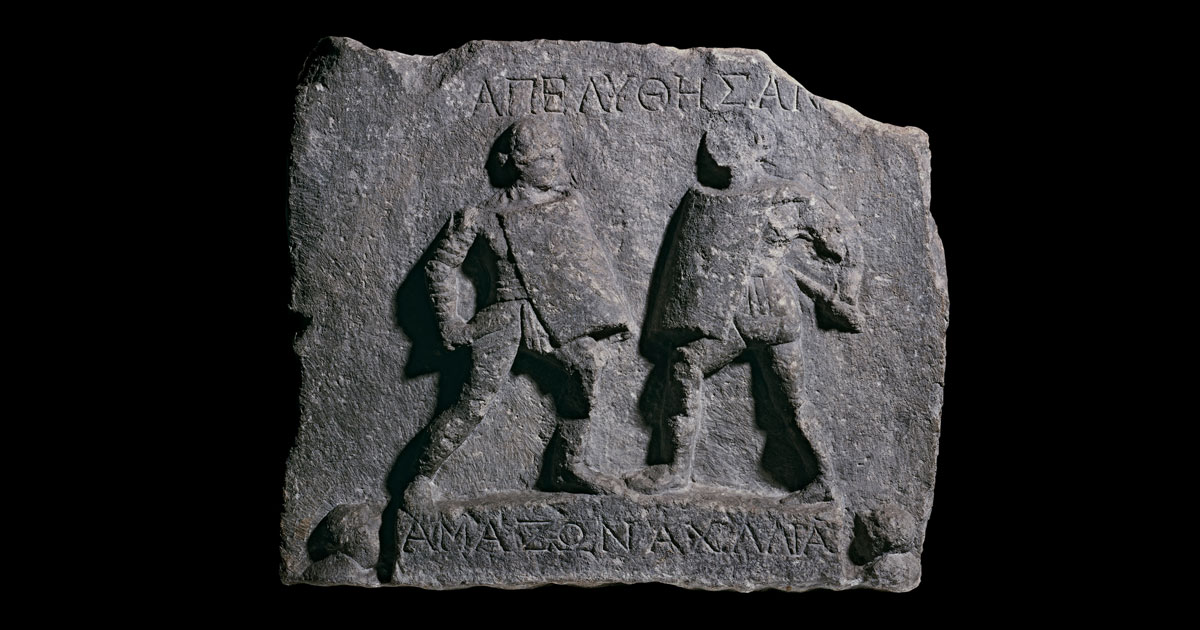 Relief showing two female gladiators (Halicarnassus [modern Bodrum], Turkey), 1st-2nd century CE. Marble, 25 3/8 x 30 1/2 x 7 1/8 in. The British Museum, 1857,0424.19 © The Trustees of the British Museum.
"The exhibition provides insights into the experiences of the Romans themselves, while cultivating an understanding of the dynamic relationships between the imperial government and the people it conquered," said Frist Center chief curator Mark Scala. "The range of objects, from across present-day western Europe, North Africa and the Middle East, show the diversity and interconnectedness of the vast empire."
The exhibition is organized thematically and begins with an overview of Rome's geographical and political evolution. It continues with sections that contextualize topics such as military capability, imperial architecture, religious practices and the empire's diverse peoples, and concludes with a presentation of commemorative art, including burial chests, sarcophagi and tombstones.
A digital map sequence also offers a timeline that details the empire's expansion, and an interactive in-gallery publication provides visitors with a role-playing narrative called "Fortune and Glory" in the form of a laminated comic book with original illustrations by local artist and animator Michael Lapinski. Throughout the story, visitors make choices that guide them from object to object, and learn about daily life in ancient Rome.
Rome's influence extended beyond its military conquests, and continues to capture the imaginations of people across the globe.
Learn more about Rome: City and Empire at the Frist Center at fristcenter.org.
Written by Cassie Westrate, staff writer for Groups Today.
Main Image Photo Credit: Statue head of Augustus (Rome, Italy), ca. 30 BCE. Marble, 14 3/4 x 8 1/4 x 8 5/8 in. The British Museum, 1888, 1210.1 © The Trustees of the British Museum.