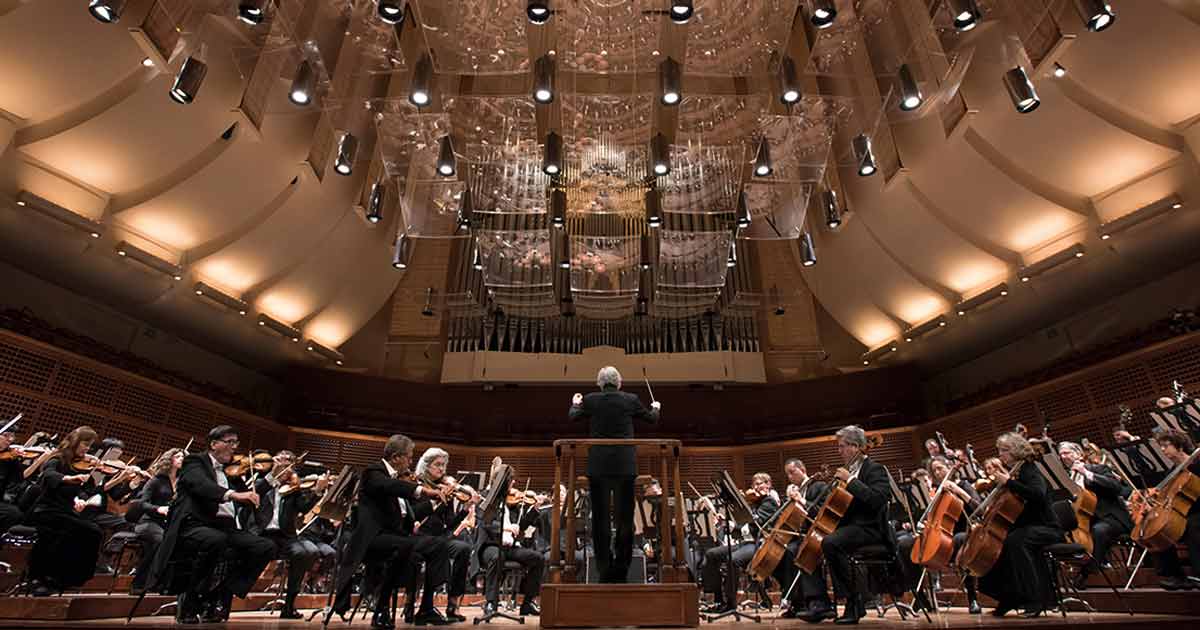 More is More: A Historic Season 25 Years in the Making
Fiery virtuosos and legendary masterworks. Semi-staged events and award-winning films.
Swashbuckling adventures, spectacular myths and ravishing love stories. It can all be found at Davies Symphony Hall, home to the San Francisco Symphony!
Anticipation is sky-high for the San Francisco Symphony's monumental 2019–20 season—and more is definitely merrier, because groups get 25% off. Head to Davies Symphony Hall for a landmark celebration of Michael Tilson Thomas' 25th and final season as Music Director of the SF Symphony with must-hear performances like these:
September 26–28, 2019 | MTT, Stravinsky, & Haydn
MTT connects reformed bad boy Stravinsky with Haydn, the paragon of eighteenth-century Classicism. The Grammy award-winning SFS Chorus joins MTT and the Orchestra in Stravinsky's kaleidoscopic choral masterpiece, Symphony of Psalms. Then, SF Symphony Youth Orchestra alumnus Oliver Herbert performs Haydn's brilliant and beautiful Cello Concerto No. 2.
October 17–19, 2019 | Pictures & Percussion
Cristian  Măcelaru conducts the SF Symphony in Ravel's ingenious orchestration of Mussorgsky's Pictures at an Exhibition—one of the most radiantly hued and popular works of all time—and the world premiere of Adam Schoenberg's  Losing Earth, a concerto on climate change that was written for SFS Principal Percussion Jacob  Nissly. The program opens with a work by the first woman to win the Prix de Rome, Lili Boulanger.
October 30, 2019 | Get Out—Film with the SF Symphony
Featuring a chilling, award-winning score that combines classical with jazz, blues, and African genres, experience the SF Symphony bringing this smash hit to life: When a young African-American man visits his white girlfriend's family estate, he becomes ensnared in a more sinister, real reason for the invitation. As the weekend progresses, a series of increasingly disturbing discoveries lead him to a truth that he could have never imagined.
November 22–24, 2019 | Honeck Conducts Mozart
Renowned conductor Manfred Honeck returns to lead a program of works written in Vienna, "the capital of classical music." Fan-favorite Leif Ove  Andsnes  brings signature poise to a gorgeous Mozart piano concerto, followed by the Orchestra journeying through the soaring harmonic landscape of Bruckner's Symphony No. 4.
December 3–6, 2019 | It's a Wonderful Life—Film with the SF Symphony
The most beloved holiday film of all time, this classic features a score by four-time Oscar winner Dimitri Tiomkin and stars screen legend James Stewart as a man in despair who receives a heartwarming intervention from his guardian angel, Clarence.
January 9–12, 2020 | MTT & Mahler: Love & Lyricism
Love's anguish finds its voice in Mahler's settings of the classic folk poems Des Knaben Wunderhorn. Also on the program, the world premiere of MTT's Rilke Songs, based on lyric poems by Rainer Maria Rilke, featuring mezzo-soprano/SFS Artist-in-Residence Sasha Cooke, and bass-baritone Ryan McKinny.
Music like this is meant to be shared! Group up to save 25% and be a part of the SF Symphony's spectacular celebratory season. Interested in learning more? Contact Philip Toscano, Group Sales Specialist, at 415.503.5311 or [email protected].
Courtesy of San Francisco Symphony.
Photo of © Stefan Cohen, courtesy of San Francisco Symphony.