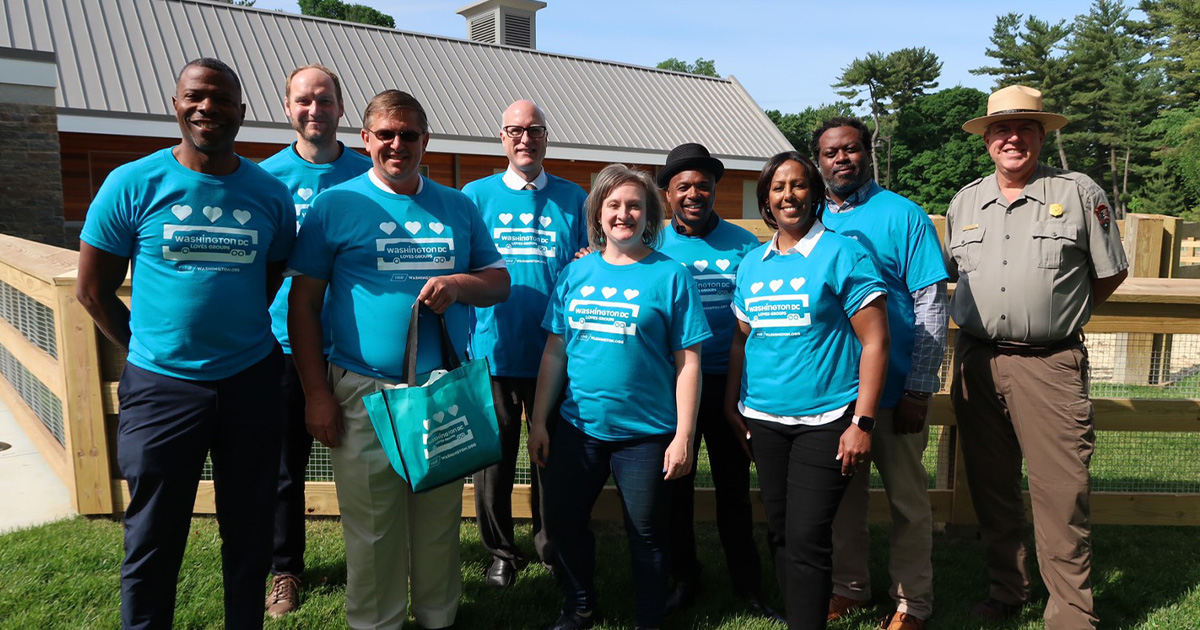 DC Hospitality Community Shows Love to Motorcoach Drivers
DC Loves Buses Day event highlights the economic impact of group tours in the city. 
Destination DC (DDC), the official destination marketing organization for Washington, DC, recently celebrated DC Loves Buses Day, an event that shows appreciation for motorcoach drivers who bring group travelers to Washington, DC, contributing to the overall local economy through tourism.
The campaign is designed to welcome and thank group tour operators and bus companies for making Washington, DC one of the top group tour destinations in the U.S. DDC, the District Department of Transportation, National Park Service, National Tour Association, National Mall and Memorial Parks, Union Station Parking Garage, American Bus Association, Student & Youth Travel Association, International Motorcoach Group and the United Motorcoach Association are among the hospitality partners involved.
"Even as the motorcoach industry is challenged by a driver shortage, we know the important role motorcoach drivers play in helping move groups around Washington, DC and their impact on the local economy," said Elliott L. Ferguson, II, President and CEO of Destination DC. "Today we show our appreciation and give thanks to motorcoach drivers—the unsung heroes who bring the business to our city and have helped drive DC to one of the top group tour destinations in the nation."
To show their appreciation, DDC and partners personally thanked motorcoach drivers at key locations in the city including Union Station Parking Garage and motorcoach drop off areas around the National Mall and L'Enfant Plaza. As a thank you to drivers, teams made up of participants of DDC member organizations provided 200 lunches donated by Carmine's and Pinstripes and gift bags with Fogo de Chao gift cards and more, and communicated the latest regulations and important industry and safety updates. Those bus drivers following the anti-idling laws were included in a prize drawing sponsored by DDOT. In 2022, Destination DC and 26 member organizations distributed 150 lunches and gift bags within three hours.
Group travel is an important segment of tourism to Washington, DC and DDC helps operators with unique itinerary options, activities and resources for planning group and student trips to the nation's capital. In 2021, DC had 19.1 million visitors, up from 13.3 million visitors in 2020. Spring in Washington, DC is an especially popular time with student group travel and the National Cherry Blossom Festival, this year bringing more than 1 million visitors to the city.
DDC has a Facebook page dedicated to group business, with tips for group tours and attraction information. Learn more and follow at DC Loves Groups.
Courtesy of Groups Today.
 Photo Courtesy of washington.org. 
Location: U.S. Park Police Horse Stables and Education Center on the National Mall
Back Row (L-R): Clymer Berry, International Motorcoach Group (IMG); Scott Michael, United Motorcoach Association (UMA); Everett Lott, District Department of Transportation (DDOT); Brandon Buchanan, American Bus Association (ABA); Mike Litterst, National Park Service, National Mall and Memorial Parks.
Front Row (L-R): Elliott Ferguson, Destination DC (DDC); Conrad Sulastzentrubec, Melard Coach; Lindsay Hill, Destination DC (DDC); Lia Zegeye, American Bus Association (ABA).