Celebrating the Creative and Ecological Achievements of Beatrix Potter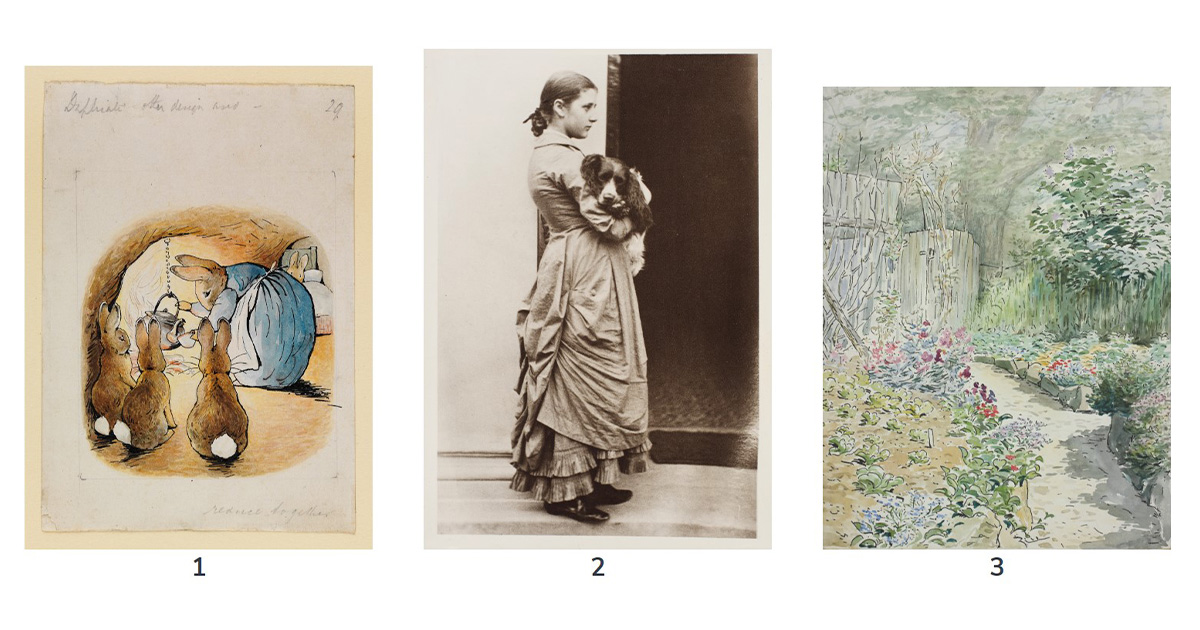 Many will remember the enchanting and playful works of beloved English author and illustrator, Beatrix Potter. Now, groups could visit the Frist Art Museum in Nashville and it presents Beatrix Potter: Drawn to Nature, the first exhibition to tell Potter's broader life story. Organized by London's Victoria and Albert Museum—home to the world's largest collection of Potter's artworks—the exhibition is on view in the Frist's Upper-Level Galleries through September 17, 2023.
In the classic children's storybook, The Tale of Peter Rabbit, first self-published in London in 1901, and 22 other children's books, Potter imagined an enchanting world of animals and gardens. She became one of the most successful author-illustrators of the 20th century and also defied expectations for women of her time by engaging in scientific studies, farming and land conservation.
Presented in a playful and colorful family-friendly installation, Drawn to Nature features rarely seen objects, including personal letters, photographs, books, diaries, decorative arts, sketches and watercolors that explore the inspirations behind Potter's stories and characters. The engaging in-gallery interpretation text includes special labels designed for children, while two cozy carpeted areas in the galleries—one with oversized flowerpots and another with giant spools of thread for seats—invite guests to read Potter's stories surrounded by her drawings and watercolors.
The presentation at the Frist is complemented by experiential learning activities in the Martin ArtQuest® Gallery, including writing illustrated letters, drawing objects found in gardens, playing in a puppet theater, and creating animations with flora and fauna.
Based on scholarship about Potter's life and work, the exhibition reveals that her books emerged from her passion for nature and were just one of her major legacies.
"From storyteller to natural scientist and conservationist, Beatrix Potter lived a truly remarkable and multifaceted life," said Trinita Kennedy, Frist Art Museum Senior Curator. "Through interactive features, video, and engaging prompts in every gallery, this exhibition invites guests of all ages to explore the full breadth of Potter's work and life."
Using royalties from her first books, Potter purchased the 34-acre Hill Top Farm in the Lake District of northern England in 1905. As part of her efforts to preserve the natural beauty and agricultural way of life in the Lake District, Potter acquired more property there. When she died at age 77 in 1943, she left Britain's National Trust over 4,000 acres and 14 working farms—the largest bequest the charity had ever received. Today, her farms remain in operation, and Herdwick sheep, an ancient breed she helped to thrive, still graze in the hills and valleys of the Lake District.
"We hope this exhibition will inspire natural scientists, conservationists and farmers, as well as artists and storytellers," says Annemarie Bilclough, Frederick Warne Curator of Illustration at the V&A. "Potter's story shows that through talent, passion and perseverance, life can take unexpected twists and turns and great things can grow from inconsequential beginnings."
Learn more by visiting Frist Art Museum.
Courtesy of Groups Today.
Photo Credits: (LtoR)
1. Beatrix Potter. Variant artwork for The Tale of Peter Rabbit, 1902–7. Watercolor, ink, and pencil on paper; 5 6/8 x 3 7/8 in. V&A: Linder Bequest BP.468. © Victoria and Albert Museum, London, courtesy of Frederick Warne & Co. Ltd.
2. Rupert Potter. Beatrix Potter aged 15 with the family's spaniel, Spot, ca. 1881. Albumen print on paper; 8 x 1/2 in. V&A: Linder Bequest BP.1425. © Victoria and Albert Museum, London, courtesy of Frederick Warne & Co. Ltd.
3. Beatrix Potter. Spring, Harescombe Grange, Gloucestershire, ca. 1903. Watercolor and ink on paper; 11 1/2 x 9 in. V&A: Linder Collection LC 4/A/1, given by the Linder Collection. © Victoria and Albert Museum, London, courtesy of Frederick Warne & Co. Ltd.